Duffy has left Epcot for a huge adventure, and it was a time of fond farewells. However, there may be another bear coming in to the rescue very soon, and it's a bear that Disney fans in Japan have known about and embraced for quite some time. Shellie May, the bear friend of Duffy who was made by Minnie Mouse, is allegedly making her way to Disney Parks in the United States very soon, as early as mid October, according to Cast Members. Even further, we have a rumor about Duffy's return sometime in the future as well.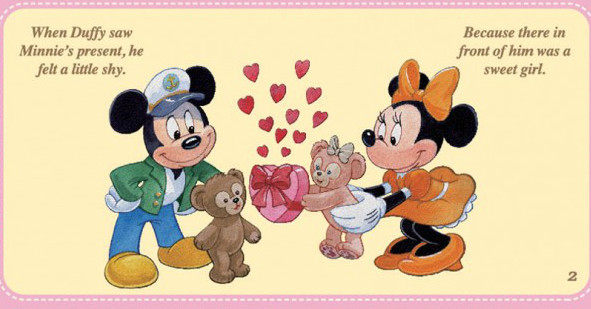 The story goes that Minnie made Mickey a friend to take with him on his long trips overseas. Duffy the Disney Bear has been all over the world, and has met with fans at Epcot and Disneyland. Has many cute outfits, and has been a walk around character for quite a few years at Epcot. Doing all that makes you extremely lonely, so Minnie made a new friend just for Duffy, who he named Shellie May. Shellie May has been appearing at DisneySea at the Tokyo Disney Resort, along with Duffy.
Last week, Duffy departed Epcot for an all new adventure beyond the theme parks. What could possibly be replacing him? Well, no one could ever hope to replace Duffy, but Shellie May herself is rumored to be heading stateside to meet with guests. According to Cast Members, the change could come as early as next week.
So what happened to Duffy? Apparently, he is making his debut in an all new movie for Disney Channel, and will return as a huge promotion once that film hits.
Again, these are only rumors, and until Disney officially announces it, it's not happening. It could fall completely flat, and not happen, but there is already Shellie May merchandise in many of the stores at Walt Disney World, with much of it selling out, so it is a good indication. The timeline could also be off, as it seems a little too soon to move a new bear in. Besides, Daisy has already taken his prime real estate spot at Epcot, where she has been meeting guests since October 4th.
Stay tuned for more from Disney, and be sure to get social with us on Facebook and follow along with us on Twitter @BehindThrills for the latest updates!
For our latest theme park videos please be sure to subscribe to us on YouTube!
For more information about Walt Disney World, including tickets, visit the official website by clicking here!