Jaws made you afraid to go into the water. Jaws 2 made you afraid to go BACK into the water. Now, with more sequels than a little bit, JAWS 19 is about to hit theaters. This time, it's really really personal! In preparation for the huge Back to the Future anniversary, and the fact that the future (as told in Back to the Future Part 2) will officially be here on October 21st, 2015. As part of the celebration, the makers of the film, as well as several companies, are rolling out with official products, trailers, and more to get ready for the release of the trilogy on Blu-Ray.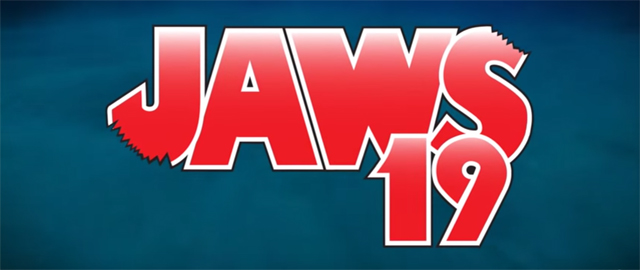 One of the coolest bits of promotion is the trailer for JAWS 19, as seen in the film. In Back to the Future 2, JAWS 19 is directed by Max Spielberg, and is in Holomax 3D. The only thing we really see from it is the shark jumping out of the billboard, and chomping down on Marty McFly. Now, as one of the bonus features on the Blu-Ray, we get a look at the full trailer…and it's pretty damn hilarious.
They blew him up, shocked him, turned him into a family film, and finally rebooted him. Sad thing is, that there is actually talk of a remake on the movie, with Spielberg at the helm. Not sure we're ready for that.
We may not be ready for another Jaws film, but are you ready for Pepsi Perfect?
http://www.youtube.com/watch?v=XrwRdzFP-fY
Pepsi is actually selling Pepsi Perfect. Instead of $50 dollars, it will be an outrageous $20.15. A limited number of them will be sold, and the Pepsi is actually just regular Pepsi, but still…you now live in a world where you can buy Pepsi Perfect.
Back to the Future will hit Blu-Ray in an ultimate edition on October 20th, and Amazon will be streaming the film all month long. Nike will also release the light up, self-lacing shoes…and the Cubs could actually be on the way to winning the world series.
On top of that, Universal Orlando is rumored to be planning some kind of tribute in park, and Universal Studios Hollywood will be playing host to a huge Back to the Future convention, and could be doing something different for day guests on their tram as well. Time will tell on those.
Stay tuned for more theme park fun, and be sure to get social with us on Facebook and follow along with us on Twitter @BehindThrills for the latest updates!
For our latest theme park videos please be sure to subscribe to us on YouTube!