Hurricane Joaquin has become a major hurricane in the Atlantic, and while it has completely tipped through the Bahamas, it is now targeting the Northeast. The hurricane comes right as northern theme parks are kicking into high gear with their annual Halloween festivities. In preparation for the potential storm, several theme parks have shut down portions of their Halloween events, and some have canceled them altogether.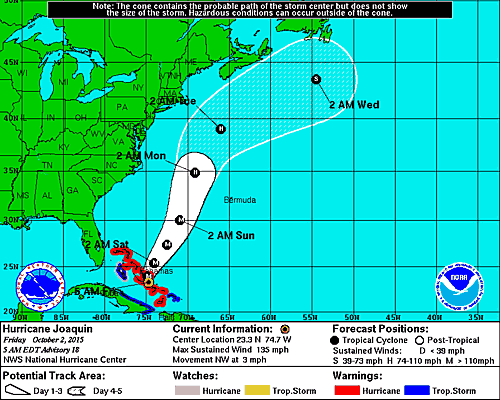 The good news is that Hurricane Joaquin is expected to shift to the East, and not affect the Northeast United States directly. The bad news is that it will still bring tons of rain to the area. As a precaution, a few theme parks have decided to scale back and postpone some of their activities for the day.
Busch Gardens Williamsburg in Virginia has announced that they will be closing several of the parks outdoor haunted attractions. The rest of the park will be open, however, and this change is just for Friday. As far as is knowing and scheduled, the park is back to full operations on Saturday and Sunday.
Kings Dominion in Doswell, Virginia isn't taking any chances, and is completely closing the park on Friday night.
Due to inclement weather, Kings Dominion will be closed on Friday, October 2. There will be no Halloween Haunt activities. At this time the park will be open as scheduled on Saturday & Sunday.

Posted by Kings Dominion on Thursday, 1 October 2015
The park is scheduled to open the normal business hours on Saturday and Sunday.
We will keep an eye on any other closures happening in the area.
Update
Busch Gardens Williamsburg will close at 2 p.m. on Friday because if the rain being brought in by Hurricane Joaquin.
Carowinds has also issued a statement, as they have closed for Friday night as well.
@Carowinds: Due to inclement weather, Carowinds will not open tonight for SCarowinds. Visit website for updates on Saturday & Sunday operation.
Again, this just for Friday night, and the parks are expected to open again on Saturday.
Stay tuned for more updates, and be sure to get social with us on Facebook and follow along with us on Twitter @BehindThrills for the latest updates!
For our latest theme park videos please be sure to subscribe to us on YouTube!