Zombicon in Fort Myers is an event that has been bringing out the dead (fans) and donating to charity for almost ten years. Tragedy struck the 9th annual event, which is supposed to be a great time for zombie fans from all over the country. A senseless shooting left one person dead, and four others injured.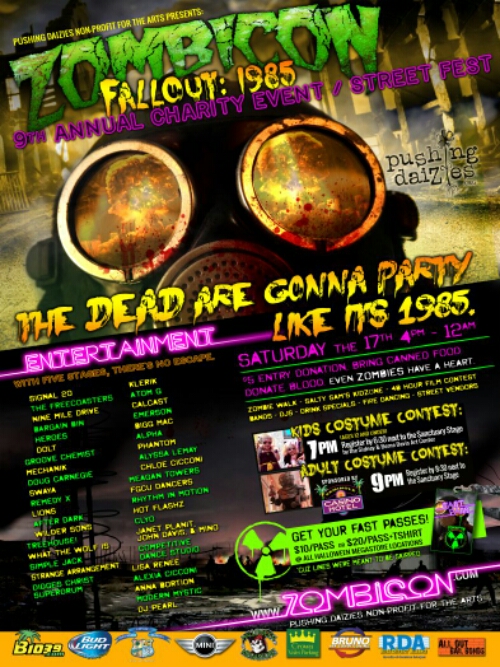 The incident happened around 11:45 on Saturday night in the streets of Fort Myers, as Zombicon was about to wrap up. A single gunman opened fire in the crowd, sending people running. When the smoke cleared, a 20 year old man from Okeechobee, Florida was left dead.
The official Facebook page released the following statement :
The organizers of Zombicon, Pushing DaiZies, Inc. are deeply saddened by the news of what happened within the footprint…

Posted by ZombiCon on Saturday, 17 October 2015
The incident is extremely unfortunate, but can happen anywhere. It's an unfortunate time that we live in, where gun violence is so prevalent.  It is more unfortunate that the people who oppose this event will most likely use the incident to keep the event from happening in Fort Myers in the future.
The event helps to raise money for local charities in Fort Myers, and brings in around 20,000 attendees that rent hotel rooms, eat in restaurants and buy merchandise. This incident may also hinder further events from happening in other places in the future.
Our prayers our with the families involved. The four remaining victims received non-life threatening wounds, and are expected to make a full recovery. Police are asking for any information about the shooter.
Zombiecon is an annual zombie lovers convention that has gained national attention for the level of participation from the crowd and city involved. The streets are filled with music, as dozens of bands play, as well as zombie walks, costume contests, a film competition and more. Fort Myers is the home to ZombiCon, quite simply because the legendary Day of the Dead film, directed by George Romero was filmed in the town.
The organizers of the event, Pushing Daizies has helped local homeless shelters by providing food, local blood banks by getting patrons of ZombiCon to donate gallons of blood, and have even helped with Bone Marrow donations. Hopefully those looking to use the tragedy will be able to look past the one incident that happened, and can instead look to how they can help make the event safer for everyone.
Stay tuned for more gory goodness, and be sure to get social with us on Facebook and follow along with us on Twitter @BehindThrills for the latest updates!
For our latest theme park videos please be sure to subscribe to us on YouTube!
For more information about ZombiCon, visit the official website by clicking here!