Say it once, say it twice, say it three times before he's gone for good! The Beetlejuice Graveyard Revue at Universal Studios Florida is closing for good, and soon! Universal Orlando announced over the weekend on it's official website that it will be closing the show featuring the Ghost with the Most on December 2nd. It's all in preparation for the huge new Fast & Furious attraction that will be opening in  2017.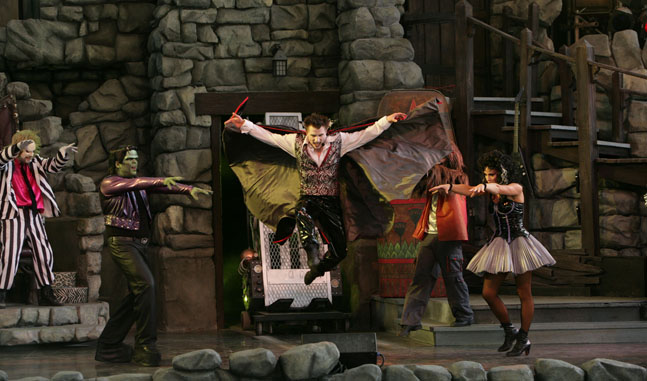 Universal will be closing the long running Beetlejuice show on December 2nd for good, as the attraction will become part of the new home for Fast & Furious Supercharged. The new attraction will pit riders against the bad guys from the film, and include them in a chase through the streets of California as they reach simulated speeds of 120 mph, and face wind, fire, and more.
Video-Go on a chase with Fast & Furious
This is the final nail in the coffin for the Big guy, as Beetlejuice has been around the park, pretty much since the beginning. The show made it's debut in 1991, and has been a staple ever since. The show has undergone a few different drafts, with the latest happening in 2014. However, the style and the formula of the show has stayed relatively the same.
Video-Beetlejuice 2014
While many rumors have had the attraction coming back to another venue later this year, it's not very likely, as there hasn't been any other major work on any of the other venues. The park still hosts shows based on Fear Factor, and Animal Actors, as well as the classic Horror Make Up Show. Over the past few months, the park has rolled out several all new mini shows throughout the park, to help balance out the loss of Beetlejuice.
Beetlejuice is the last of three major closures that has happened this year, with Disaster, and Twister coming before it. Disaster will also be used for Fast & Furious, while Twister will become Jimmy Fallon's Race Through New York, both in 2017.
Universal is on a building frenzy, and will continue to bring more attractions to life as the park continues to grow. In 2016 the park will not only rebuild the Incredible Hulk Coaster, but will bring Skull Island: Reign of Kong to Islands of Adventure, and open an all new hotel with Sapphire Falls Resort.
Stay tuned for more from Universal Orlando, and be sure to get social with us on Facebook and follow along with us on Twitter @BehindThrills for the latest updates!
For our latest theme park videos please be sure to subscribe to us on YouTube!
For more information about Universal Orlando, including tickets, visit the official website by clicking here!