It's kind of a bittersweet day, as we learn that something great is coming to Disney's Hollywood Studios, but something equally as great is going away. Disney announced today that they will be bringing all new experiences to Disney's Hollywood Studios, beginning December 1st, all based around Star Wars! The sad news? Star Wars Weekends will not happen in 2016. Still, new Star Wars experiences are good…right?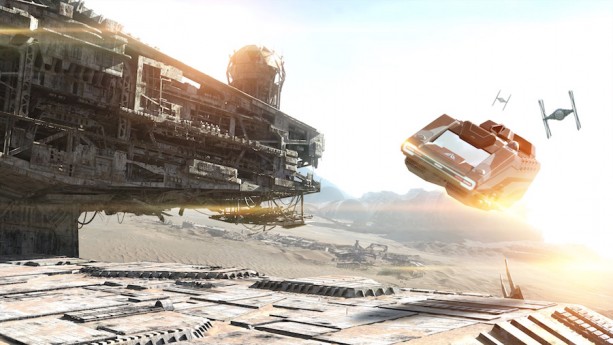 The biggest news is that due to the construction starting on the new Star Wars Land area, Star Wars Weekends will not happen in 2016. Season of the Force will happen in January, instead, and will bring in tons of Star Wars themed goodies, merchandise and a new fireworks show. It's not the same as getting to meet your favorite Star Wars actors, but it's something. No word on if, or when, Star Wars Weekends will return, but if we had to guess, we'd bet on after Star Wars Land opens. Of course, there is no date for Star Wars Land's opening either.
Disney has also announced that they will be kicking off the Star Wars festivities on December 1st, with the all new Star Wars Launch Bay. The store will give guests the chance to see cool props, and pieces from the films, as well as get a more in depth preview of upcoming Star Wars films, and meet Star Wars characters. It's a fun new way to get exclusive merchandise, and meet your favorite characters.
Also on December 1st, Star Tours is getting an all new piece that will preview the new film- The Force Awakens. It will be a scene inspired from the film, and will put guests in the action, before they see it in theaters! All guests will get to experience the new film during the first few months of the opening, after that it will be added to the rotation of random experiences.
A new experience, Star Wars: Path of the Jedi, will give guests the chance to experience scenes from the entire Star Wars Saga, and get acquainted with the film, if they've been living under a rock, or (gasp) haven't liked Star Wars before.
And later in December, the all new Jedi Training: Trials of the Temple will debut. The new experience will let little ones journey to the secret site of an Ancient Jedi Temple where they will confront Darth Vader and the Seventh Sister from the Star Wars Rebels series.
It's a little taste of Star Wars Land, coming this December! Are you excited about the new experience?
Stay tuned for more from Disney, and be sure to get social with us on Facebook and follow along with us on Twitter @BehindThrills for the latest updates!
For our latest theme park videos please be sure to subscribe to us on YouTube!
For more information about Walt Disney World, including tickets, visit the official website by clicking here!