Our friends over at Attractions Magazine organized one last big bash at Universal Orlando's Twister on Sunday as the ride was scheduled to close forever. Dozens of people dressed up in the signature blue shirt, and jeans took the silly pose that Paxton strikes in the rides' preshow films. The attraction is closing to make way for an all new attraction, but we were there to say goodbye to the attraction that showed you "Finger of God".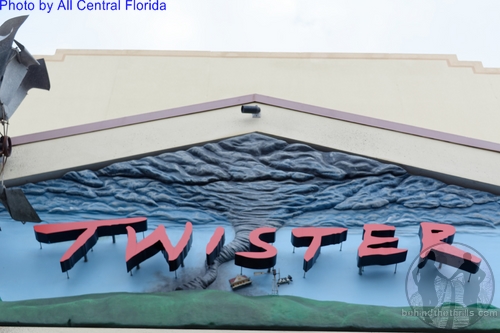 Twister is based off of the 1996 Blockbuster film starring Bill Paxton and Helen Hunt. The attraction replaced the beloved Ghostbusters attraction in 1997, and opened in May of 1998. The attraction was essentially a simulation of what it would be like to experience a real life tornado, all while doing it from the safety of a theme park attraction. Twister took guests on a journey through Kansas cornfields, and into a soundstage to witness everything it took to bring the movie twister to life. They then walked through a house devastated by a tornado, complete with a car through the roof. It was ripped straight out of the film.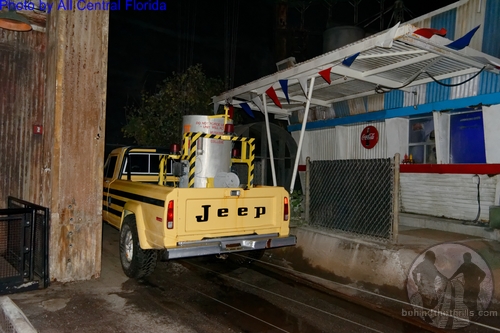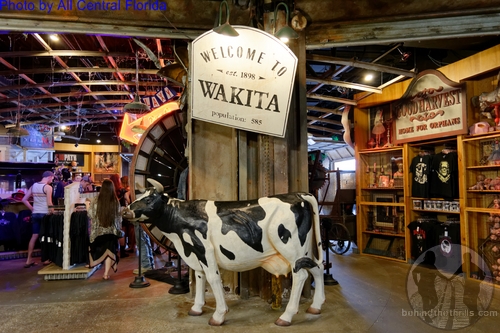 The film was famously hard to shoot, with all kinds of conditions being blasted at the actors, and actual tornadoes hitting towns nearby. It was apparently so rough of a shoot that stars Helen Hunt and Bill Paxton refused to work together again, and filmed their parts for the attraction's preshow separately, a rumor that would only be furthered by the duel screens in the first preshow.
The ride itself through everything at you, darkness, wind, rain, fire and even a flying cow just for fun. While it was a great attraction, lack of updates throughout the years left it one of those attractions that just wasn't a must see every single time.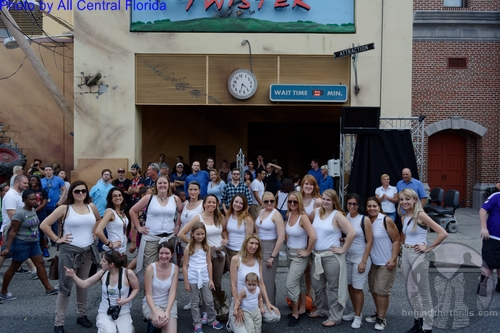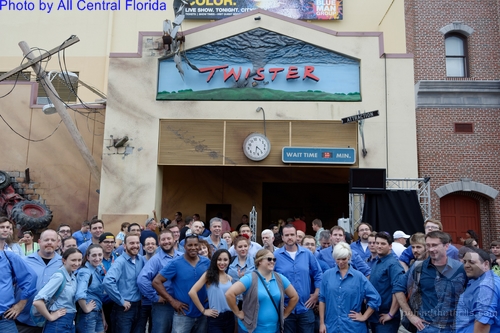 To either mock, or show support for the attraction, fans showed up on Sunday in blue shirts and jeans to strike the silly pose on screen that Paxton struck for the attraction. Similarly, lady fans showed up in white tank tops and khaki pants to pay homage to Helen Hunt. The final ride was met with loud cheers, and tons of laughs as fans counted down the final moments of the ride.
Video-Ride it out with Twister, one last time
So, why is Twister being closed? It will be replaced with the Jimmy Fallon ride, Race Through New York in 2017. The attraction will feature smells, rain, fire, and probably a lot of other things we already see in Twister. The new attraction is said to be a 3D/4D adventure, and will most likely use screens, and possibly the Kuka Robo arms that are currently used in Harry Potter and the Forbidden Journey. Twister is already being torn down, with much of the signage removed overnight on Sunday.
Slideshow-Check out even more pictures from the final ride on Twister-Ride it Out


Click here if you can't view the slideshow
Stay tuned for more from Universal Orlando, and be sure to get social with us on Facebook and follow along with us on Twitter @BehindThrills for the latest updates!
For our latest theme park videos please be sure to subscribe to us on YouTube!
For more information about Universal Orlando, including tickets, visit the official website by clicking here!