Christmas is supposed to be a time for fun, joy and giving. We've twisted it and molded it into a very commercial holiday, forgetting what it is that makes it special. Instead of loving and dinners, most of us are about the bright and polished commercialism, where we spend as much money as we can on things we really don't need. And with that image, is how the all new Christmas horror movie, Krampus opens. The new film, by Trick R Treat director Michael Dougherty, takes guests on a whirlwind ride of how everyone needs to slow down and remember what's important…before you lose it.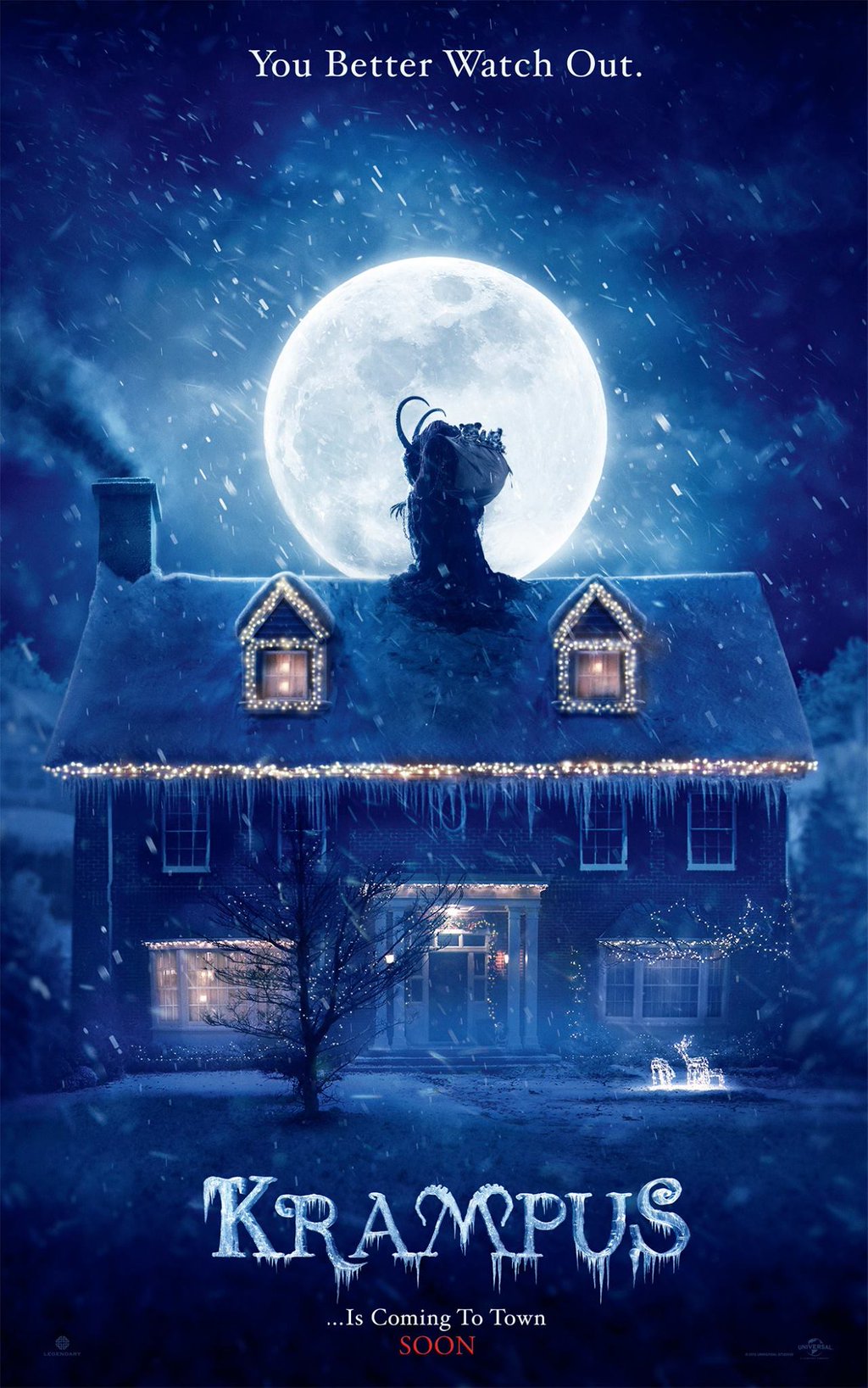 The movie has very few big stars that you would really recognize, with exception of maybe Adam Scott, and  David Koechner…who you would know if you've seen them. The actors only set up a catalyst for the story which is a lot older than you think.
To know the movie Krampus, you have to know the legend of Krampus. He is very old, and first tellings of him date back to 17th century Germany…though there could be more. He is celebrated in many different countries, and his make up and look are usually a bit different, but the story is always the same. He comes for bad children. In some countries, he brings sticks and coal…something we relegated to Santa Claus. In other countries, he puts you in a bag and beats you with the sticks. But our favorite, and the one the movie focuses on, is that he drags naughty children to hell.
That's right, the song lyrics "you better watch out" wasn't written for Santa, but what he brings with him when he comes to town. For every good, there is a bad. When Santa comes to town for the good little girls and boys, Krampus comes for the bad ones, and he brings a long some helpers.
So the film starts with a typical town, where people are being beaten and trampled on in true Black Friday fashion. The main family has kind of taken things for granted, and neglects each other. When the other half of the family comes to town, it's met with more chaos and anger. It seems like your typical Christmas that many of us have. Then Krampus comes to town.
The film is full of great little nods to classic holiday horror films, and it very well could be this generations Gremlins. There is a sense of mystery, since really no one knows what's happening. And it uses a few different mediums really well. It also does a pretty good job of setting up the story, and showcasing the monsters that Krampus brings along with him. As for Krampus himself, less is more, as we only see fleeting glimpses of him darting from the rooftops, and dragging people away. When we finally see him, he's more of a polar opposite of Santa than we think…see the movie, and you'll see what I mean.
So, where does Halloween Horror Nights come into it? It's more than just a clickbait title. The film is released by Universal Studios, and produced by Legendary Films. It's the latest in the partnership between the two companies that has brought about some big name horror. The first two entries, Dracula Untold and Crimson Peak were translated into Halloween Horror Nights houses over the past few years. Krampus is full of imagery that seems ripe for the picking for a Halloween Horror Nights house. Both Universal Studios Hollywood and Florida have done great Christmas horror in the past. Universal Hollywood has had two scare zones based around the darker side of Christmas, with Krampus. Universal Orlando had a legendary house-Psychoscarepy Home for the Holiday, where Christmas went terribly wrong. The film has also been successfully turned into a haunt by legendary haunt attraction, Scarehouse. This past year the Pennsylvania haunted house brought Christmas early when they brought Krampus to life, along with Trick r Treat. It definitely has the imagery and story that make for great Halloween Horror Nights Houses, and is on the shortlist of names that are already being rumored.
Back to the film, though. While the story of Krampus is definitely based around horror, it is a cautionary tale. Much like Gremlins before it, it uses the guise of a family film where everything goes wrong for the holidays to push a message across. Christmas isn't about the gifts, and what we can get. It's about what we give, and who we have in our lives. It's another one of those "scary ghost stories" that Andy Williams sang about all those years ago. Those ghost stories exist for a reason…to let us know that there is a true meaning of Christmas, and we have to not forget it.
As a father who's son has turned 18, with a high school graduation looming, it's a lesson that I took to heart. My heart isn't in Christmas this year. It's really tough watching your little one go from the child stage, to adult and falling into that most adult of routines-work. I've found myself not getting into the many Christmas events that we've been to, and even neglecting our family customs that we've spent 18 years building. Maybe I better watch out, because without that Christmas spirit, I may get a visit from Krampus.
Stay tuned for more from Universal Orlando, and be sure to get social with us on Facebook and follow along with us on Twitter @BehindThrills for the latest updates!
For our latest theme park videos please be sure to subscribe to us on YouTube!
For more information about Universal Orlando, including tickets, visit the official website by clicking here!