The Orlando Sentinel and GrowthSpotter is reporting that Universal Orlando has a contract in place to purchase 474 acres of land between Destination Parkway and Sand Lake Road on Universal Blvd. The reason? A third theme park! The rumor comes as approval on the huge Skyplex Skyscraper roller coaster gains approval. The new land became available in November, and Universal has shown huge interest in it.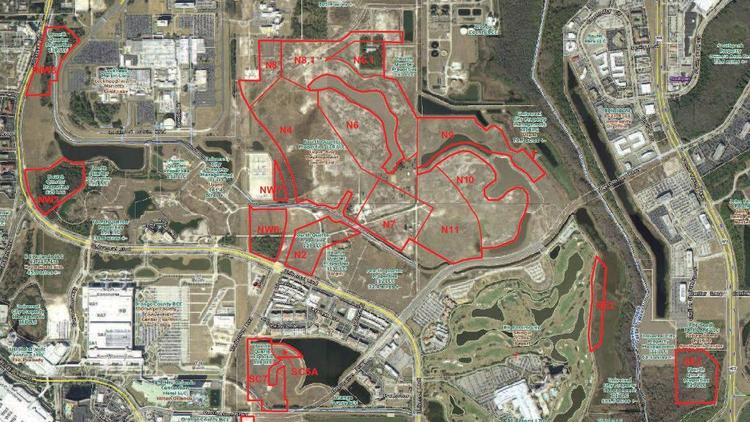 According to the various reports, Universal is in a position to purchase the land as early as Wednesday December 2nd or within the next two weeks. The various parcels measure up to be about 474 acres, with the largest portion right across the street from the Rosen Shingle Creek Resort.
The rumors have been circulating for about two months now, with the land coming up for purchase this past November. The land is the largest piece of vacant property in the I-Drive corridor, and just a few miles away from the current Universal Orlando Resort. Currently, the park is constructing their fifth onsite hotel, a new waterpark, and several new attractions which will debut in 2016 and 2017. The resort will also close Wet n Wild, the grand daddy of the modern waterpark, in 2016. The rumors for that site include anything from a new theme park, hotels and even a new version of CityWalk.
The report comes as the 570 foot tall Skyscraper coaster, centerpiece for the new Skyplex Entertainment District, gains unanimous approval. Universal strongly opposed that project. This new purchase could very well be the reason.
Still, with this much land at it's disposal, Universal stands to be able to take a make a massive expansion with at least one more park. To put it in perspective, Universal Studios Florida is about 107 acres, with Universal's Islands of Adventure measuring in at 101 acres. The entire area, including all hotels, CityWalk and parking structures is about 673 acres. This new land could provide for two more parks, and at least two more hotels.
Of course, this is all rumor at this point.
Universal has signed a deal with Nintendo to bring their properties to life, which could theoretically be the theme of another park. We'll just have to wait and see what happens.
Stay tuned for more from Universal, and be sure to get social with us on Facebook and follow along with us on Twitter @BehindThrills for the latest updates!
For our latest theme park videos please be sure to subscribe to us on YouTube!
For more information about Universal Orlando, including tickets, visit the official website by clicking here!