Fun Spot America has been under a booming growing trend for the last few years. The Orlando based amusement park has built two new coasters, acquired new land, and changed the way the rest of the city looks at the park that was more famous for their "IT'S HUGE" campaign than the rides. Today, the park announced that they aren't done yet. They've partnered with Falcon's Creative Group to help the park reach the next step in their ambitious plans.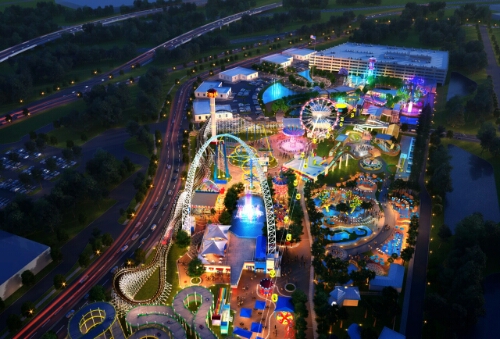 Fun Spot released a piece of concept art that pretty much says it all. The park is going to be even bigger than before, and is using Falcon's Creative Group to realize that goal. The park has not released any details, but the concept art does lay out huge plans for a massive expansion.
Previous the park announced that they would be adding a waterpark, the plans for which were changed. Instead the park partnered with Gatorland for Gator Spot.
Then a piece of concept art labeled "Old Florida" was spotted on the wall. While those plans seemed to have change, the park says they aren't scrapped.
Looking at the concept art, we see some huge key pieces. The biggest of which is the hotel (at least it appears to be a hotel) that is poised directly across the street. The park then becomes almost unrecognizable as a new waterpark takes up the right portion of the art. The pathways look to get larger, and more new attractions such as a new swing, carousel, and log flume ride dot the area, and a skyride attraction stretches across the landscape.
"
Fun Spot America Theme Parks is a name in the making." The park said in a statement "We are constantly growing and we have one ultimate theme, Americana.
"
Falcon's Creative Group told InPark Magazine that the goal will have the park tell a story, using America's past and present across six different themed areas. That's a huge step in a new direction for Fun Spot, which had been primarily an amusement park. The park has not discussed any specific details yet, but the plans seem ambitious to say the least. The plan isn't expected to happen overnight, but over the next several years as the park continues to grow.
As they say "IT'S HUGE!"
Stay tuned for more from Fun Spot, and be sure to get social with us on Facebook and follow along with us on Twitter @BehindThrills for the latest updates!
For our latest theme park videos please be sure to subscribe to us on YouTube!
For more information about Fun Spot America, including tickets, visit the official website by clicking here!