The new trailer for what is sure to be the next big animated hit for Universal, and Illumination has hit…and it cracks a little bit of the story on the new Secret Life of Pets. The new film will be in theaters later this summer, and with the new film comes new rumors that a new attraction is coming to Universal Studios, both in Hollywood and Orlando. What could we expect to see, and will the new Secret Life of Pets prove as successful as Minions for Universal?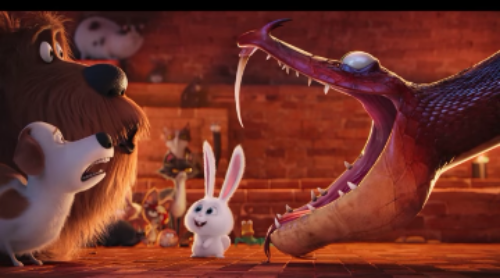 The new trailer features Snowball, as voiced by Kevin Hart. The comedian is in hot demand right now, with the critically panned box office hit Ride Along 2 hitting theaters. The new clip features his soft and fluffy rabbit-Snowball. Snowball isn't as light and fluffy as he seems.
So, it seems at least part of the story will take place in New York, and will have some pets getting out into the streets of the city where they come across Snowball and his gang of strays. He seems to be the leader of the strays and leads and underground bunker full of a variety of different animals. We could very well see Snowball turn into a bad guy, as he seems to have a little too much fun with that maniacal laugh.
The film is getting such huge early buzz, that rumors say Universal is already looking at launching an all new dark ride based on the attraction. The dark ride is rumored to use animatronics over screens and will take guests on an adventure through the streets of New York as they search for a lost pet.
The ride will allegedly first open at Universal Studios Hollywood as the park's 2017 addition and is rumored to take place of where Soundstage 28 once stood right next to Transformers. If the attraction were to open, a rumored thematic makeover of Transformers would also take place to better fit a new theme on the lower lot.
Of course, if the ride is a hit in Hollywood, it will be duplicated in Orlando shortly after. The new ride is rumored to go in one of three places. The first will be the Toon Lagoon Ampitheatre, which is now only used for special events and occasions. There are conflicting reports saying that it will instead be used for something based on Nintendo Land (which is also rumored to be taking over Toon Lagoon) and even that it could be used for another project altogether.
The next rumor has it taking over Shrek 4D, which is increasingly showing it's age. That would put it right next to Minion Mayhem, and could make that entire area an "animation parkway" of sorts.
The next rumor calls for an entire area based on Illumination characters and films, including Minions, HOP, and of course Secret Life of Pets…this area will be based in a third theme park. The rumor for a third park has been floating around for quite some time, and has been made ever more solid by a chunk of land that Universal had shown interest in buying.
Keep in mind that these are just rumors for now, and could change at any time…if they are even true.
There is no solid timeline on the new attraction, but if the new film proves to be a massive hit this summer, you could expect to see it sooner rather than later.
Stay tuned for more from Universal, and be sure to get social with us on Facebook and follow along with us on Twitter @BehindThrills for the latest updates!
For our latest theme park videos please be sure to subscribe to us on YouTube!