The good news is that Tales from the Crypt is getting rebooted for television, and sometime really soon. The bad news is that it's going to be on TNT, and possibly toned down. The worst news is that it's being brought back by M. Night Shymalan, who has not had a big hit, and has turned in some pretty terrible films in the last few years. Still, the Crypt Keeper will return, which is always a fun time!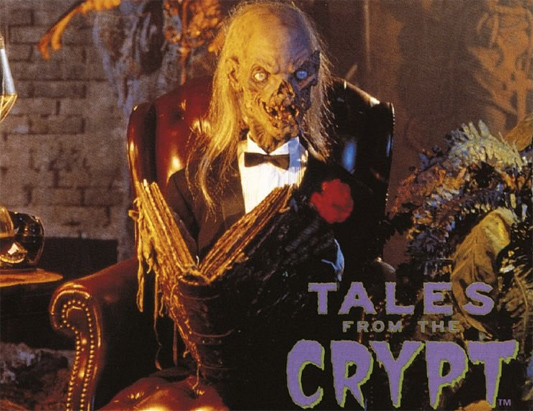 TNT will launch a new two hour block of horror this fall, which will feature Tales from the Crypt and other programs, about which details have not yet been released. Tales from the Crypt will dig into the archives of the original EC Comics for episodes, and will also bring out new Tales specifically for television.
"I couldn't be more excited to be teaming up with Kevin Reilly, Sarah Aubrey and the entire TNT team in this unique endeavor," said Shyamalan. "To be part of such a beloved brand like Tales from the Crypt, something I grew up watching, and to also have the chance to push the boundaries of genre television as a whole, is an inspiring opportunity that I can't wait to dive into."
Most of us know Tales from the Crypt from the HBO series, which aired in 1989 and ran until 1996. However, it was first a series of comics from the 50's, which were then adapted for the big screen in 1972. That film starred Peter Cushing, and had no Cryptkeeper. The HBO series was where many of us attached to the Crypt Keeper and the show. The show spawned two feature films-Demon Knight, and Bordello of Blood. The series was introduced every week by the skeletal, and gory Crypt Keeper. Crypt Keeper would use sight gags, and bad puns…which were actually pretty glorious…to introduce and end each night's episode. It was something that HBO audiences embraced openly. The show would also spinoff into a children's cartoon, and game show.
For fans of Halloween Horror Nights, Crypt Keeper was the first official "Icon" of the event in 1995, for HHN V. The Crypt Keeper was licensed by Universal Orlando for the event, and was the face of that year's event. Crypt Keeper's Dungeon of Terror was his house that year, and he even played host to a show on the lagoon at Universal Studios called Crypt Keepers Revenge: The Knights of Hell.
But that's not the only Universal Studios connection. Universal Studios Florida would also be the home of Secrets of the Crypt Keepers Haunted House, the aforementioned game show. It was a family show, and was filmed on location at Universal Studios Florida, in the famous sound stages. You know, the sound stages that now hold Halloween Horror Nights haunted houses?
Universal wasn't the only place to feature the Crypt Keeper, as he also served with Elvira as the event MC for a few years, including in 2001.
Obviously, if there's a return to television for Tales From the Crypt, could we expect to see the Crypt Keeper…as we knew him? Even more, could we expect to see him at Halloween Horror Nights 26? That might be too much to ask, but Universal does have a great record of tying in shows and movies to their Halloween event. Plus, Knott's has already brought back Elvira for their Haunt event, why not bring back Crypt Keeper as well for the 45th?
The new series will air this fall on TNT, with more details to come this summer.
Stay tuned for more, and be sure to get social with us on Facebook and follow along with us on Twitter @BehindThrills for the latest updates!
For our latest theme park videos please be sure to subscribe to us on YouTube!