In a bit of disappointing news, our friends at Legends-A Haunting in Old Town have announced that they have closed their doors for good. The Kissimmee haunted attraction first opened in 2013 and continued until just a few weeks ago. The site doesn't give any specifics about the closing, but we do have a bit of speculation.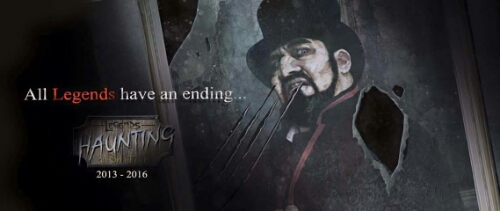 The Facebook page for the haunt revealed a sad message late Tuesday night as the haunt announced it's closing:
From our perspective on things, the haunt was basically destroyed by Old Town. That's not a statement from the owners, or any of the staff, that is a personal observation. Old Town has completely gutted the place, removing most of the rides, and making it hard for any shop to operate. The last time we visited Old Town (Valentine's Day to visit Legends, which was closed), the once thriving shopping district was filled with souvenir shops and essentially indoor flea markets. The selection was utter crap. Many of the very cool shops that were once there, were now gone, and many that were still there had very few customers.
Old Town is in the middle of a refurbishment, but while it's continuing to change, it is seemingly driving away their current clients by raising the rent. Old Town will most likely not survive it's own restructuring, but again, just an opinion.
So where does that leave Legends? There are ongoing discussions with new places to bring the attraction back. It had a rich tapestry of ideas and effects that would make a great attraction pretty much anywhere. If it returns, it looks unlikely for it to be a year round haunt but more of a seasonal attraction. Legends did many cool things throughout the years, including huge events for nights such as Friday the 13th and the Supermoon. They also had Ghost Tours of the Old Town area, and were a favorite for haunt fans that were Jonesing for a mid year HHN fix.
Video-Take a look into the opening night of Legends a Haunting at Old Town
Haunting is a great business, and a wonderful addiction, but it's one that is very tough to do year round. The team at Legends brought together some of the coolest people we've ever met, along with some very talented haunters. Hopefully the team will get to come back to scare the world again. Until then, Archibald Ashdown is looking for a place to crash…pray he doesn't choose yours.
Stay tuned for more gory goodness, and be sure to get social with us on Facebook and follow along with us on Twitter @BehindThrills for the latest updates!
For our latest theme park videos please be sure to subscribe to us on YouTube!