**DISCLAIMER** This list was compiled by a major roller coaster nerd.
If you can believe it, the "off-season" will soon be over and it will officially be time to ride the highly anticipated new coasters for 2016. We have compiled our list of the Top 10 new coasters opening world-wide. Six of our top 10 are right here in the United States, with 2 of them being right here in Central Florida. Let us know what you're looking forward to the most in the comments below.
10.) Gale Force – Playland's Castaway Cove (Ocean City, NJ)
This year we see S&S Sansei capitalizing on the trend of high-thrill/small footprint coasters. This is the first of their LSM launched El Loco coasters. It boasts a triple launch with speeds up to 64mph. All that speed will propel you up to the top of a 125ft hill, followed by a twisted top hat and multiple inversions. This ride will certainly put Castaway Cove on the "must visit list" for our summer travel in 2016.
9.) Storm Chaser – Kentucky Kingdom (Louisville, KY)
Following on the heals of the ever popular 'Lightning Run', Kentucky Kingdom is delivering big for 2016!  Storm Chaser is designed by RMC (Rocky Mountain Construction) and it promises to transform this one-of-a-kind theme and water park in Louisville. Built on the bones and supports of the former 'Twisted Twins' wooden coasters, RMC has designed an incredible airtime machine with 3 inversions, multiple over-banked hills and crazy turns. The craziest part of this ride is sure to be the barrel roll drop, a first for the United States! If you haven't checked out the new Kentucky Kingdom yet then 2016 is the year to do so!
http://www.youtube.com/watch?v=keGdhlBjSEs[/embedyt]
8.) Cobra's Curse – Busch Gardens Tampa (Tampa, FL)
I have to admit that having Busch Gardens Tampa as my home park has really spoiled me in terms of having quality coasters in my backyard. When Cobra's Curse was announced, I was a slightly bummed it wasn't something bigger. But as winter is soon turning to spring and we are seeing more and more of Cobra's Curse taking shape, the more excited I am for this project. The ride is a MACK Spinning coaster with 3 distinct sections, one facing forward, one going backwards, and the last section where the cars will be free-spinning. If the ride experience wasn't enough, Busch decided to up the experience with fully immersive Egyptian theming where you will come face to face with a giant Cobra. Make sure you add Busch Gardens to your Central Florida trip this year!
7.) Valravn – Cedar Point (Sandusky, OH)
It seems that you can't make a coaster Top 10 lists without including Cedar Point somehow. This year is no exception. When Valravn opens this spring it will be the tallest, fastest, longest, and have the most inversions of any B&M dive coaster to date. At 223ft tall it will be in good company at Cedar Point, the park with the most coasters over 200ft tall.  Of course height doesn't mean much until you have to come down. At the top of the 90 degree drop is a holding brake that will briefly tilt the train over the edge before dropping you straight down at 75mph into the largest Immelmann loop on a dive coaster. Come for Valravn, stay for the world class collection that Cedar Point has to offer. You will not be disappointed!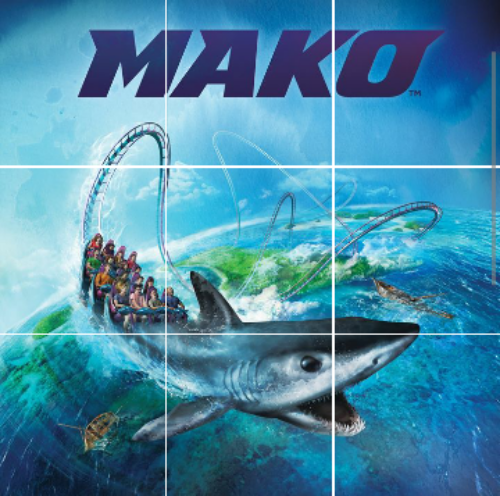 6.) Mako – SeaWorld (Orlando, FL)
SeaWorld Orlando is putting together a wonderful portfolio of B&M coasters.  In true SeaWorld fashion, each coaster is themed to an ocean creature or myth. This year, SeaWorld is giving one of the fastest sharks in the ocean – Mako – a fitting  tribute in the form of the 200ft tall B&M hyper coaster. At 200ft and 73mph, Mako will be Orlando's tallest and fastest coaster. This coaster is going to be filled with numerous airtime moments, two over-banked turns and a fly-over the central lake in the park. The coaster will be the new centerpiece of the 'Sharks Realm' which will include the Shark Encounter, the Sharks Underwater Grill, shops and educational experiences. SeaWorld and B&M have a wonderful history of producing great experiences at the Orlando park, and coaster enthusiasts should put this on their 2016 visit list.
http://www.youtube.com/watch?v=O4pFi1awh3o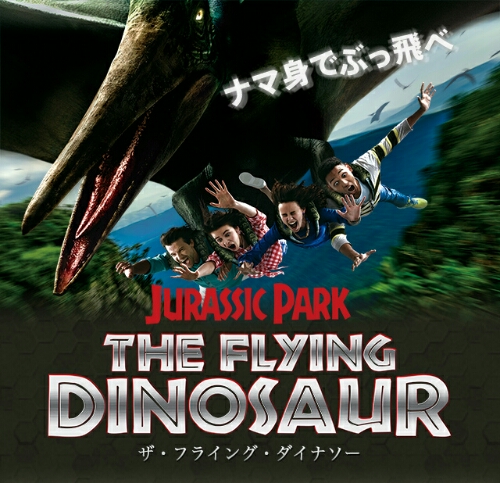 5.) Flying Dinosaur – Universal Studios Japan (Osaka, JP)

This year, Universal Studios Japan is celebrating its 15th anniversary.  To kick off a year of celebration, the park will be opening a behemoth B&M flying coaster – Flying Dinosaur. Not much was known about this ride until the track and structure started to take shape in the Jurassic Park section of the park. This ride will feature some pretty crazy elements, including an inline twist that ends with you on your back as you are pulled up into an Immelmann loop. This is just the beginning! Guests will 'fly' over the iconic Jurassic Park gates and then will suddenly plunge back down to the ground and thrown into a twisted pretzel loop. The rest of the ride will have you soaring over the guests below just like in the Jurassic Park movies. It will be a fantastic addition to what many refer to as Universal's "greatest-hits" park.
http://www.youtube.com/watch?v=23aDTwNqmUY
4.) Flying Aces – Ferrari World Abu Dhabi (Abu Dhabi, UAE)
There was a bit of confusion this past summer over which of the two new Intamin coasters would be getting the world's tallest non-inverting loop. It turns out that the new Wanda park in Hefei, China would be claiming that record and Flying Aces would come up 10ft shy of the crown. But a great coaster doesn't have to rely on breaking records, or being the tallest, fastest, or most inverting to provide a top-notch experience. This will be the second wing coaster we have seen from Intamin, the first being Skyrush at Hersheypark. Skyrush sets the bar high, but Flying Aces¹ stats are just as impressive. Flying Aces starts with a climb to the top of the 206ft lift hill, followed by a twisted drop at 75mph. Riders will then climb 170ft to the top of the non-inverting loop. And this is just the beginning! The second half of the ride, in our opinion, is where the coaster is going to shine. The coaster stays low to ground, enhancing the sensation of speed, in addition to some awesome airtime hills that promise to push you out of your seat. If you have been on Skyrush then you know why this coaster is coming in high on this list. Flying Aces is going to be everything we want in a coaster: authentic, thrilling, and just plain fun!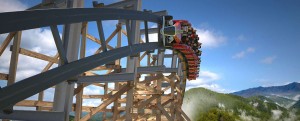 3.) Lightning Rod – Dollywood (Pigeon Forge, TN)

Dollywood is one of my favorite theme parks! Year after year, they exceeds expectations with new family fun attractions. This year, the park is delivering one of the most anticipated coasters in recent history. Using the ever popular RMC team, Dollywood is about to unveil the world's first LAUNCHED wooden coaster! Yes, I said it: LAUNCHED wooden coaster! Themed to the hot rods of the 1950's, the incredibly themed train will be launched up the 206ft lift hill at 45mph. Once riders reach the top of the hill, they will be faced with a 165ft drop and reach speeds of 73mph, making Lightning Rod the fastest wooden coaster in the world! Situated in the stunning Smokey Mountains, Dollywood has managed to use the natural terrain to maximize the ride experience, as well as enhance the beauty of their authentic theming. Over the course of Lightning Rod's 3,800ft of track riders will experience 12 airtime moments, including the mammoth "quadruple down". There has never been a better year to get to Dollywood, as Lightning Rod promises to be truly one-of-a-kind!
2.) Taron – Phantasialand (Bruhl, Germany)
Talk about a mystery project! Not much was known last summer about this ride, except for the fact that it was an Intamin multi-launch coaster. The park didn't give us many clues or even a press release. They intentionally teased fans and park patrons. The suspense was worth the wait! This is a must-visit attraction. What we now know is that this coaster has two launches. It is being billed as "the most intense LSM launch" and also the longest multi-launch coaster in the world. To add to that, the track will cross over itself an incredible 116 times – clearly a new world record! In addition to this incredible coaster, the park has gone above and beyond to create a completely immersive themed environment. You will be climbing up rock walls, flying under bridges and racing through tunnels. Not only will this ride weave in and out of the impressive theming, but the park has also built another coaster right in the middle of all of this! This second coaster, Raik, will be the longest family boomerang coaster ever built, providing a ride the entire family can enjoy. Make sure you get to Phantasialand this year as Taron promises to be an epic experience!
1.) Wildfire – Kolmarden Zoo (Kolmarden, Sweden)

Here it is, my #1 most anticipated new coaster of 2016! Is it any surprise that this behemoth of a wooden coaster would take the top spot? Like most who follow the theme park industry, I had never heard of this animal park in Sweden (about 85 miles south of Stockholm). That all changed last year when the park announced they would be building their very own RMC wooden coaster. The park is billing it as "The World's Greatest Wooden Coaster" and based on the stats, layout, location, and manufacturer, they may be right. Opening in June, Wildfire will climb the 187ft lift hill, using the natural terrain to offer stunning views of Bråviken bay, before dropping at an 83 degree angle at speeds of 71mph.Over the course of the 4,366 ft of track, riders will be upside down 3 times and out of their seats 12 times, all while hugging the terrain and racing in and out of trees and boulders. Kolmården is making a bold statement with Wildfire and this could just be the beginning of many future attractions. Get to Sweden and ride this coaster.
For all those reasons Wildfire is deserving of my best new coaster for 2016!
Those are MY top ten most anticipated, and best new coasters for 2016. What do you think will end up being the best for 2016? Let's us know in the comments below.
Stay tuned for more from coaster fun, and be sure to get social with us on Facebook and follow along with us on Twitter @BehindThrills for the latest updates!