It was officially announced Sunday night after the latest episode of AMC's Walking Dead, Universal Studios Hollywood will be infested with Walkers this summer. An official attraction based on AMC's Walking Dead is coming to Universal Studios Hollywood, and it's going to be a year round attraction like none you've ever seen.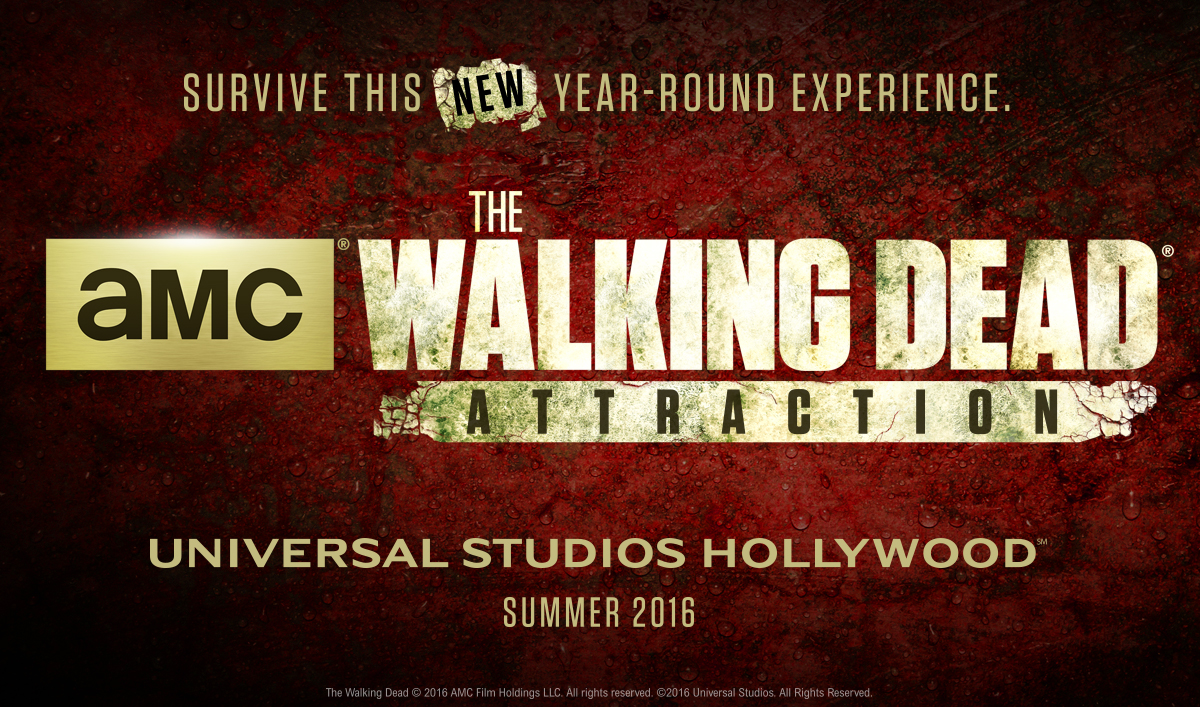 According to AMC, the new Walking Dead attraction at Universal Studios Hollywood will combine live actors and animatronics. It will hit the theme park this summer, along with The Wizarding World of Harry Potter at Universal Studios Hollywood, which opens next month. Year round walk-through horror attractions have been part of Hollywood's DNA since the late 90s. They started with a year round maze themed to The Mummy, then Fortress Vanhelsing, followed lastly by Universal's House of Horrors which shut down after Halloween 2014. It's worth noting that "The Walking Dead Attraction" is not the final name, the official name will likely be released at WonderCon panel in 2 weeks.
Universal Studios Hollywood has done The Walking Dead before with live actors. They've been doing it for the past four years at Halloween Horror Nights. Every year for the past four years, the park has brought out a new maze based on the previous seasons episodes.
Video-The Walking Dead comes to life at Halloween Horror Nights Hollywood
The details are very scarce, and probably will not include a lot of information that is happening to the attraction until Wondercon at the end of the month, when John Murdy and Chris Williams are scheduled to appear and reveal details on a new attraction. We're pretty sure this is it.
The new attraction should open before Memorial Day Weekend, and should be a great addition for all of those who love horror, The Walking Dead and love getting scared!
Update
Just a few new items to add about this new attraction. More details will be revealed during Wondercon at the end of the month, where Chris Williams and John Murdy will talk more in detail about the attraction. The new attraction will take the place of a HHN maze in Hollywood, so you can technically say that this the first announcement of HHN 2016. The new attraction will be featured prominently in HHN. The attraction will be located in an all new building built specifically for The Walking Dead, and it will be a permanent fixture that will be open year round.
If you're hoping that Universal Orlando will get the same kind of attraction, you may be out of luck. The Orlando theme parks have a much larger tourist family demographic, and there's a good chance that The Walking Dead will be relegated to HHN only.
Update 2
We've received an official press release from Universal Studios Hollywood with more info!
Universal City, California, March 14, 2016 – Universal Studios Hollywood brings the most popular show in cable television history to life in Summer 2016 when AMC's Golden Globe award-nominated television series, "The Walking Dead," sets up permanent residency at The Entertainment Capital of L.A. in an all-new immersive, cutting-edge attraction.
Universal Studios Hollywood has worked collaboratively with AMC's "The Walking Dead" for years as a signature "Halloween Horror Nights" maze.  This newly enhanced venture will take the highly sought-after experience from a seasonal, limited time offering to an authentic 365 day opportunity, raising the bar for themed walk-through attractions.
To further elevate the authenticity of this new attraction, Universal Studios Hollywood is partnering with "The Walking Dead's" creative team, including visionary executive producer and director, Greg Nicotero and his special effects company, KNB Efx. Greg's team, responsible for masterfully creating the show's realistic decaying walkers, will construct prosthetics, utilize original molds and painstakingly apply paint and detailing to the attraction walkers.  The integral involvement of the creative team will not only inspire the emotional connection fans experience, it will be among the attraction's key distinguishing characteristics that will define it as a living version of the show.
"The Walking Dead" attraction will create a no-holds-barred experience that significantly intensifies any other iteration previously developed within the theme park. Coupled with authentic walker make-up effects, sophisticated animatronic walkers, substantially more detailed set design and costuming, and highly recognizable props replicated from the series, the attraction will deliver an uncompromised realistic environment that brings guests even further into the most watched show in cable television history.
"'The Walking Dead' is a phenomenon that has successfully and consistently affected the psyche of viewers on a global basis, since its debut," said Larry Kurzweil, President of Universal Studios Hollywood.  "We're taking its intensity to the next level by collaborating with the show's award-winning production team to create an authentic living representation of the series that can only be experienced at Universal Studios Hollywood."
"We're so grateful for our longstanding partnership with the talented team at Universal Studios Hollywood.  We've shared a successful three-year partnership at Halloween Horror Nights and now this permanent 'The Walking Dead' walk-through attraction takes the relationship and the fan experience to the next level," said Charlie Collier, President of AMC and SundanceTV.  "Along with our great partners at Universal, it means a great deal to us to continue entertaining — and frightening — passionate, loyal fans of 'The Walking Dead' for years to come."
The "The Walking Dead" attraction will be located within an entirely new, custom built structure, situated within an expansive building complex just inside the theme park's main entry.
The past five years have been a remarkable time for Universal Studios Hollywood as the destination embarked on an unprecedented revitalization that has substantially altered over 75 percent of its familiar footprint to effectively characterize it as an entirely new theme park experience. The introduction of the all-new "The Walking Dead" attraction continues the theme park's unparalleled investment in an ambitious epic transformation.
AMC's "The Walking Dead" depicts the story of survivors in a post-apocalyptic world overrun by hordes of terrifying flesh-eating walkers. It is the #1 show on television among adults 18-49 for the last four years and in its sixth season, the most highly-rated show in cable television history.
More information is available at www.UniversalStudiosHollywood.com. Like Universal Studios Hollywood on Facebook and follow @UniStudios on Instagram and Twitter.  Due to the intense nature of this experience, the attraction is not recommended for guests under the age of 13.
Like Universal Studios Hollywood on Facebook and follow @UniStudios on Instagram and Twitter., and be sure to get social with us on Facebook and follow along with us on Twitter @BehindThrills for the latest updates!
For our latest theme park videos please be sure to subscribe to us on YouTube!
For more information about Universal Studios Hollywood, including tickets, visit the official website by clicking here!