"Hogsmeade is not a land in a theme park, it's much more than that. It's a real place, where people live, work, and go to have fun. Once you cross under the archway and step onto the brickwork, you're no longer in Hollywood, you're in the Scottish highland" Alan Gilmore told a small group of media, as he graciously toured us around Universal Studios Hollywood's newest expansion. The Wizarding World of Harry Potter marks the end of a 5 year, $500 million dollar investment into turning the small Hollywood park into a unique full-day experience.
On this tour Alan covered every little details, why they chose certain building materials, why brickwork and windows look different on each facade to the methods of aging used on the finishes. It seems no topic was left undisclosed, so in this write up we will do our best to bring you the down-low on Hollywood's hottest new attraction. Having worked with Universal Creative on two other iterations of the land, Alan explained that they finally perfected the land, from crowd-flow to how the buildings look specifically both indoors and out. We started our tour at the Hogsmeade train station where right off the bat you'll notice one of the biggest differences from the Orlando version of the land.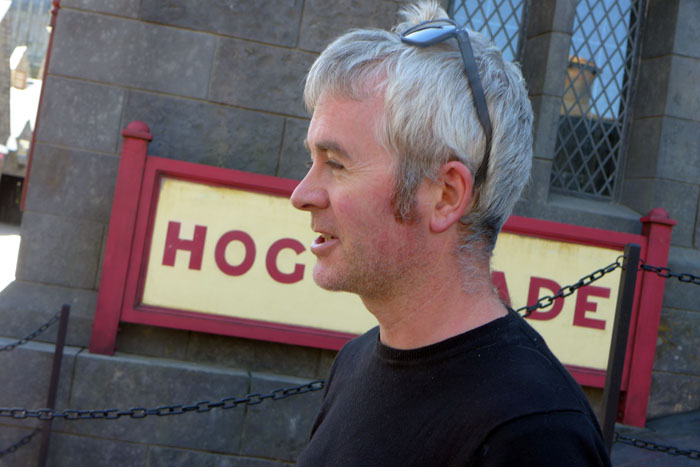 "What's cool about the Hogsmeade station here in Hollywood is that inside we've got an actual train carriage where you can get your picture taken and we're bringing props used in the actual films, such as the luggage racks and the cloth used for the seats are from the same pattern as the ones in the real Hogswarts Express, we wanted guests to be able to touch and feel the same things as the actors in the movie and there's no better place to bring the actual props used than here in Hollywood, the home of movies"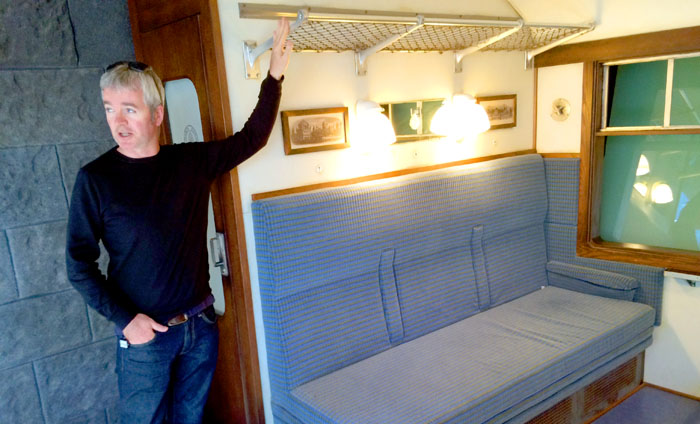 This is a common theme throughout the land as Hollywood's version of Hogsmeade uses more actual props from the films than any of the previous incarnations of the land. What makes this version of the Wizarding World so great is that much like Orlando and Osaka, it takes uses the wonderful natural resources of California, including the way the sun hits Hogsmeade in the morning.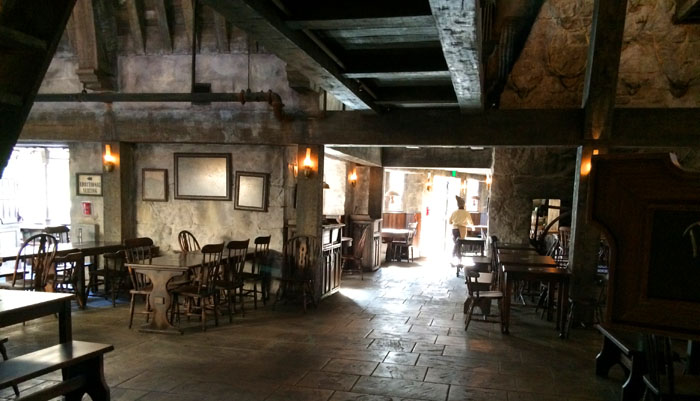 "For set design, this lighting is really beautiful, usually our movie sets are lit by a lighting designer, but we had the extra-bright California sun as our primarily light source in this case and it really looks beautiful at various points in the day".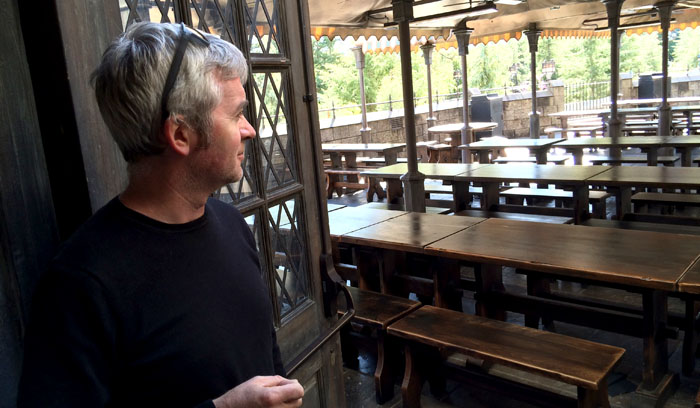 Also unique to California's Wizarding World is the mountainous backdrop which lend themselves naturally to the location of the real Hogswarts Castle (in the films) among the Scottish Highlands. The mountains can most noticeably be seen from the queue line for Harry Potter and the Forbidden Journey attraction.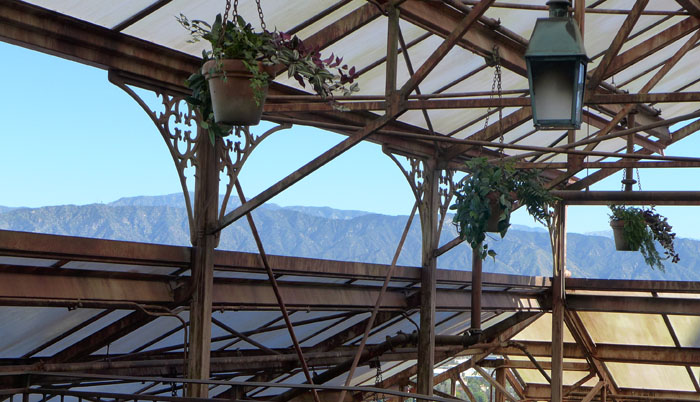 Alan emphasized the need for detail. "If it doesn't feel lived in, it doesn't feel real" Alan claimed, and no other land accomplishes that quite like Hogsmeade. The interiors of the shops featured in this land are full of details, you may never see everything in your lifetime. "We want people to really feel like their nestled in this very dense world".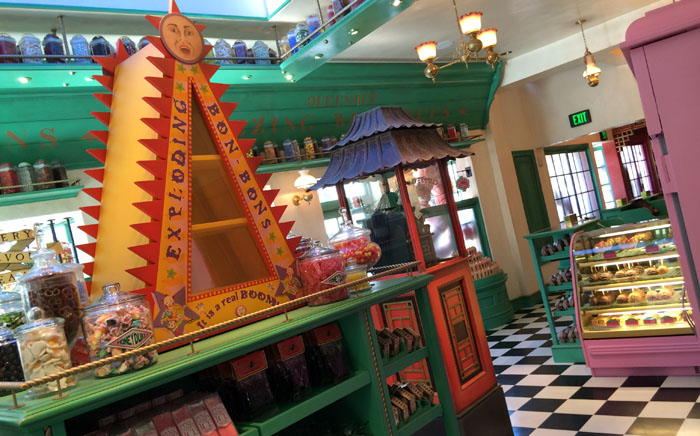 Also Hogsmeade Hollywood features a new shop, Gladrag's Wizardwear located at the end of Hogsmeade where Olivanders is located in Orlando. "Gladrag's is a really lovely new space, JK Rowling helps us with lots of details, where the shop would be, to basic design ideas" and Hollywood's Gladrag's is a prime example of an idea straight from collaborating with JK on this land.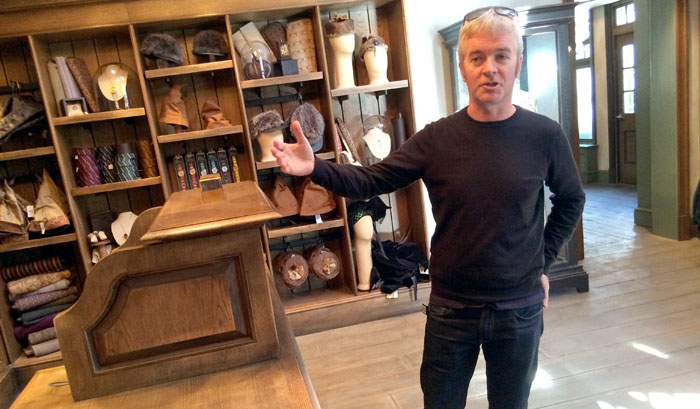 After making our way through the shops and corridors of Hogsmeade we ended up directly infront of Hogwarts Castle.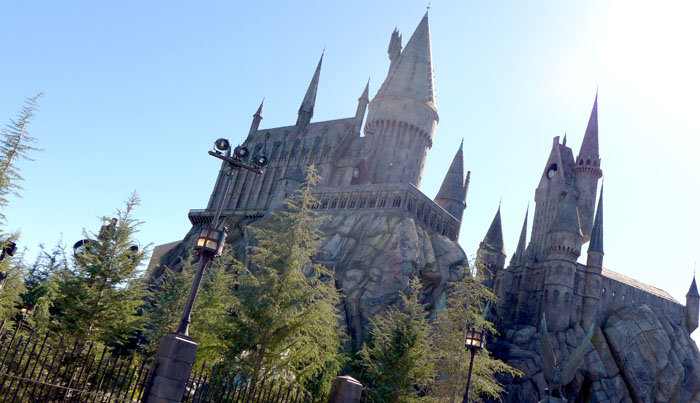 "It's a film set meets a themed world, and our job here is the transport you to that world. How could a castle like this exist in Southern California? Now it does, and it's probably California's best castle. I've seen most of your castles." Alan joking claimed as our tour began to wind down. "Every detail is real, it's perfect, you can zoom into every little spot and see authentic detail", a sentiment that this land must be seen in person to really grasp how dense the land is.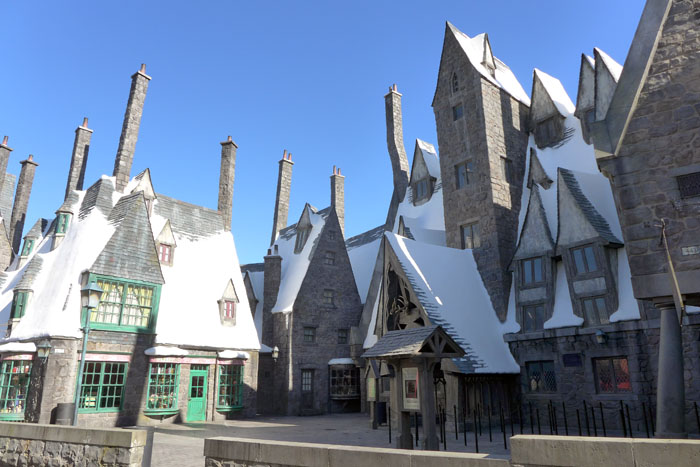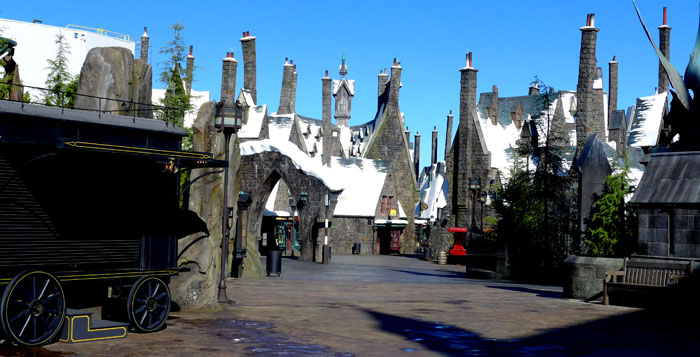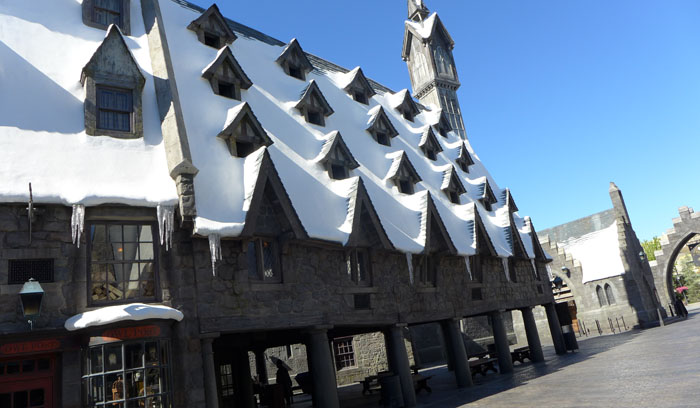 VIDEO: Highlights of our Alan Gilmore Tour! 
More images from our Tour:
Click here if you can't view the slideshow
That does it for this look at our tour with Alan, we thank him for taking time out of his busy schedule to show us around and cannot wait to see what he does next.
Join the conversation online using #WizardingWorldHollywood. Like Universal Studios Hollywood on Facebook and follow @UniStudios on Instagram and Twitter., and be sure to get social with us on Facebook and follow along with us on Twitter @BehindThrills for the latest updates!
For our latest theme park videos please be sure to subscribe to us on YouTube!
For more information about Universal Studios Hollywood, including tickets, visit the official website by clicking here!