The Knott's Berry Farm Boysenberry Festival kicked off on Saturday with the World Boysenberry Pie Eating Contest. The prize for the winner was $2,000 dollars and the chance to feast on all the sweet purple berry pie you could stand. However, when Joey Chestnut comes to town, you know things are about to get serious. Chestnut took the record last year for the championship, and threatened to do it once again.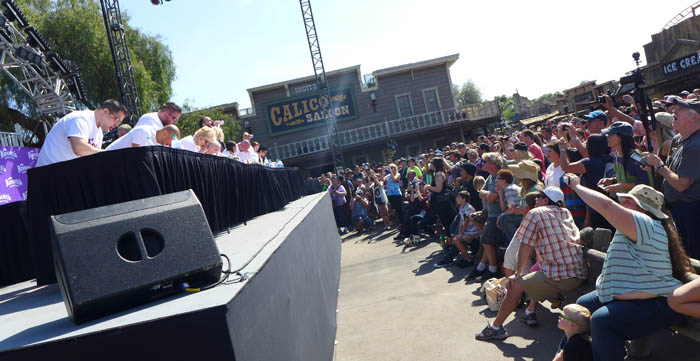 Competitors from all over the world came to the event for the chance to win the top prize, and become the world Boysenberry Pie eating champion. Contestants had just eight minutes to do their best, and jam as much pie as possible. Competitive eaters gathered for the chance to battle, and included not only #2 ranked Joey Chestnut, but also #3 ranked Miki Sudo, and #8 ranked Michelle Lesco.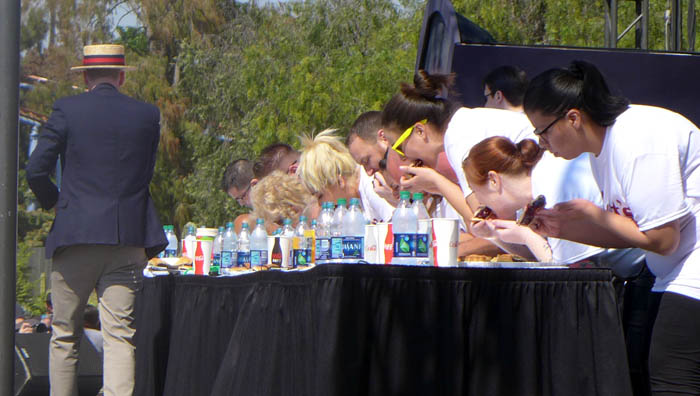 How did they do? Chestnut devoured the competition, and broke his own world record. He consumed 14.5 pounds of pie, which is 7.5 pies! Here's the rest of the results: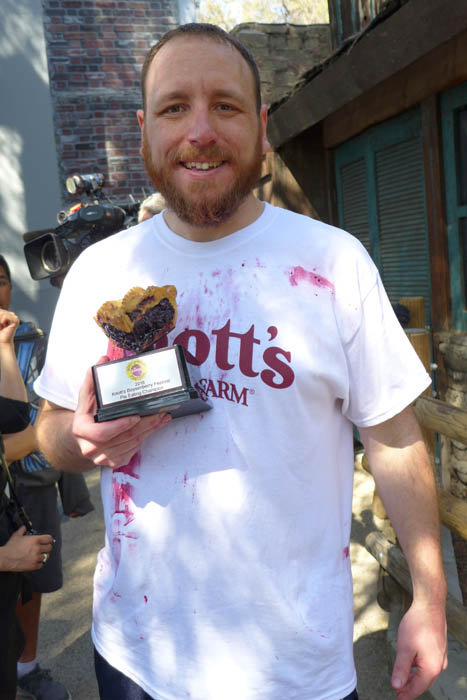 Joey Chestnut 14.5 pounds (New World Record) $2,000 prize
Steve Hendry 10.25 pounds $1,000 prize
Miki Sudo 9.5 pounds $600  prize
Michelle Lesco 9 pounds $300 prize
Tie: Rich LeFevre + Justin Mi 8.5 pounds $100 prize – shared.
Boysenberry Pie isn't the only thing that is at this year's Boysenberry Festival at Knott's, as the park is rolling out some major new tasty additions, as well as bringing back some tasty favorites. Last year, fans went crazy for the Fun Bun, this year things get a little less mess with the Fun Stick…that's essentially all the amazing goodness of the Fun Bun, in stick form.
More images from this year's messy pie eating contest at Knott's Berry Farm.


Click here if you can't view the slideshow
Stay tuned for more from Knott's Berry Farm, and be sure to get social with us on Facebook and follow along with us on Twitter @BehindThrills for the latest updates!
For our latest theme park videos please be sure to subscribe to us on YouTube!
For more information about Knott's Berry Farm, including tickets, visit the official website by clicking here!