According to the official park blog, SeaWorld Orlando's star Killer Whale, and father of many other whales in the SeaWorld family, Tilikum is very sick and may not be with the park much longer. The park made the announcement as they struggle to care for the aging whale as he nears 40 years of age.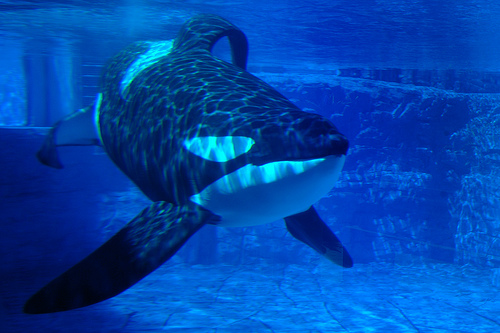 The official park blog shared the information, as well as other information about what goes into the day to day care for whale of this size. Tilikum is the largest whale in captivity, and one of the oldest males ever in captivity. As we all know, getting older means a whole lot of new problems, and like every aging animal, he's having issues, mainly respiratory problems that occur not only in older SeaWorld animals, but animals in the wild.
SeaWorld is doing what they can for Tilly, and he's being taken care of, but the inevitable of the situation is that he will more than likely lose his battle with the illness.
Tilikum has had a rough go, being captured at an early age from a park that was not SeaWorld. The whale was taken to a Canadian aquarium, where he was basically mistreated. When SeaWorld received him, he was malnourished and had major issues with his teeth. The veterinarian team at SeaWorld corrected the problems as quickly as they could, and as fast as Tilly would let them.
He formed connections with many trainers, including Dawn Brancheau who was killed in a freak accident at the park in 2010.
Tilikum became the poster child for the animal activist movement, who all were so concerned with his well being. So much so that the film Blackfish called for the euphanizing of the whale.
Tilly is roughly about 34 years, and one of the oldest animals currently in captivity. In the wild, males can live up to 50 years old, though the average is 30. At SeaWorld too, the average life span for male Orcas is 30 years. Females, by contrast, can live up to 100 years old (or so we think) with the oldest female whale in the wild estimated to be anywhere between 60 and 100 years old. At SeaWorld, Corky is the oldest living female at 50 years old, and going strong. We don't know how long an animal at SeaWorld or any park will live, simply because SeaWorld is the oldest at just over 50 themselves.
Those numbers aren't given by SeaWorld, but by the National Oceanic and Atmospheric Administration or NOAA, the government's branch that not only keeps record of sea animals in the wild, but also regulates the animals in captivity at parks like SeaWorld.
Stay tuned for more from SeaWorld, and be sure to get social with us on Facebook and follow along with us on Twitter @BehindThrills for the latest updates!
For our latest theme park videos please be sure to subscribe to us on YouTube!
For more information about SeaWorld San Orlando, including tickets, visit the official website by clicking here!