Talk about a complete about face. SeaWorld CEO, Joel Manby has announced that the long standing tradition of breeding whales, and theatrical shows will come to an end at SeaWorld's parks. The change will usher in a new era for the company, and will still focus on the animals, but in a more naturalistic setting. The park has partnered with the Humane Society of the US, and will showcase what they call the last generation of Orcas.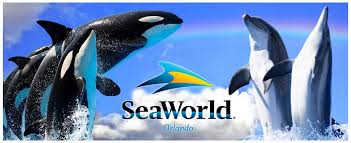 "SeaWorld has introduced more than 400 million guests to orcas, and we are proud of our part in contributing to the human understanding of these animals," said Joel Manby, President and Chief Executive Officer of SeaWorld Entertainment, Inc. "As society's understanding of orcas continues to change, SeaWorld is changing with it. By making this the last generation of orcas in our care and reimagining how guests will encounter these beautiful animals, we are fulfilling our mission of providing visitors to our parks with experiences that matter."
"SeaWorld's commitment to end breeding of orcas is a long-held goal of many animal advocacy organizations, and we commend the company for making this game-changing commitment," said Wayne Pacelle, President and CEO of HSUS. "Today we turn a corner, working together to achieve solutions on a wide set of animal issues including sunsetting the use of orcas at existing facilities; maximizing SeaWorld's focus on rescue, rehabilitation and advocacy for marine mammals in the wild; and sourcing food for animals and customers from humane and sustainable sources, including cage-free eggs and crate-free pork."
"We are pleased to join with HSUS on the significant issues facing marine mammals and their ocean homes," said Manby.  "The work done by zoological facilities like SeaWorld is critical for the protection of animals in the wild, especially marine mammals. To that end, SeaWorld has committed $50 million over the next five years to be the world's leading marine animal rescue organization, to advocate for an end to the commercial killing of whales and seals and an end to shark finning."
Son what exactly does this mean?
It means that the Orca shows will change dramatically. There will be no more huge musical numbers, and by 2019, all SeaWorld parks will have new natural habitats for the animals. The changes will start in San Diego, then in San Antonio, and finally come to Orlando.
It also means that the animals that are on display now, will be the last animals you see in captivity at SeaWorld. There will be no more animal shows in the United States at SeaWorld parks once these animals pass away.
This is an absolute huge turning point for SeaWorld, and as a long time supporter of the park it does come as a bit of a shock. The company had been adamant in defending it's position on not only keeping the animals, but also breeding them. Just last year SeaWorld San Diego announced they were going to fight back against a ruling by the California Coastal Commission that would only allow the park to expand, if they discontinued the breeding of orcas. That ruling was going to be fought because the commission overstepped their duties. Now, it seems as of SeaWorld has made the case legitimate with this announcement. The announcement also comes after the park publicly declared that it's largest whale, and the father of many of their orcas, Tilikum was sick and possibly dying. Could this have a large impact on why the breeding program is being stopped as well?
Of course, since the death of trainer of Dawn Brancheau, and the release of Blackfish, the company has fought negative publicity, and declining ticket sales.
Does this mean that the activists have won? No, it doesnt. It simply means that SeaWorld is changing and the company is going away from the path of a zoo and more towards the theme park it was meant to be.
The Orca Encounter program will feature exercise, enrichment in a "naturalistic" setting. The program will come online in 2017 in San Diego, and will be at the remaining parks by 2019. The areas will feature a more natural setting in the same tanks that the park uses now.
Stay tuned for more on this story.
Stay tuned for more from SeaWorld, and be sure to get social with us on Facebook and follow along with us on Twitter @BehindThrills for the latest updates!
For our latest theme park videos please be sure to subscribe to us on YouTube!
For more information about SeaWorld San Orlando, including tickets, visit the official website by clicking here!