Are you ready to face the legend? Are you ready to say that you have been there, and bought the T-shirt? Well, you can't exactly go to Skull Island yet…but you can buy the T-shirt as Universal Orlando has rolled out official merchandise for the new attraction. The ride is still in testing phase, and has been testing the ride vehicles, as well as fire effects and more! The new attraction is slated to open this summer at Universal Orlando, along with the revamped Incredible Hulk Coaster, which is also having some amazing work done to it.
The first batch of Skull Island merchandise has hit Universal's Islands of Adventure, and it looks extremely cool. The merchandise all has the Skull Island logo on it, and Kong in some form or other. Either he's a rock faced icon, or the roaring beast we all hope he's going to be.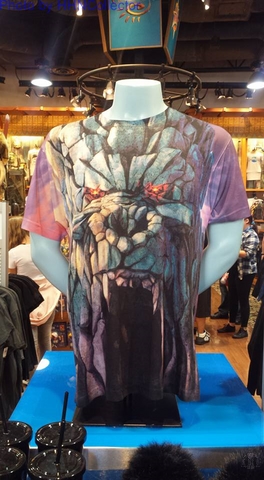 The line up so far includes some pretty killer shirts, pins, cups, mugs and hats. Of course this looks like it's just the beginning of the new stuff, and as the ride gets closer to opening, we're pretty sure we'll see even more.
Speaking of the ride itself. Last week Universal started testing the ride vehicles, now they seem to be testing the flame effects on the ride, as well as the door.
The flames are not only on the outside of the attraction, but also on the inside. In the video below, you can see a glimpse of the flames in the actual ride, as the huge doors open.
Meanwhile, the Incredible Hulk continues to get back to normal as the huge loop is back in place. The coaster has undergone a huge renovation, which has seen all new track, and will also see new trains, and a new launch system as well. The coaster is expected to reopen this summer.
Slideshow-Check out more pictures from Universal Orlando
Click here if you can't view the slideshow
Stay tuned for more from Universal, and be sure to get social with us on Facebook and follow along with us on Twitter @BehindThrills for the latest updates!
For our latest theme park videos please be sure to subscribe to us on YouTube!
For more information about Universal Orlando, including tickets, visit the official website by clicking here!