Universal Studios Hollywood is pulling all of the stops leading to the opening of the park's biggest expansion in history. The arrival of the Wizarding World of Harry Potter is the most anticipated addition to the park ever and will mark a new era for the evolution of this theme park. Leading the official Grand Opening of the Wizarding World of Harry Potter on April 7, Universal Studios Hollywood has launched an all new interactive online experience called 'Hogsmeade Hunt'.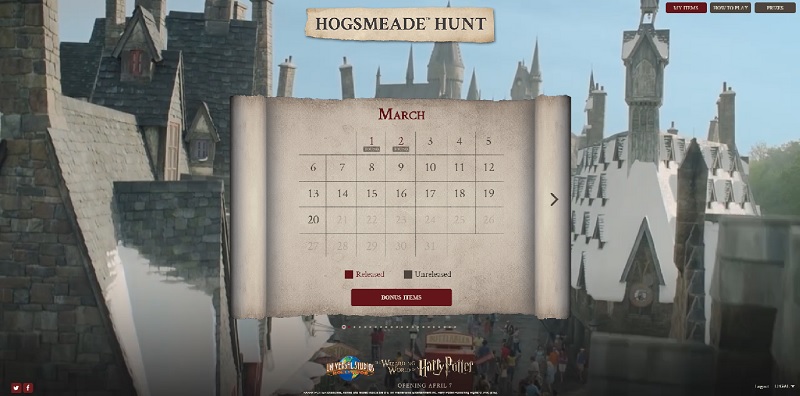 If you remember 'The Search for Diagon Alley' interactive experience introduced in 2014, the concept is basically the same here. Each day (between March 1-20)  you'll have a new opportunity to find a new hidden item. These hidden items are embedded somewhere on a website (usually an affiliate of Universal Parks or Comcast/NBC). When you have found all 20 items you're entered to win up to 4 tickets to Universal Studios Hollywood to experience the new land. Every day random winners will be selected to win a Harry Potter wand so keep at it!
It's a fun little experience to keep the die-hard west coast Potter heads excited leading to the grand opening, and something we'll be sure to check every morning to find each item. You can play yourself at http://www.hogsmeadehunt.com/.
Join the conversation online using #WizardingWorldHollywood. Like Universal Studios Hollywood on Facebook and follow @UniStudios on Instagram and Twitter., and be sure to get social with us on Facebook and follow along with us on Twitter @BehindThrills for the latest updates!
For our latest theme park videos please be sure to subscribe to us on YouTube!
For more information about Universal Studios Hollywood, including tickets, visit the official website by clicking here!