It's a craze that adds an all new dimension to already amazing roller coasters. Imagine flying get through a city fighting aliens, as you feel the wind whip through your hair and feel the force of the turns. Or imagine battling villains along side Superman as you actually fly through the air. All of that is really coming to Six Flags parks across the country as they roll out VR Experiences on many of the company's huge coasters.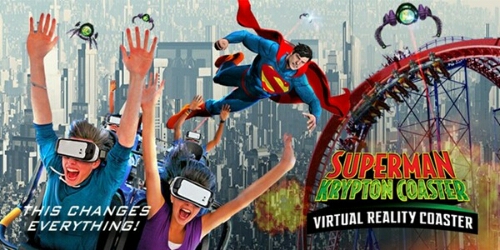 This summer, every Six Flags park in the country will adapt one of their coasters with one of two experiences that will enhance the coaster ride. Six Flags is working with VR Coasters and Oculus to bring Samsung Gear VR headgear to the parks to add a whole new level to your favorite coasters.
Superman: Krypton Coaster at Six Flags Fiesta Texas, Superman: Ride of Steel at Six Flags America and Superman: The Ride at Six Flags New England will all add on a Superman experience that will see you diving off of a skyscraper, and battling villains.
The second VR world experience is called "The New Revolution" and will debut on The New Revolution at Six Flags Magic Mountain (launching March 26), on Shockwave at Six Flags over Texas and Dare Devil Dive at Six Flags over Georgia (launching March 12) as well as Ninja at Six Flags St. Louis, Goliath at La Ronde and Screamin Demon at The Great Escape. This experience will see guests fighting aliens across a city in a jet fighter. There's some speculation that this could be a direct tie in to the new Independence Day sequel, which hits theaters this summer.
The experience will be free to all theme park guests. If you want to be old fashioned and just ride the coaster, you will still have that option as well.
The VR Coaster experience is a growing trend, and has already seen huge success in parks over seas. This could definitely become a new feature at parks all over the country very soon.
Stay tuned for more from Six Flags, and be sure to get social with us on Facebook and follow along with us on Twitter @BehindThrills for the latest updates! For our latest theme park videos please be sure to subscribe to us on YouTube!