Cobra's Curse at Busch Gardens Tampa is honestly one of our most anticipated coasters of the year. No, it's not going to break any major records, and it's not going to be the doing any super huge speeds, or loops. Instead it's putting a new "spin" on the family coaster in Florida, and it's going to tell one hell of a story. But…there's one thing that it has that makes our skin crawl. Snakes. Real life, honest to goodnes, BLEH snakes! Now,the park has announced that if you have a deathly fear of snakes, no worries, because Busch Gardens has got you covered.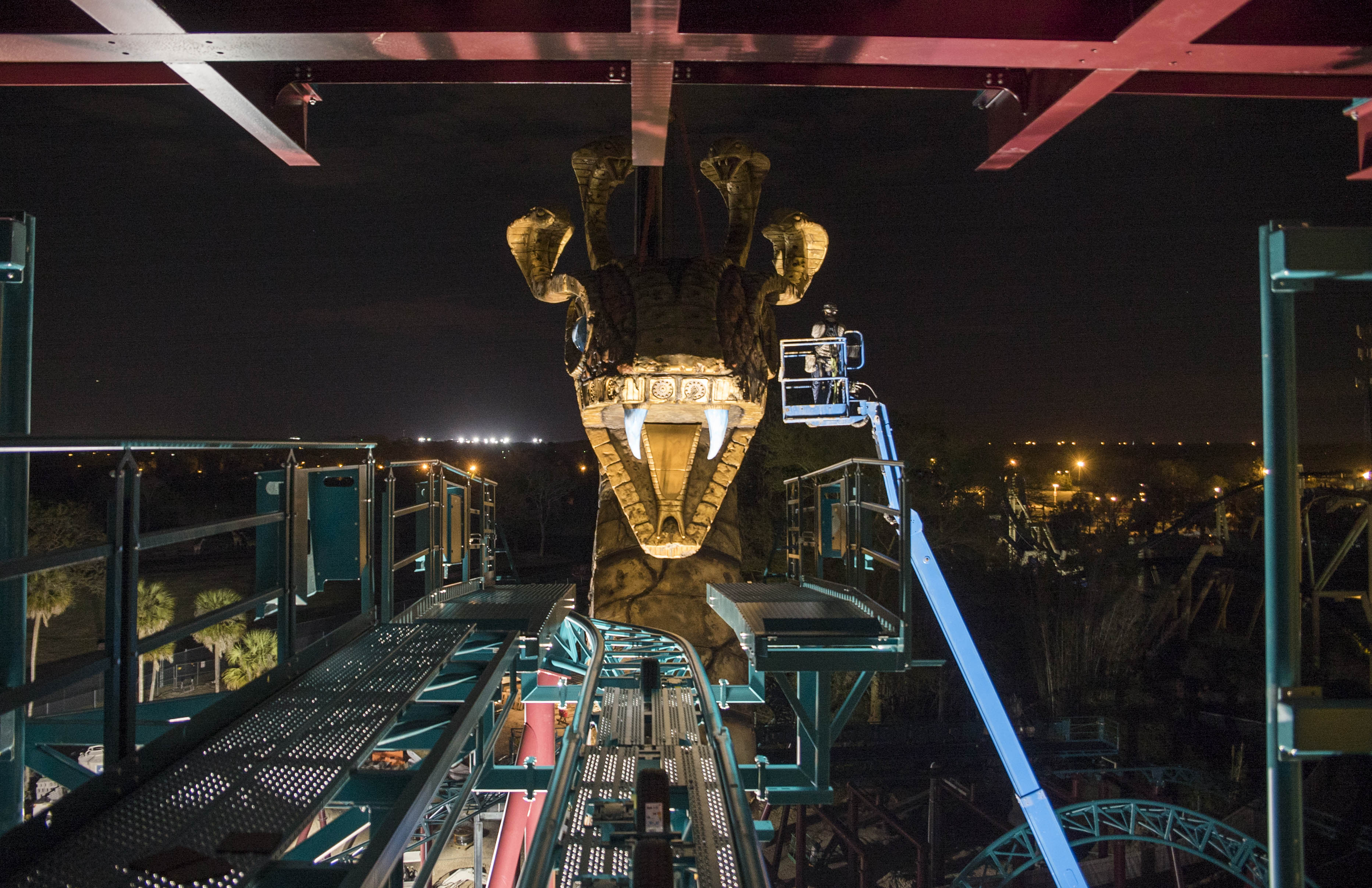 Here's a personal confession. I'm terrified with snakes. From Indiana Jones, to terrible experiences of my own, I hate em! Once in a zoo, there was a giant python on display in a glass case, at knee level. At which point I stopped, and walked completely around the other way to avoid the damn snake, behind the glass. Cobra's Curse will feature snakes of all kinds, from the stones, to projections.
Stone snakes may not be a problem for most, but live snakes? Even behind glass, some people just can't cope. Myself included, which could have posed a huge problem for some, as the new coaster at Busch Gardens Tampa was going to feature several different species of snakes, behind glass of course. The exhibits would not only feature snakes, but show them why they're good for us, and not all as bad as we think.
Previously in a hardhat tour of the park, we were told that those who hated snakes would have no way to bypass the snakes, which meant that if you wanted to ride, you were going past the little creeps.
Now it seems that Busch Gardens Tampa has changed their minds, and there will be a way to enjoy it…without the snakes.
There will be an opportunity to enjoy Cobra's Curse without having to pass by the snakes in the queue. @bazzanoid

— Busch Gardens Tampa (@BuschGardens) April 23, 2016
We've reached out to Busch Gardens Tampa about how they plan to do this, but so far we haven't gotten word. It could be as simple as the Quick Queue line bypassing the snakes. Still, if you're not a fan of snakes, no worries…they're all behind glass. As I've learned in my travels, we really need snakes in order to maintain a happy balance in the world. We are much larger than they are, and there's a good chance they are just plain afraid of us. Doesn't make them any less creepy.
Cobra's Curse will open sometime later this year, though we haven't yet heard an opening date.
Stay tuned for more from Busch Gardens Tampa, and be sure to get social with us on Facebook and follow along with us on Twitter @BehindThrills for the latest updates!
For our latest theme park videos please be sure to subscribe to us on YouTube!
For more information about Busch Gardens Tampa, including tickets, visit the official website by clicking here!