Despicable Me 3 is about a year out from theaters but details are slowly coming out. At the Universal presentation at CinemaCon, the studio announced who the villain will be voiced by, and the basic plot. Also they revealed that while the Minions haven't been on screens in a year, they will return this year in an all new short!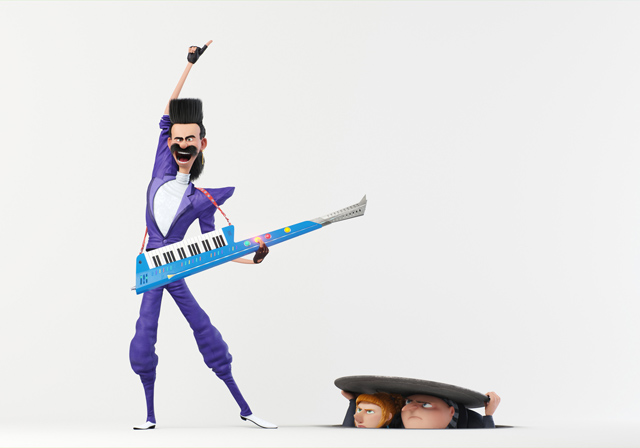 Despicable Me 3 is currently in the works, but Illumination Entertainment and Universal already have the voice cast lined up. The next installment will see the Gru facing his most formidable adversary yet, Balthazar Bratt, a former child star who's grown up, and has become an obsessed version of the character he played in the 80's. Bratt will be played by Trey Parker, creator and star of South Park, Book of Mormon, and way too many other amazing things to list. The original cast will also return, and the film will concentrate on sibling rivalry, as Gru finds his long lost twin, Drew. Drew is Gru's identical twin in every way…except for his long flowing blonde hair.
Illumination Entertainment also announced that they would be releasing their first ever short film, Mower Minions. The new short film will debut in front of the Secret Life of Pets, and will more than likely see the Minions looking for jobs around the neighborhood.
"It's been a year since Minions appeared on movie screens, and will be another year until they show up in Despicable Me 3 next summer.  Fans are always asking us for more content with the Minions, so the timing felt right for them to star in an all-new short film right before audiences experience Illumination's newest original film, The Secret Life of Pets," said Meledandri.  "The theatrical release of this short serves as an opportunity for some of the most talented storytellers, visual development artists, colorists and story artists in the Illumination family to flex their creative muscles and create a new piece of content for the big screen."
If you're wanting a Minions fix before then, both Universal Orlando and Universal Studios Hollywood have Minion Mayhem in park, where you can become a Minion, go through Minion training and get blasted by the fart gun!
Stay tuned for more from Universal, and be sure to get social with us on Facebook and follow along with us on Twitter @BehindThrills for the latest updates!
For our latest theme park videos please be sure to subscribe to us on YouTube!
For more information about Universal Orlando, including tickets, visit the official website by clicking here!