All eyes will be on Animal Kingdom this summer as the park goes from being a day time park, to a full on full day adventure. The fun will roll into the sunset as the park unveils tons of new options at night, and an all new restaurant. While it's not clear if we'll see the highly anticipated Rivers of Light this summer, we will see much much more!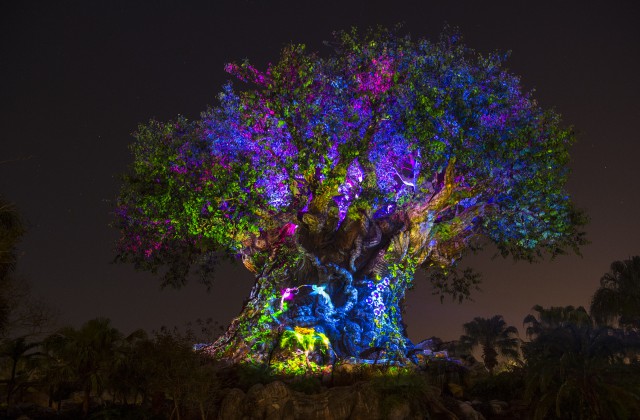 Extended hours, and a ton of new enhancements at Disney's Animal Kingdom will bring the park full circle and make it a full day adventure. On top of being able to ride all of your favorite attractions in the dark, there's a huge line up of other things.
The Tree of Life Awakens – The theme park's iconic Tree of Life will undergo extraordinary "awakenings" throughout the evening as the animal spirits are brought to life by magical fireflies that reveal colorful stories of wonder and enchantment. High-tech projections of nature scenes take on a magical quality as they appear to dramatically emanate from within the Tree of Life.
Kilimanjaro Safaris after Dark – Each evening, the popular Kilimanjaro Safaris daytime experience is artfully bathed in the glow of sunset with special lighting allowing guests to explore this attraction well into the night. During the expedition, guests can now encounter the nighttime behavior of the wildlife and better tune in to the unique vocalization of the animals. Plus, there are two new species to discover: African wild dogs and hyenas.
Harambe Wildlife Parti – When the sun sets, the popular Village of Harambe will become a hot spot with the new Harambe Wildlife Parti. Here, "party animals" can dance alongside a variety of entertainers and local street musicians, and enjoy the lively rhythms of African music. Guests can also partake in exotic foods and libations, and explore the diverse wares of village artisans and merchants in the vibrant marketplace.
Discovery Island Carnivale -The spirited community of Discovery Island has come together to celebrate their love of the natural world with the Discovery Island Carnivale. This nightly experience will captivate guests with lively music, jubilant dance, vibrant costumes, stilt walkers and tasty culinary creations — winding from one end of the island to the other.
New Adventures with Favorite Attractions – Most attractions remain open at nightfall, and will shine like never before. At sundown, Kali River Rapids will reveal more mysterious twists and turns throughout the rainforest with dramatic and drenching fun. Expedition Everest thrills adventurers as it lurches forward and backward through the icy peaks of the Himalayas. But at night, the majestic mountain challenges trekkers to an evening ride revealing breathtaking views of the Animal Kingdom canopied by starlight. Amidst the colorful midway games at Chester & Hester's Dino-Rama in DinoLand U.S.A., the thrills turn up aboard the zany Triceratop Spin or Primeval Whirl under the lights.
More Magic to Come with "Rivers of Light"- The nighttime will grow even more magical with the premiere of the majestic nighttime jewel, "Rivers of Light." This illuminating musical experience – currently in development with a premiere date to be announced soon – will celebrate the magic of animals, humans and the natural world with a blend of performers, floating lanterns and theatrical animal imagery.
Rivers of Light has been delayed indefinitely, but there is hope that an announcement about the new show will come before the end of May.
Tiffins, the all new restaurant, opens Memorial Day weekend, featuring food from places that inspired the creation of Disney's Animal Kingdom. Open for both lunch and dinner, Tiffins has waterfront views and is situated at the entrance to Pandora: The World of AVATAR, opening in 2017.Adjacent to Tiffins, Nomad Lounge features hand-crafted cocktails with African, Asian and South American flavors; beers, and sustainable wines from those regions, plus specialty non-alcoholic beverages and small bites.
Update!
Disney has announced that all of their new nighttime events will be kicking off at Animal Kingdom on Memorial Day Weekend!
Stay tuned for more from Disney, and be sure to get social with us on Facebook and follow along with us on Twitter @BehindThrills for the latest updates!
For our latest theme park videos please be sure to subscribe to us on YouTube!
For more information about Walt Disney World, including tickets, visit the official website by clicking here!