Things are about to get a little confusing. The all new film, Kong: Skull Island, will hit theaters in 2017. The MTV Movie Awards had a first look at the film last night, which gives a few plot details and a few more bits of the cast. However, Universal Orlando is opening up an all new attraction based on King Kong called…Skull Island: Reign of Kong. The new ride has nothing to do with the film, other than the fact that both feature the legendary King Kong, and that they were both worked on in conjunction with Legendary films. Confused yet? Let's continue!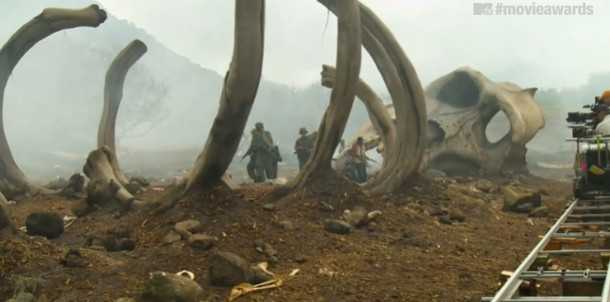 The new film takes place in the Vietnam War era, quite a few years after the events of the first film. It stars Tom Hiddleston, Brie Larson, John Goodman, Samuel L. Jackson, among many others. The film takes an elite group tot he island where they encounter huge mythical beasts. The film will build on the mythology that Legendary Pictures created with Universal and Peter Jackson's King Kong film in 2005.
Here's your first look at the new movie:
The new film will be out March 10, 2017 and should be massive. That's not all the Kong we're getting. We are about to embark on a new voyage, and come face to face with a new beast at Universal Orlando's Islands of Adventure this summer! Here's where the real fun begins.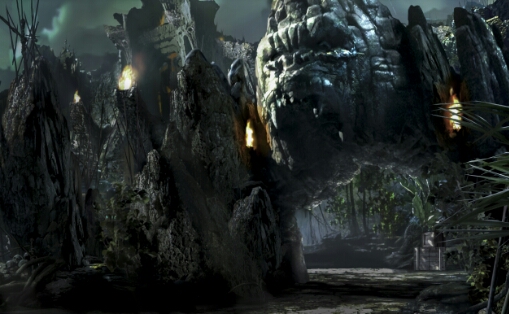 Skull Island: Reign of Kong will take guests on an expedition into the jungles of Skull Island where we will face huge nightmarish creatures, certain doom, and the King himself. The new ride is inspired directly from the Peter Jackson version of the film, and will take us on a ride that will be a mix of screens, animatronics and nightmares.
What does this new ride have to do with the new film? Universal had the rights to Skull Island last year, and was making the film with Legendary Pictures. Apparently that fell through, and the film switched over to Warner Brothers. Warner Brothers and Universal have an amazing relationship with making theme park attractions, thanks to The Wizarding World of Harry Potter.
Still…this ride will have nothing to do with the new movie…we think. You can bet that Universal will definitely urge fans of the film to come "ride the movie", should it become a massive hit, and will use the film to tie in with the ride.
Whatever your take on it, King Kong is back, and in a big way!
Stay tuned for more from Universal, and be sure to get social with us on Facebook and follow along with us on Twitter @BehindThrills for the latest updates!
For our latest theme park videos please be sure to subscribe to us on YouTube!
For more information about Universal Orlando, including tickets, visit the official website by clicking here!