As SeaWorld has officially announced that they will no longer be breeding their Killer Whales, we knew this was coming. SeaWorld has formally withdrew the Blue World Project, and has also issued a letter to the California Coastal Commission that they were withdrawing their lawsuit against the agency. The chain has announced that instead of the Blue World Project they will be doing different additions to the whales environment.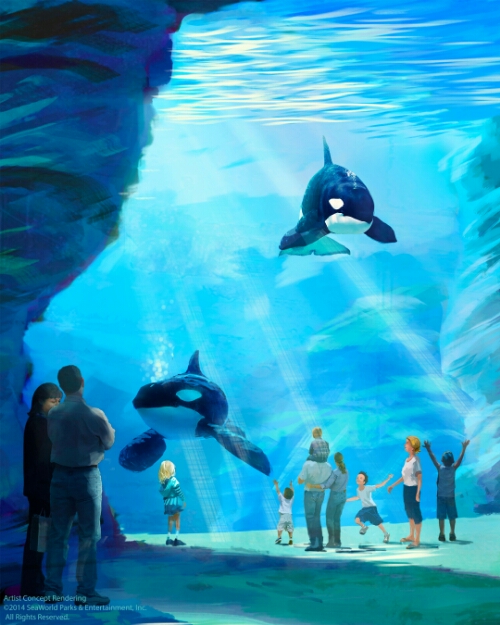 In a letter sent to the California Coastal Commission, SeaWorld said:
"This letter serves as SeaWorld San Diego's formal withdrawal of coastal development permit Application 6-15-0424 for the Blue World orca habitat expansion," reads the letter sent Monday. "Closing the Blue World application file at this time means SeaWorld's legal challenge to the proposed project conditions no longer is warranted. SeaWorld counsel soon will contact Coastal Commission counsel to discuss dismissal of the pending litigation."
Late last year, the Blue World Project was granted permission to happen by the California Coastal Commission, but held the stipulation that SeaWorld end their captive breeding program. The park launched the lawsuit, because the CCC had no jurisdiction over that decision, and it was well outside of their boundaries. They were supposed to simply weigh in on whether or not the company could build the expansion.
Since then, the company has not only announced that they will stop the breeding, but they have also announced that they will be ending all theatrical shows, and will instead concentrate on giving a more educational presentation. They will also enrich the environments of the animals, with a more naturalistic setting. Those changes are supposed to be in place by 2019.
Blue World Project was going to cost a reported $100 million for the park, but since the plans have been scrapped at all three parks, that money is being used elsewhere. This summer, SeaWorld Orlando will open Mako, and all new shark themed coaster. In San Antonio, the park is opening up an all new dolphin swim experience called Discovery Point, and next year will open a launch coaster based on the award winning Sea Rescue series. SeaWorld San Antonio will also be building an underwater viewing area for the whales, so that guests can have a better connection and understanding. Currently, it's the only park that does not have underwater viewing.
The first quarter conference call, which will address earnings and attendance will be Thursday, May 5, 2016 at 9 a.m. We'll start to see if attendance has rebounded or suffered because of the announcement.

Stay tuned for more from SeaWorld, and be sure to get social with us on Facebook and follow along with us on Twitter @BehindThrills for the latest updates!
For our latest theme park videos please be sure to subscribe to us on YouTube!
For more information about SeaWorld San Orlando, including tickets, visit the official website by clicking here!