Our friends over at Pixels at the Parks has a great update from Busch Gardens and the newest coaster, Cobra's Curse. The walls are down, and you can see a lot of the details on the coaster, and the surrounding area. Busch Gardens has also released a POV video on the coaster. The big question remains, when will it open?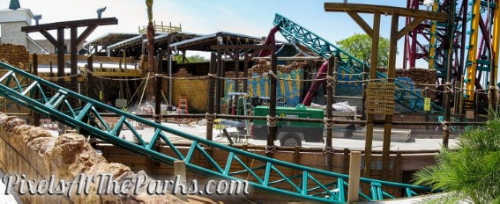 Pixels reports that most of the walls around the attraction are down, and the new shops are starting to spring to life. Many of the games are also in place and looking ready for fun.
Meanwhile, the park has released an official full POV of the ride, and we have to say it looks like a hell of a lot of fun.
http://www.youtube.com/watch?v=Ba_gMJUG2KI
The big question remains, when will it open? We may have an answer to that. According to insiders, the projected date (barring any issues) is May 27th. That is not official, and it's more than likely wrong. However, the official Passholder website has exclusive ride time listed for passholders, beginning on June 4th. In fact, every weekend June will have exclusive ride time for passholders.
With passholder days starting in June,it's likely we could see a grand opening date of Memorial day weekend!
Stay tuned for more from Busch Gardens Tampa, and be sure to get social with us on Facebook and follow along with us on Twitter @BehindThrills for the latest updates!
For our latest theme park videos please be sure to subscribe to us on YouTube!
For more information about Busch Gardens Tampa, including tickets, visit the official website by clicking here!