The swarm of news surrounding San Diego Comic-Con is beginning to ramp up. Currently one of the major vcndor of exclusive action figures at San Diego Comic-Con has announced it's line-up of exclusive toys that can only be purchased at the convention as well as opened an official pre-order for the items if camping overnight isn't your thing. They've also began to cut down on a major issue at Comic-Con with exhibitor scalping as no exhibitors are allowed to purchase any of the items during the pre-sale event. So what toys will we be googling at when the con opens?
Aliens – 7" Scale Action Figure – 30th Anniversary Newt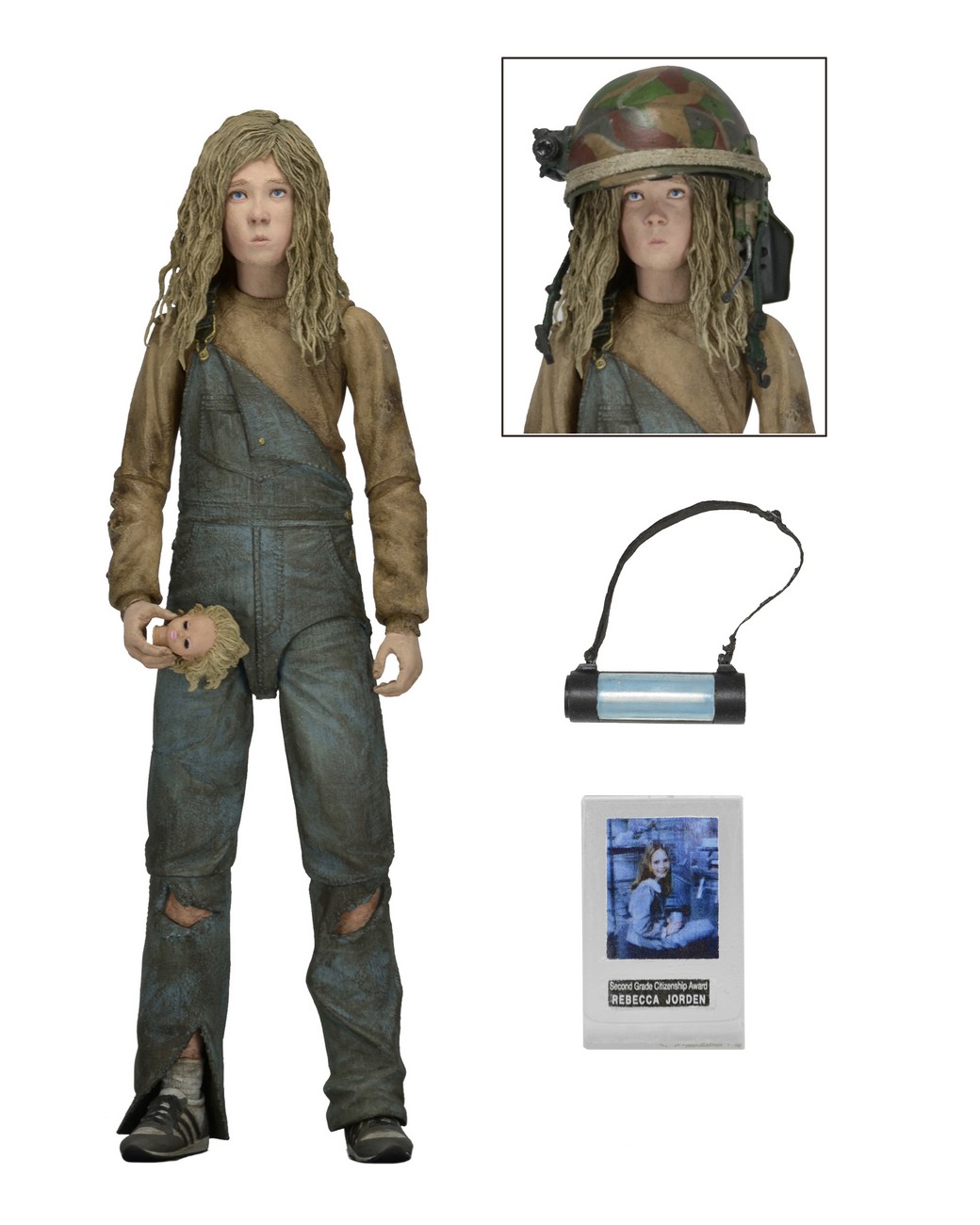 From the popular Aliens film, we have a new 7″ rendition of Newt,
"They mostly come at night… mostly." To mark the 30th anniversary of Aliens, NECA is proud to present a special edition figure of the bravest little girl in the galaxy! Rebecca "Newt" Jorden stands 5" tall and has over 25 points of articulation. The figure features the authorized likeness of Carrie Henn and is loaded with accessories: flashlight, doll head, 2nd-grader award, and Hick's helmet, which can be placed on or off her head. Comes in commemorative 30th Anniversary packaging.
Newt will retail for $30 at the convention and is limited to only 3,000 pieces.
Teenage Mutant Ninja Turtles – Turtles Box Set (Arcade Appearance)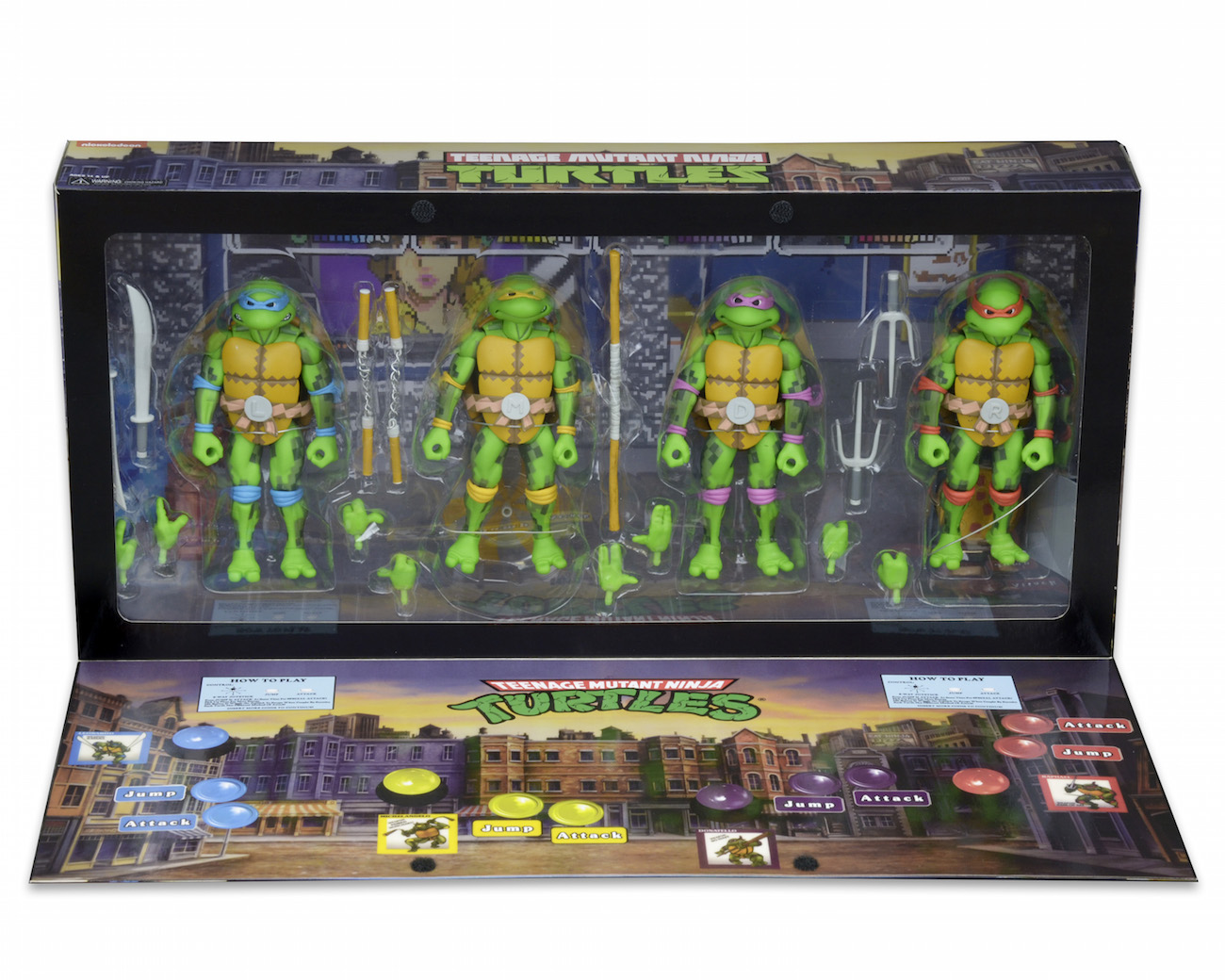 What is sure to be a must-have exclusive this year is the brand new TMNT Box set featuring brand new sculpts and paint work to reflect their early arcade appearances.
Cowabunga, dude! This SDCC-exclusive box set is based on the classic Teenage Mutant Ninja Turtles 4-player co-op arcade game and features brand new figure sculpts and deluxe packaging. Leonardo, Donatello, Michelangelo and Raphael stand approximately 6" tall and feature over 30 points of articulation, including double knee joints to fully showcase their mastery of the martial arts. Special paint deco reflects the Turtles' in-game appearance. The box set is packed with accessories, including signature weapons, interchangeable hands, pizza power-up and more. The set comes in gorgeous, display-friendly 5th panel window box packaging that re-creates the look of the actual arcade cabinet!
The turtle set will retail for $100 at the con and is also limited to 3,000 pieces!
TMNT – Shredder and the Foot Clan Box Set (Arcade Appearance)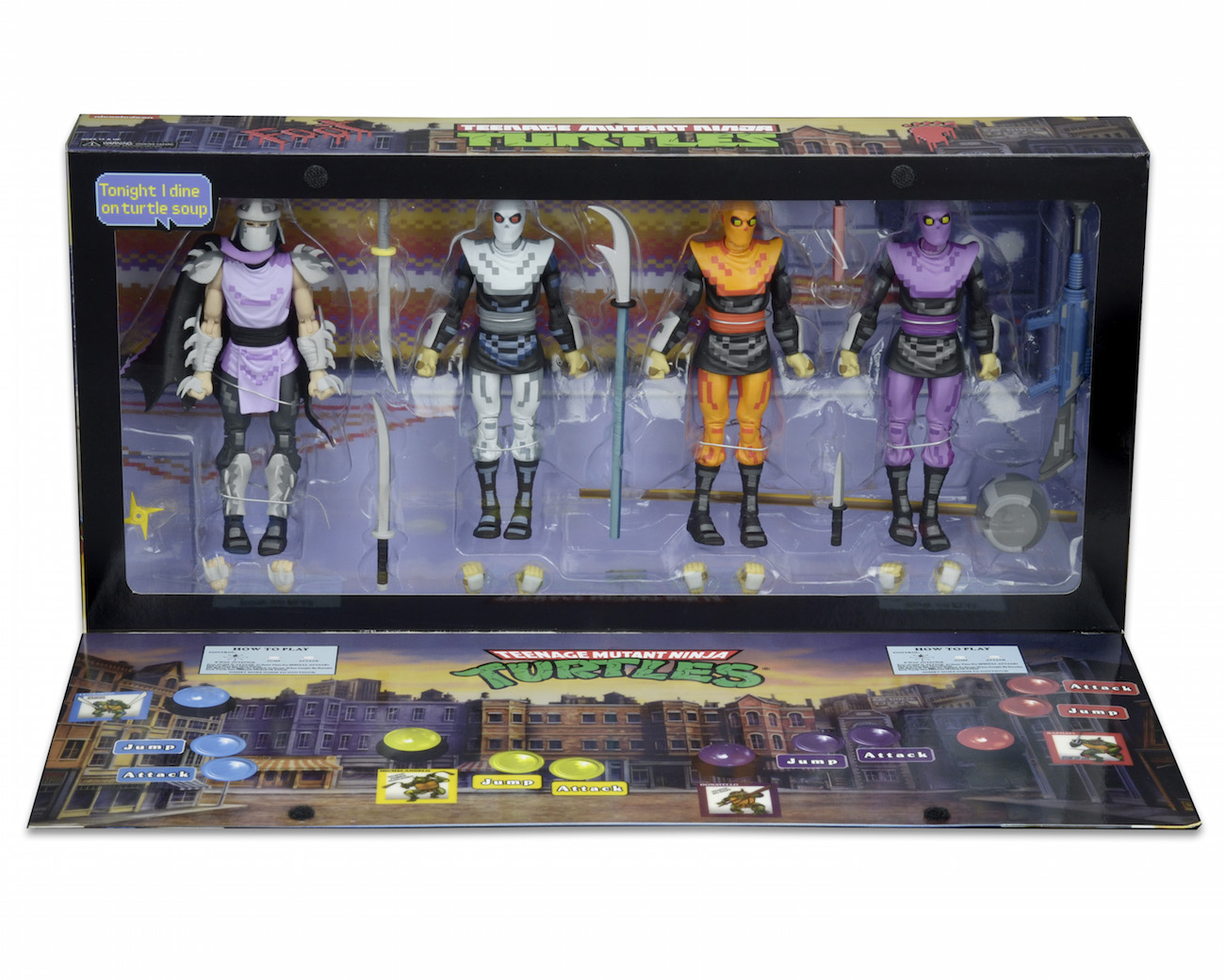 Who are the Ninja Turtles without some bad guys to face? The next box set is designed to perfectly accompany the Turtle box set, featuring the Shredder as well as members of the Foot Clan in their arcade form.
This box set will also retail for $100 and is limited to 3,000 sets.
AvP – Cloaked Scar Predator
It seems every year we get a brand new cloaked Predator figure from NECA, this year we'll be getting the Scar Predator variant.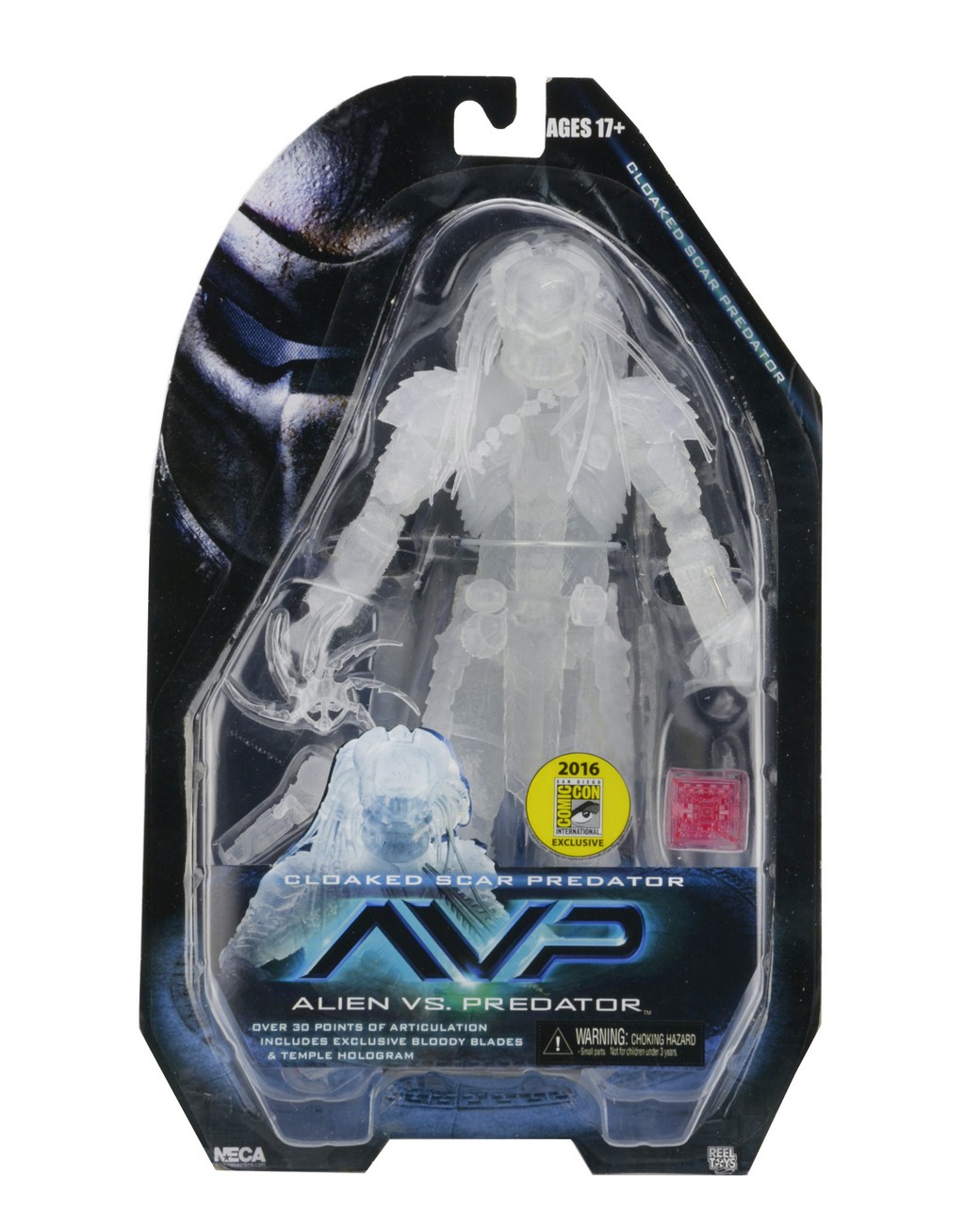 From the 2004 movie Alien vs. Predator, this new cloaked version of the fan-favorite Scar Predator is a SDCC exclusive! This special edition clear figure features over 30 points of articulation and comes with a brand new Temple Hologram accessory which keys into the left forearm. Also comes with shuriken, removable backpack and cannon and wrist blades with new bloody deco! The hands, gauntlet blades and cannons are removable and compatible with all NECA AvP Predators. Figure stands 8.25" tall. Blister card packaging.
This figure is limited to 3,000 pieces and will retail for $30 at SDCC.
Marvel Head Knocker – Spider-Gwen Unmasked
Spider-Gwen has quickly become a fan favorite for Marvel fans as well as cosplayers a like, at SDCC you can get an exclusive Marvel Head Knocker version of the popular character.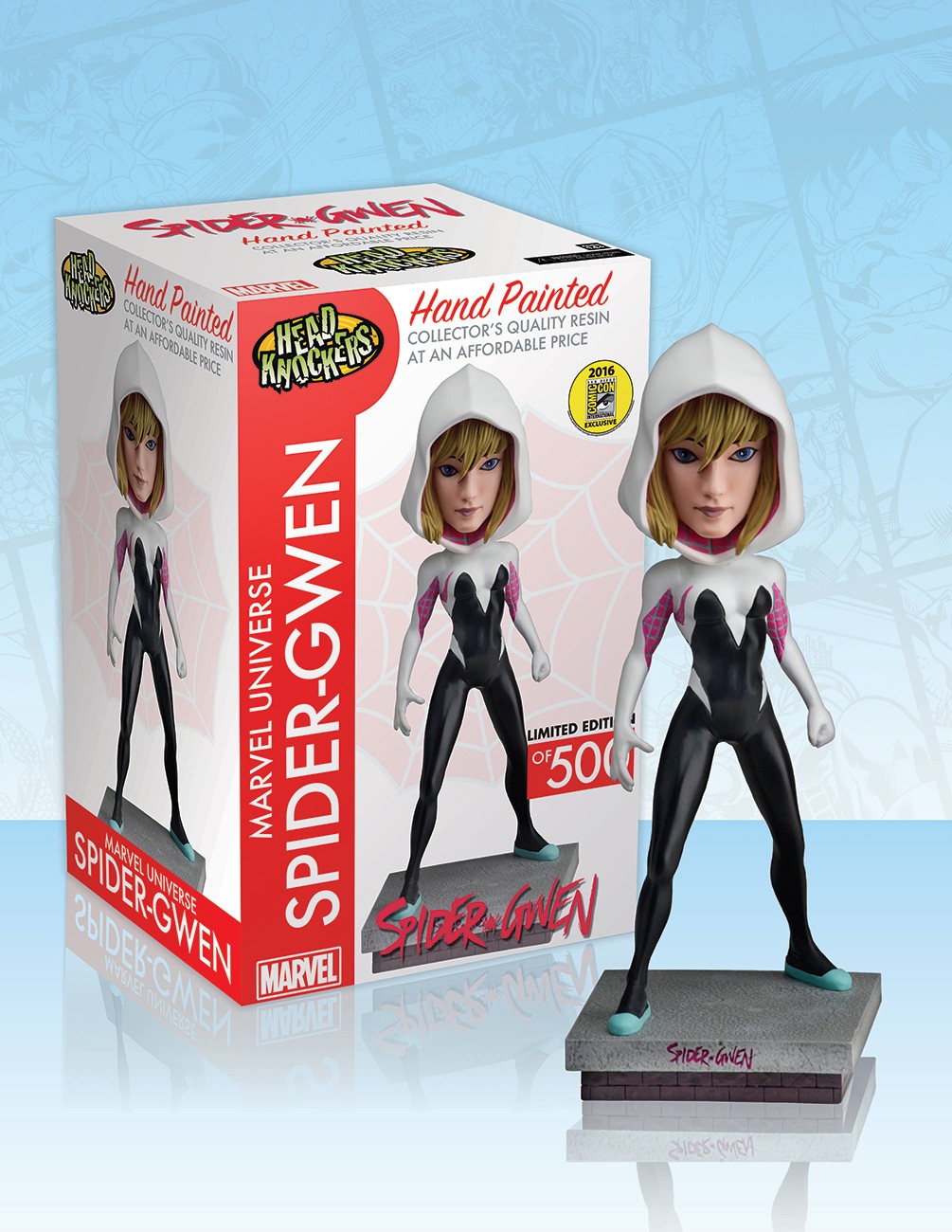 LIMITED EDITION OF 500. Add some head-bobbling fun to your shelf with this SDCC-exclusive unmasked version of Marvel's Spider-Gwen! As a teenager, Gwen Stacy went to a demonstration on radioactivity and was bitten by a mutated spider. The bite transformed her, granting her amazing powers: a precognitive awareness of danger, adhesive fingertips and toes, and the proportional speed and strength of a spider. To the residents of New York, she is the dangerous vigilante called Spider-Woman, but we know her as Spider-Gwen! Figure stands approximately 8" tall and is made of cold-cast resin that's hand painted for amazing detail.
Retail cost will be $30 and this item limited to only 500 pieces.
SDCC 2016 – Marvel Head Knocker – X-Force Deadpool
And lastly, to round things off. What would SDCC be with out Deadpool? If you're interested in Marvel Head Knockers but Gwen isn't your thing? Surely Deadpool will fill the plate.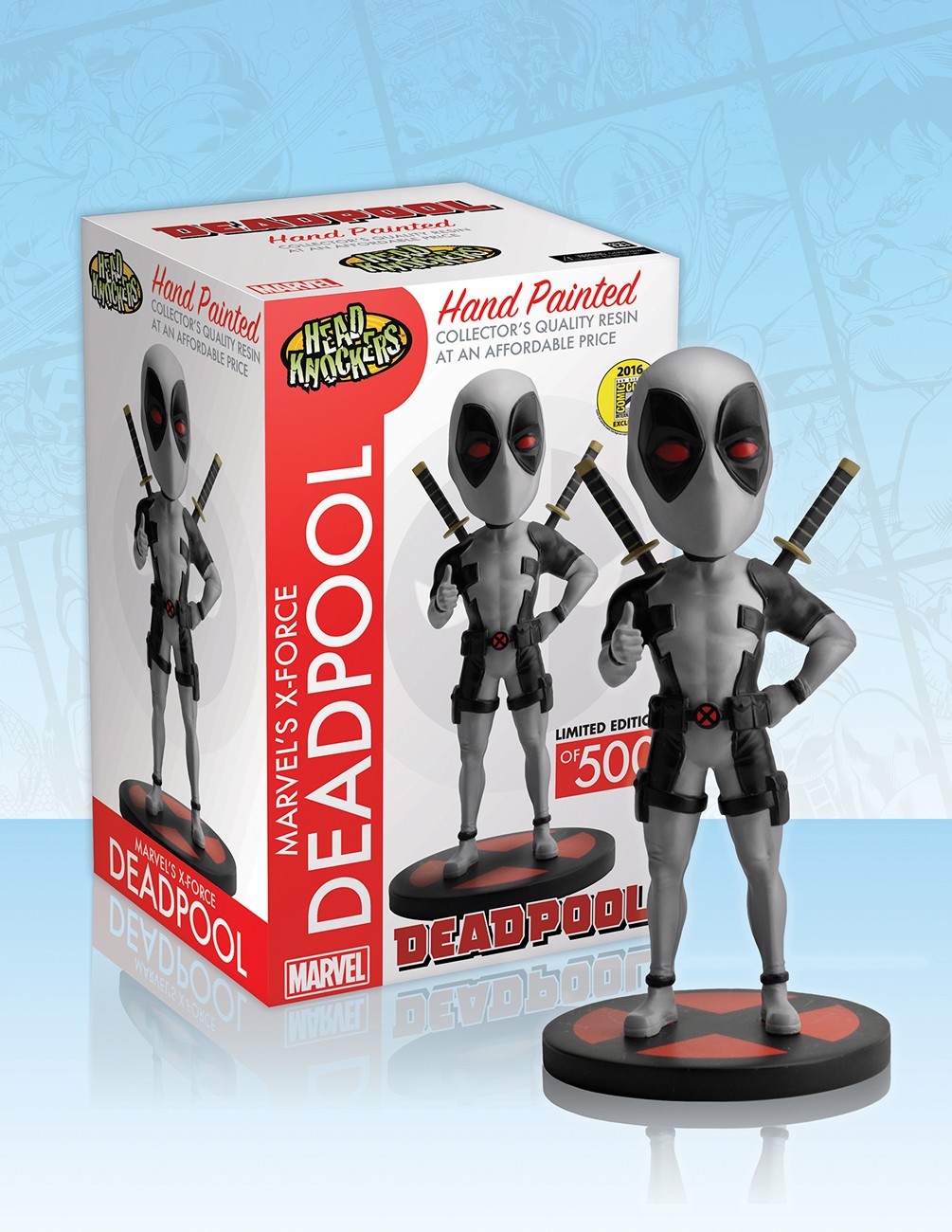 LIMITED EDITION OF 500. Add some head-bobbling fun to your shelf with this SDCC-exclusive version of Deadpool in his black and gray costume from Marvel's X-Force! Possibly the most skilled mercenary in the world… and definitely the most annoying. The joke-cracking, reference-making, fourth-wall-breaking, taco-eating funnyman of the cold-blooded killer set, Deadpool has long skirted the line between hero and villain, between maniac and genius, between ugly and smelly. Figure stands approximately 8" tall and is made of cold-cast resin that's hand painted for amazing detail.
Deadpool will retail for $30 and is limited to 500 pieces.
With that said, currently pre-orders are under way for these toys right now! If you will be attending SDCC and plan on getting them your best bet is to pre-order them as soon as possible. There will be no guarantee that they will be available at the convention.
Read more: http://necaonline.com/56486/licenses/movies/alien/sdcc-2016-exclusives-complete-roundup-and-pre-order-details/#ixzz49jZJTGm0
That does it for this look at NECA's SDCC offerings. See any think you like? Let us know in the comments below.
Stay tuned for more Comic Con goodness, and be sure to get social with us on Facebook and follow along with us on Twitter @BehindThrills for the latest updates!