A few weeks back we told you about the full line of special JAWS shoes from Sperry, (click here). Now they have hit stores, and we actually had the chance to slide into a pair. How are they? Well, let's find out!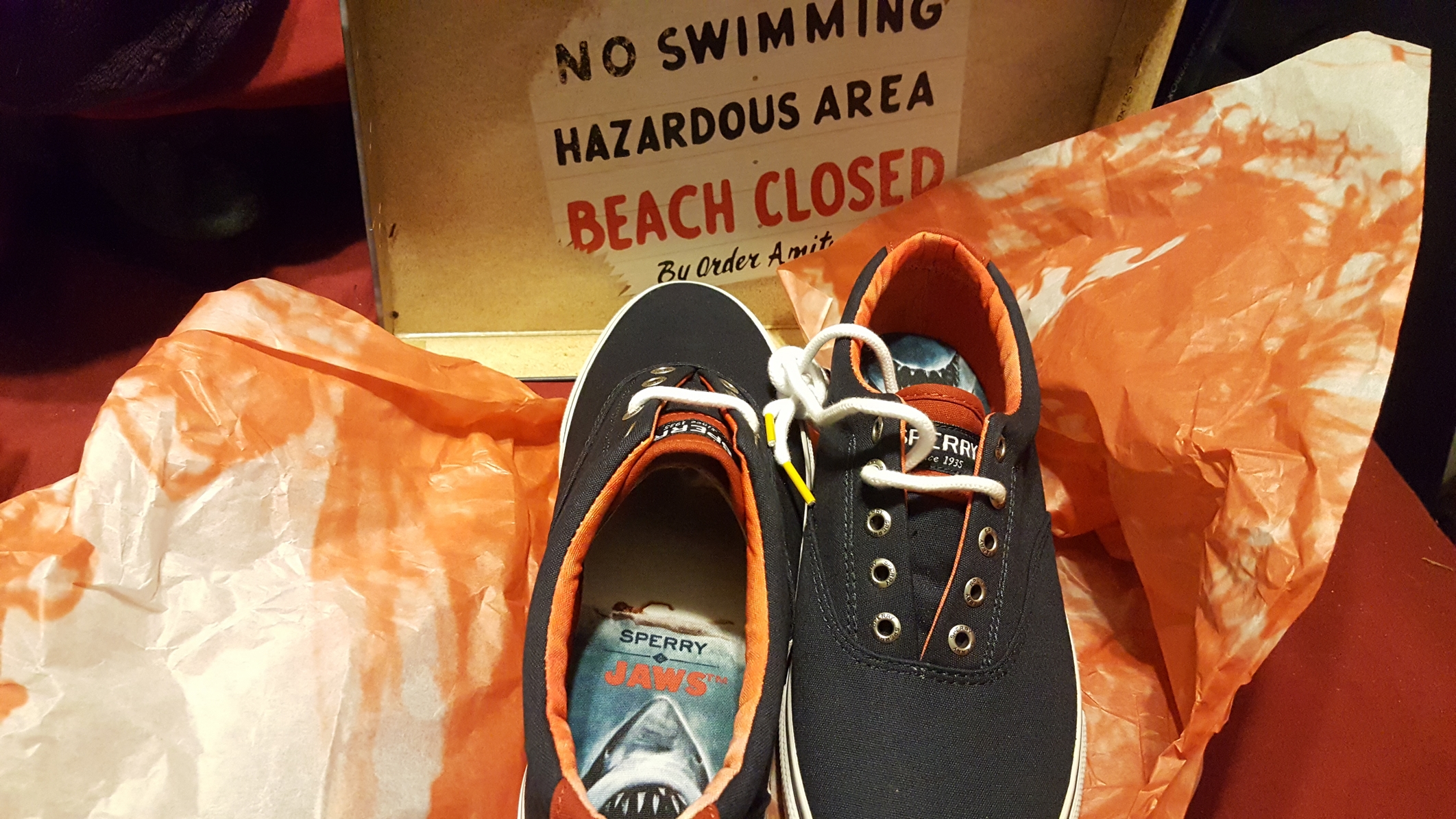 If you're like me, you're a huge fan of JAWS. The movie is over 40 years old, and it still holds up as an amazing thriller. The film has inspired some amazing things in the world, such as the JAWS ride. Now, you can recapture some of the fun of Jaws…on your feet. We were sent a pair of the all new Sperry X JAWS shoes, and unboxing it is an amazingly fun adventure!
What makes these shoes so special? First of all, they're the same type of shoes that Hooper and Quint wear in the film. The brand is still kicking out seaworthy shoes all these years later. This particular type was not in the film, but they are definitely inspired by the movie.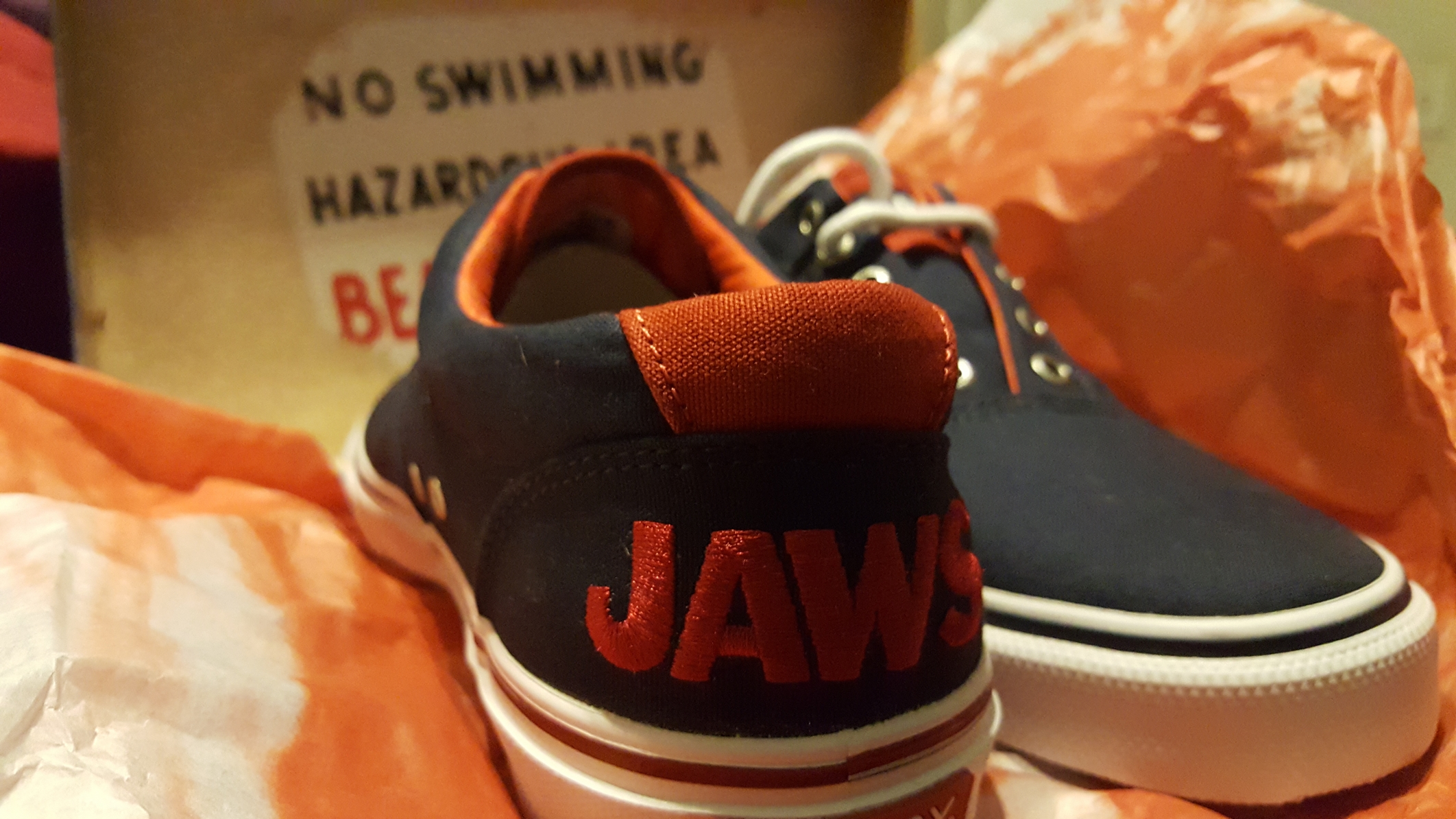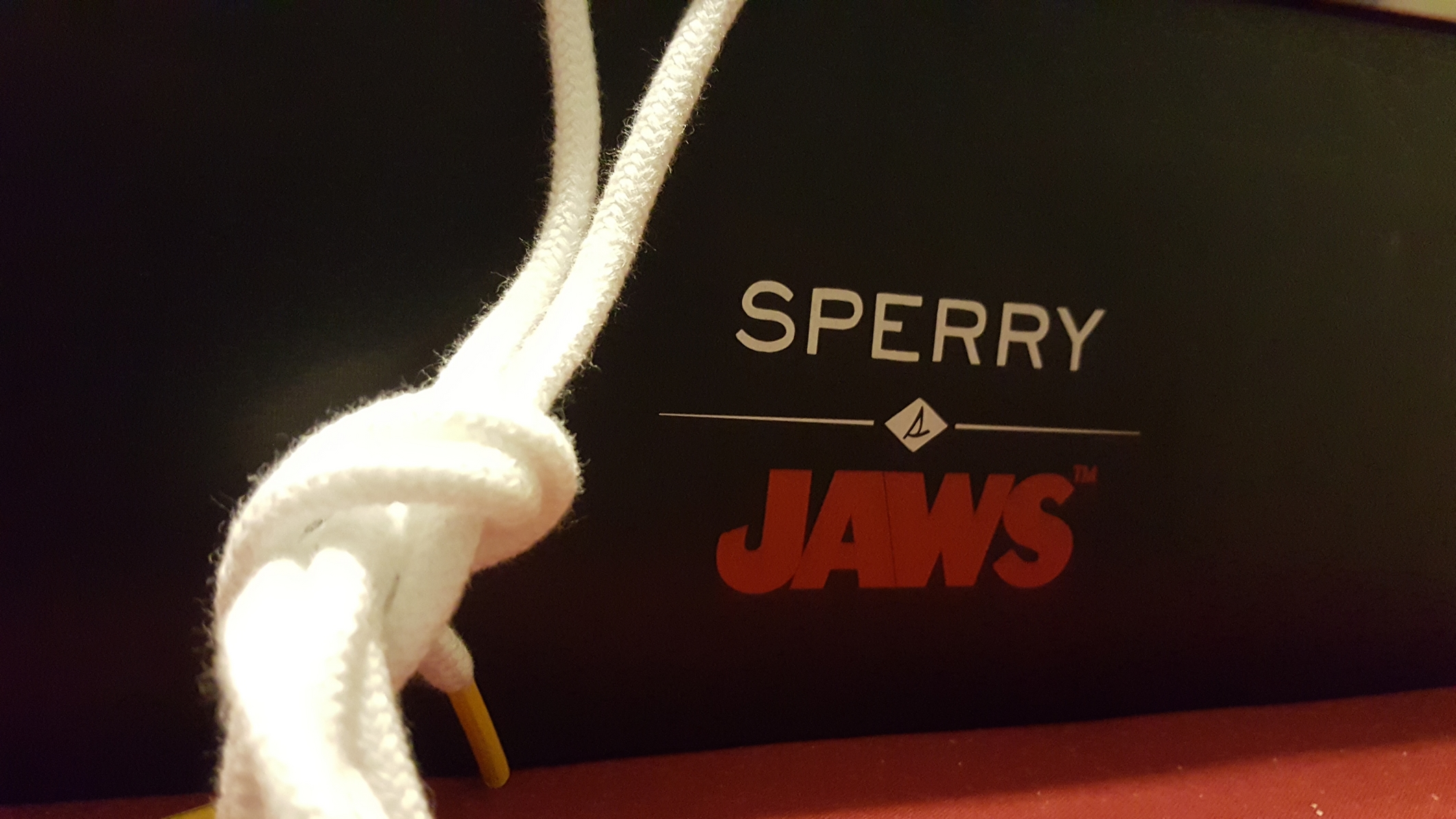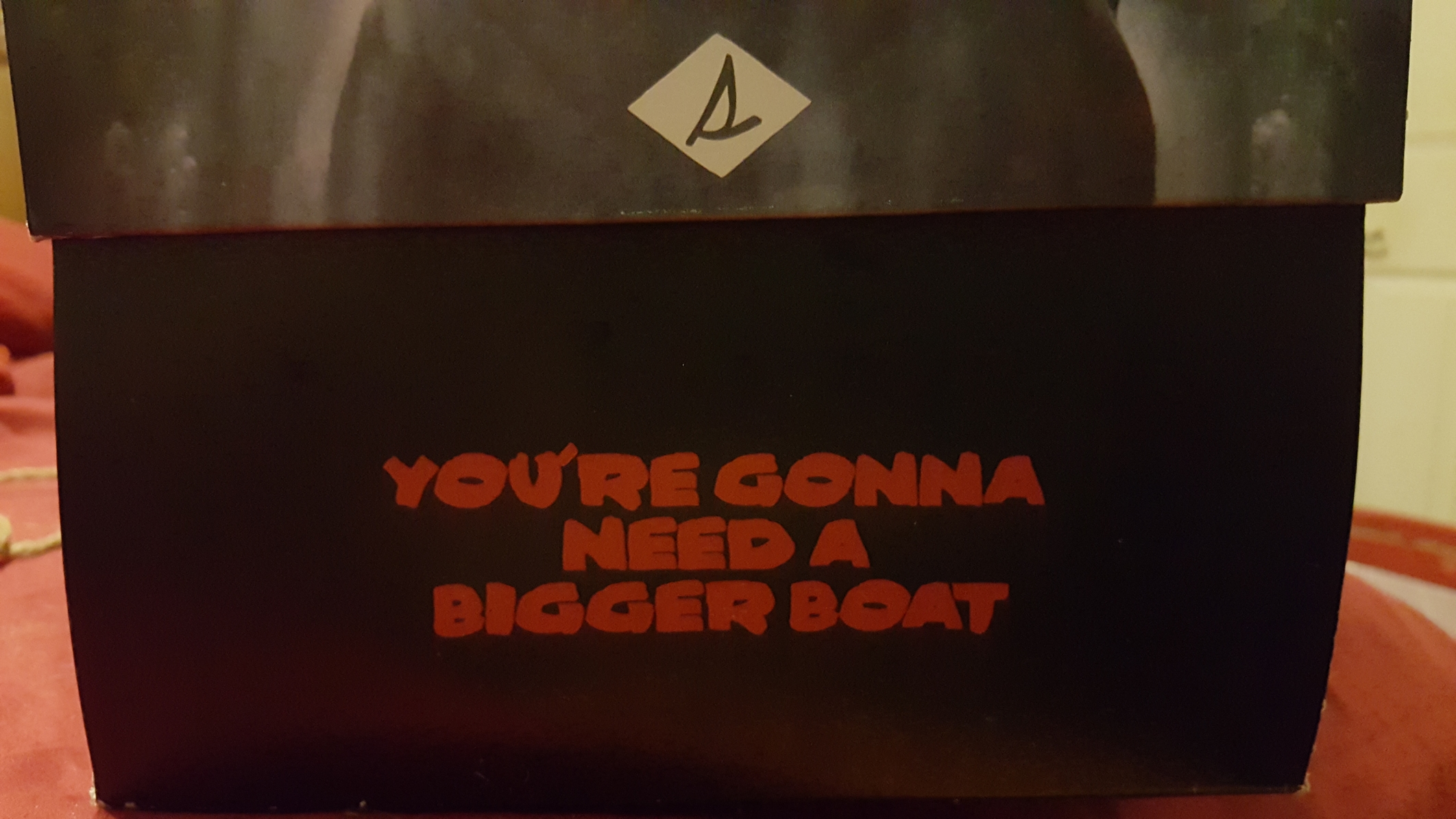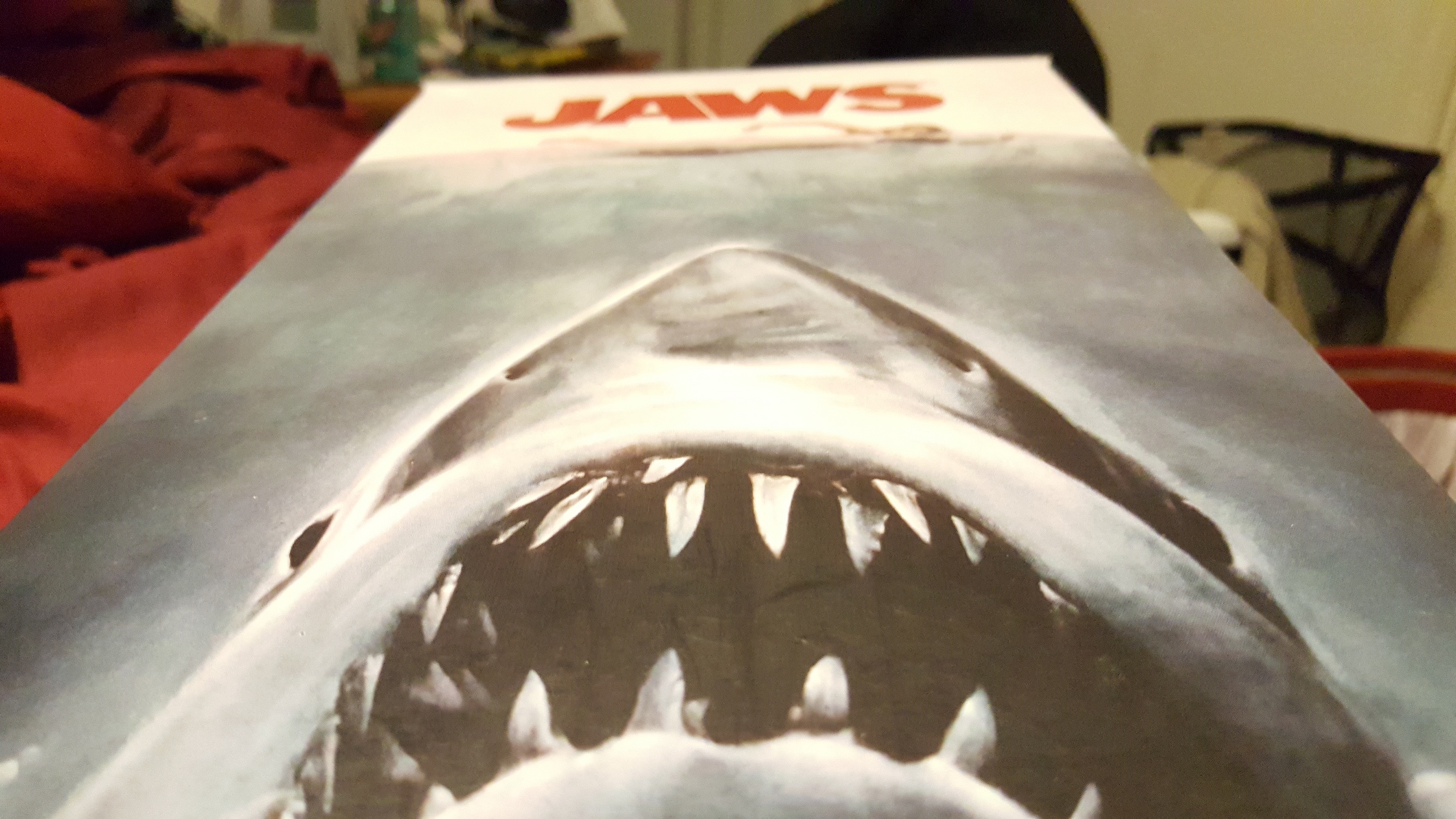 The box is half of the fun. The front cover is the infamous movie scene, where the back of the lid is the "Beach Closed" sign. The box also includes some fun post card sized pictures featuring the Orca and Quint. Even the paper that wraps the shoe is a bloody mess. The shoes themselves are Sperry's, so if you've ever owned a pair you know what you're in for. Non-skid rubber soles, stylish and perfect for land or sea.
The designs range from full on movie posters, to watery depths, to an all out shark attack. This pair has subtle little nods. Around the base of the shoe is a blue line that fades to red as you get near the name JAWS. The movie poster is inside, and the tips of the shoelaces are painted yellow, just like the barrels. Sometimes subtly is better.
The shoes are a definite for JAWS fans, while the box makes an amazing piece to any collection. Our entire front wall is filled with JAWS memorabilia, so it's pretty perfect for the collection.
The shoes are now on sale at Journeys and of course at Sperry.com, however they will probably sell out!
Stay tuned for more, and be sure to get social with us on Facebook and follow along with us on Twitter @BehindThrills for the latest updates!
For our latest theme park videos please be sure to subscribe to us on YouTube!