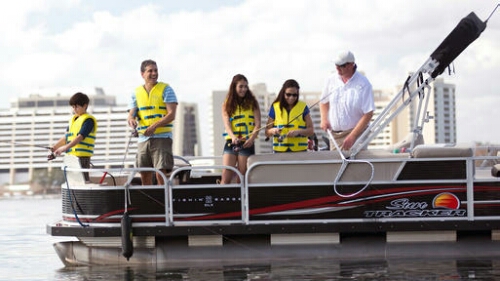 The Orlando Sentinel is reporting that more signs have gone up around the lakes at Walt Disney World Resort that now prohibits fishing in the lakes around the various hotels. This is yet another move after an alligator attack killed 2 year old Lane Graves of Nebraska.
Signs warning of alligators, and prohibiting swimming went up immediately following the attack, as well as fences along the beaches. Now there is reportedly netting on the fences, making it more difficult for guests to enter. The beaches also close an hour before sunset, and remain closed until an hour after sunrise, with employees manning the beach area. The only exception is during fireworks, when guests are allowed to watch the fireworks from the beach.
While Disney has signs restricting fishing, the resort does offer fishing options at several of their hotels.
According to the official Walt Disney World website, fishing excursions are available from many of the hotels, including the Grand Floridian. The website also offers options for dock fishing, and cane pole fishing at Port Orleans Riverside. It is unclear if these options are still available, and if Disney is just trying to restrict fishing in designated areas, or if the only fishing will be the excursions.
If you're wondering why anyone would want to fish at Walt Disney World, the resort is actually one of the best spots for large mouth bass. The ponds are stocked and the resort has been a large draw for anglers from all over the world.
While many people have come forward about close encounters and alligator sightings in the past, alligators are usually not aggressive towards humans unless they have been fed. While Disney can put up signs and fences, educating guests might be the only way to avoid interactions in the future.
Stay tuned for more from Disney, and be sure to get social with us on Facebook and follow along with us on Twitter @BehindThrills for the latest updates!
For our latest theme park videos please be sure to subscribe to us on YouTube!
For more information about Walt Disney World, including tickets, visit the official website by clicking here!