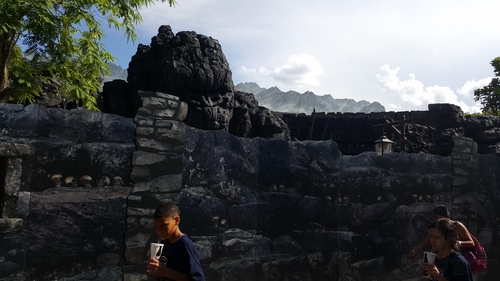 There really isn't much left to see at Universal Orlando's latest attraction, Skull Island:Reign of Kong. Well, nothing that we can see from this side of the walls anyway. The all new attraction will open sometime this summer, with the promise of being the return of the King to the theme park.
Video-Check out our final construction update from Reign of Kong
The ride has been seen cycling, with full door and effects rolling. It's been leaving fans and guests wanting to just break down the walls and explore the mist of Skull Island for themselves.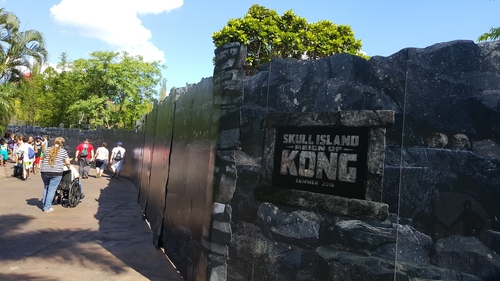 Earlier today, Team Members had the chance to preview the new attraction, with a much longer preview happening on Sunday. The usual rule of thumb for soft openings is a day or two after team member previews is when you can start trying to see if the ride is open.
Keep in mind that IF (and that's a big IF) the ride is going to soft open, it will not be announced. It will also is not guaranteed to stay open. Also, all the effects may not be working on it, and it can close at any time. It's a technical rehearsal. The park only opens the ride to get the feel of guests on it, and to work on the bugs.
So when could we see a soft open?
We'll go out on a limb and say Monday at the earliest. Would also expect later in the evening, as the crush of the daily crowds start dying down.
There is no official opening date just yet, but we're expecting to see it by the end of the month.
We'll just have to wait and see when the King will officially return!
Stay tuned for more from Universal, and be sure to get social with us on Facebook and follow along with us on Twitter @BehindThrills for the latest updates!
For our latest theme park videos please be sure to subscribe to us on YouTube!
For more information about Universal Orlando, including tickets, visit the official website by clicking here!