Reign of Kong at Universal Orlando is one of the most anticipated attractions of all time! It's been under construction for almost two years, and it is bringing back the original big ape back to Universal, after over ten years. It was the attraction that helped launched Universal Orlando into a worldwide destination…and finally we have a look at the attraction, as Universal opened the ride for technical rehearsals on Thursday!
The ride opened right about 6 p.m. on Thursday to a crowd that was waiting for the hopes of a #ChanceofReign. The ride opened just as Team Member previews stopped for the day, and just as guests were thinking it wasn't going to happen. We just happened to be lucky enough to be there in time to see the attraction.
Video-Check out a walkthrough of the Jungles and Temple of Skull Island: Reign of Kong!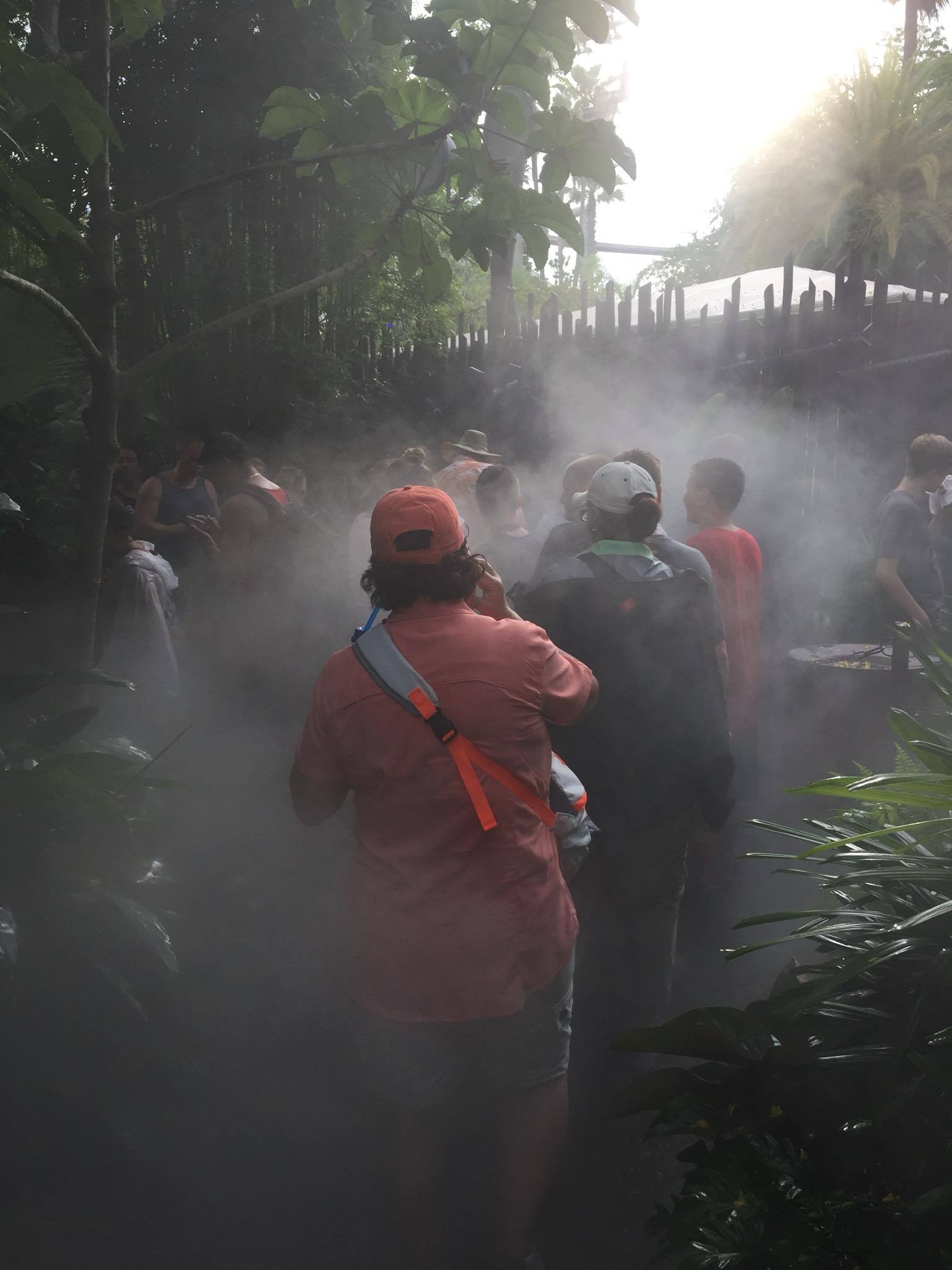 Things start off with an outdoor queue area. It is a lot of ruins, and dense, foggy jungles. Universal has taken the time to do this part of the attraction justice. In fact, the queue itself is as much of the attraction as the ride is. The queue begins the story, and in Universal tradition tells what you need to know before you enter the ride. There is a radio broadcast that happens over the speakers that tells the tale of the drivers of your expedition vehicle, for starters. Each driver has a unique story that tells the tale of Kong and the Eighth Wonder Expedition Company. For the part of the Jungle…you really feel like you're on an expedition!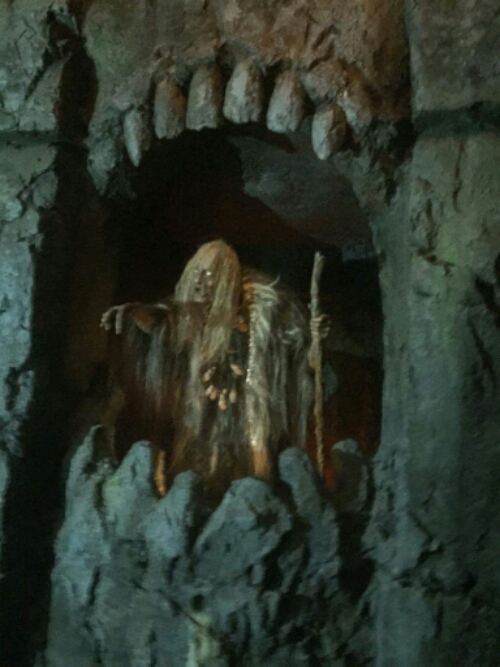 The witch is pretty special, and is a really cool effect. She sets the tone for the entire ride!
Video-Check out the Witch as she warns you about KONG!
The inside queue is a little different. Here we see an amazing witch effect (see above video!), that looks like it might be animatronic, but we aren't exactly sure. She looks real. There are natives here, and they are not happy that you are invading their temple. They jump out at you at moments that you least expect it. These are in line actors that have heavy make up and costume. It can be terrifying, but it's not Halloween Horror Nights level, which is a good thing.
We also see the first of many animatronics, in the form of a creepy worm with teeth. It's terrifying, and amazing all at once. The ride does have a huge mix of 3D screens and animatronics. We don't want to give too much away, but if you've seen the attraction Kong 360 at Universal Hollywood, you know a bit of what to expect. Or at least, a little bit of it.
There are many huge set pieces, as well as some great animatronics. You do see Kong, and he's absolutely GLORIOUS! It's a massive animatronic, and man does he get close! So close that yes, you can smell his breath! It's fantastic!
There has already been some controversy about the queue being too scary. It is dark, and things jump out at you. If that scares you, then yes…it's too scary for you. However, it's not gory, gruesome or does not have violent images. It's dark, which will freak smaller kids out a bit. There isn't a strict height requirement, it's about 36 inches or so (don't quote us, we aren't sure), and there are no big drops or spins. However, it is very intense as far as things coming at you. The 3D is very realistic, and like we said before…the queue is dark. It may not be for everyone.
Currently, the ride is in technical rehearsals. What does that mean? That means that it is not guaranteed to be open all the time. It also means that not everything will be working 100%, and it can go down for anytime at any reason. Technical rehearsals are a great way for guests to experience the attraction before opening, and a great way for the park to work out any technical bugs and glitches before the huge crowds of grand opening. It's a win-win for everyone!
We will have video and more pictures very soon, so check back later!
Kong will roar to life later this summer at Universal Orlando, and we can't wait! The ride is a must see, and is a great addition to the Universal Orlando family!
Stay tuned for more from Universal, and be sure to get social with us on Facebook and follow along with us on Twitter @BehindThrills for the latest updates!
For our latest theme park videos please be sure to subscribe to us on YouTube!
For more information about Universal Orlando, including tickets, visit the official website by clicking here!