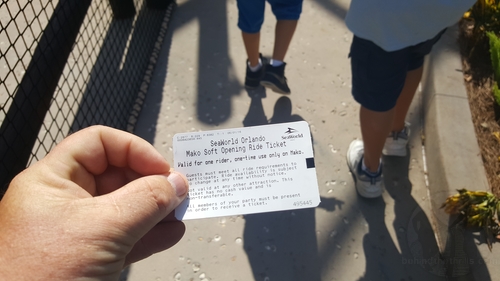 Starting last Thursday, and running all weekend, the all new coaster at SeaWorld Orlando, Mako, soft opened for park guests. A soft opening is the chance for park guests to test a new ride before it officially opens to the public. With that being said, it's not guaranteed to be open long, or at all, so the chances of catching a ride is not written in stone. However, if you do get a chance to ride, it will be with limited lines before the crush of grand opening. We had the chance to check out the new coaster on Friday, and all we can say is…wow!
Video-See our quick review of the new coaster at SeaWorld Orlando
While we will hold the full review for the grand opening this week, the short review is that Mako delivers as the tallest, fastest coaster in Orlando. It certainly is the first of it's kind in Orlando, as every other coaster concentrates on big drops, twists and turns. Mako is an B&M Hyper coaster, which basically means it gives you lots of speed and lots of time out of your seat. It's called air-time, and it's that feeling you get as you come over a hill, and your butt leaves the seat for a second. It is flat out amazing.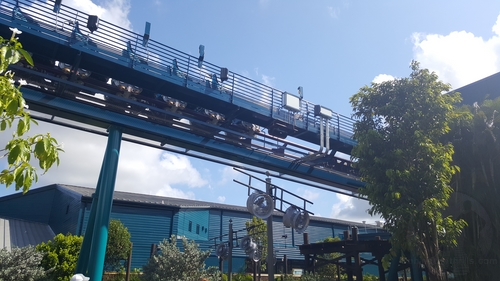 There really isn't a bad seat on the coaster, but each seat will give you a different experience. While the middle will give you an awesome ride, the front gives you a huge thrill as you see nothing but track, and get some pretty great airtime. The back seat, however is our favorite, as the rest of the coaster whips you around and about. It gives you the most airtime (in our opinion) and feels much more out of control.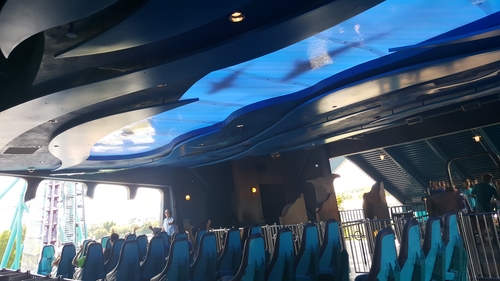 The queue and the station for Mako are a bit different for SeaWorld, as they really push the feeling of you being a shark. You start out on land, and dive into the water and under a dock. You "swim" through the wreckage of a ship before heading up and into the loading platform.
Video-Walkthrough the entire queue and check out the loading station of Mako at SeaWorld Orlando
The queue will eventually have a video running of Guy Harvey talking about sharks and the importance of the animals. The video was running audio, but there was no video on the monitors.
There will also be a ton of merchandise from Guy Harvey, exclusively for Mako.
Video-Check out even more pictures from Mako at SeaWorld Orlando


Click here if you can't view the slideshow
Stay tuned for more from SeaWorld, and be sure to get social with us on Facebook and follow along with us on Twitter @BehindThrills for the latest updates!
For our latest theme park videos please be sure to subscribe to us on YouTube!
For more information about SeaWorld Orlando, including tickets, visit the official website by clicking here!