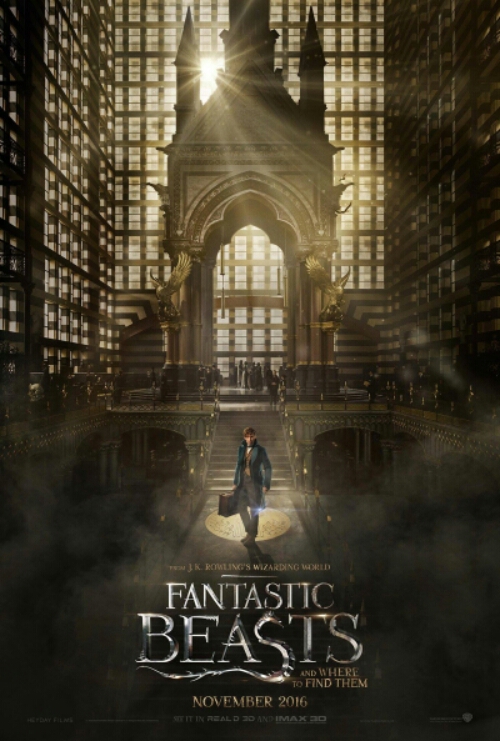 The new Fantastic Beasts and Where to Find Them marks a return to the Wizarding World that began with Harry Potter. Author JK Rowling is penning the film, and is extending the massive world online via Pottermore. Earlier this week she unveiled the name, and backstory for the North American Wizarding School, Ilvermorny, as well as a sorting quiz into their houses. The new film will deal with North American Wizards, and possibly the school, so it's likely we're going to be seeing a lot more of the school going forward. That can only be a good thing, because The Wizarding World is definitely one that needs to be explored, with new and old characters. What characters we see in the film will have to wait until November when the film hits theaters. Or will it?
Director David Yates has just confirmed that he is working on clips to bring to SDCC. That means that not only will we get more footage from the film, but could also mean we'll get to hear from the cast of the film as well! All of this will during the Warner Brothers Panel, which we are assuming will be in Hall H on Saturday, though it hasn't been confirmed yet. If you haven't been or haven't followed San Diego Comic Con, Hall H's Saturday presentation is the big one that people flock to. It's the one where movie studios unleash their biggest and baddest movies for the year, and show exclusive clips that you can't see anywhere else.
Warner Brothers also will give a look at Kong: Skull Island, Suicide Squad, Lego Batman, and a few others that we might not have heard yet.
The Wizarding World is getting a lot of attention, with not only the new film, but the all new land that just opened at Universal Studios Hollywood. The Wizarding World of Harry Potter marks the largest expansion in Universal Studios Hollywood history, and it's just the beginning!
We are so excited, and can't wait to share all the news live from SDCC in just a few weeks!
Stay tuned for more, and be sure to get social with us on Facebook and follow along with us on Twitter @BehindThrills for the latest updates!
For our latest theme park videos please be sure to subscribe to us on YouTube!