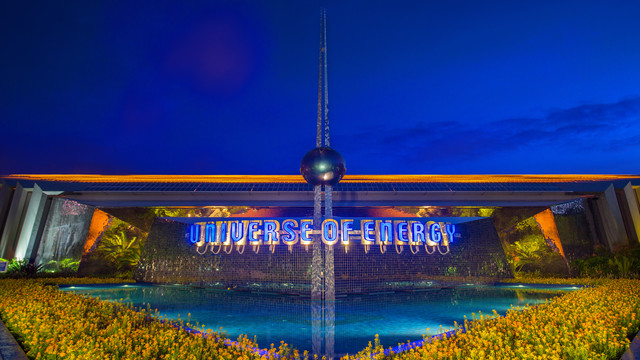 According to WDWMagic, height balloons were spotted this morning over Epcot. What are height balloons? They are simply giant balloons that are used to mock up high points of upcoming construction projects. It gives an idea of what a new building or attraction could look like, and how far away it could be spotted.
Why height balloons? What are they looking to build, and where? The balloons were spotted over the Universe of Energy attraction. This matches up with a rumor that was going around a few weeks back about that attraction getting the ax for an upcoming Guardians of the Galaxy attraction.
While the specifics of how that would happen haven't been revelaed, it looks liket he project is at least a little bit further than the planning stages.
While this sounds like a great idea to some, there are others who are afraid that this rumor could mean a shift away from the "edutainment" days of Epcot. Back when the park originally opened, every attraction sought to teach you a little something, as well as entertain you. Some of the attractions did an amazing job at it, and felt like they belonged in an Experimental Prototype City of Tomorrow…others…well, they were just boring.
Over the years some of the great ones were torn down, such as Universe of Motion and Horizons. They were replaced with great attractions, but that spark that made it uniquely Epcot was gone.
Universe of Energy, while different than the original version, was one of those great…but ultimately boring rides. Sure, there is a charm to it, and it does have Ellen…but it hasn't had an update since 1996. 20 years for an attraction starring people with 90's hair is a long time to be around. Plus the attraction is 45 minutes long. 45 minutes…that's more than most people's commutes to work! Sorry Universe of Energy…it's time to go.
Unfortunately it does become lost to an attraction with big name appeal. Guardians of the Galaxy was a massive hit, and part two is set to be just as fun, if not more so. At least Disney is hoping it is.
Guardians are strongly rumored to take over Tower of Terror at Disney's California Adventure, where it will be part of a mini-Marvel Land. How will it work in Florida? Again, we have to wonder if Guardians is what is really happening, because of the existing contract with Universal.
Intellectual Properties are nothing new to Epcot. Finding Nemo took over the existing Living Seas Pavilion, and replaced SeaBase Alpha and hydrolators with a new ride, and statues of many of the familiar fish from the movie. While many hardcore fans despised the move, the general public loved it, as Nemo became one of the top attractions in the park. Norway's Maelstrom also received the ax, in favor of Frozen. While Frozen is an amazing attraction, it's clear that Norway is taking a back seat to the setting of the movie instead. In fact, that's what many think Epcot will become, settings for attractions based on Disney attractions, with the barest of tie-ins to the country they originally represented. Think of it as mini-lands to house one attraction. While it's not the best thing for fans to think of, it's definitely a lucrative proposition for Disney as they look to bring in as many people as they possibly can.
As for Ellen? Well, all of her energy can now be seen in Finding Nemo, along with the rest of the gang. Better enjoy that last ride while you can, as it may not be long before Universe of Energy ends up like the dinosaurs who call the attraction home.
Stay tuned for more from Disney, and be sure to get social with us on Facebook and follow along with us on Twitter @BehindThrills for the latest updates!
For our latest theme park videos please be sure to subscribe to us on YouTube!
For more information about Walt Disney World, including tickets, visit the official website by clicking here!