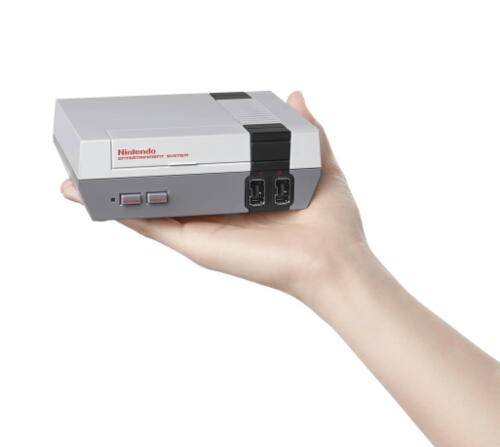 Last week Nintendo rolled out the amazing Pokémon GO aimed directly at the kids who grew up in the late 90's and early 2000's. It's now time for us 80's kids to have a little throwback fun. Starting on November 11th, Nintendo is rolling out with the NES Classic Edition. It's a console that plays 30 of the original games from the Nintendo Entertainment System.
It will connect directly to your television, and even to your Wii or Wii U console. It will come with one controller, but you can purchase a separate one for two player action for just ten bucks.
The bad news is that there will be no cartridges for it, as the games will be built in. The even worse news is that you won't be able to add games to it at a later date. Still, at the price of just $59.99, you get 30 classic games and a classic controller! Considering you purchase games for about five dollars each, you're saving half the money.
What games will be featured?
Here's the complete list of games:
Balloon Fight
Bubble Bobble
Castlevania
Castlevania II: Simon's Quest
Donkey Kong
Donkey Kong Jr.
Double Dragon II: The Revenge
Dr. Mario
Excitebike
Final Fantasy
Galaga
Ghosts'N Goblins
Gradius
Ice Climber
Kid Icarus
Kirby's Adventure
Mario Bros.
Mega Man 2
Metroid
Ninja Gaiden
Pac-Man
Punch-Out!! Featuring Mr. Dream
StarTropics
Super C
Super Mario Bros.
Super Mario Bros. 2
Super Mario Bros. 3
Tecmo Bowl
The Legend of Zelda
Zelda II: The Adventure of Link
The price for Pac Man, the Super Mario series and the first two in the Zelda series is worth it alone, but there are some other great games in that lot! Have you ever played Star Tropics? Hours of old school fun!
Stay tuned for more, and be sure to get social with us on Facebook and follow along with us on Twitter @BehindThrills for the latest updates!