They've been talking about doing it for years, and it's finally happening. Universal Orlando is bringing a unique new upcharge experience to Halloween Horror Nights with the Repository. Worked on over the past eight years by T.J. Mannarino and the Art & Design Team, Universal Orlando will submerge players in an experience like they've never done before.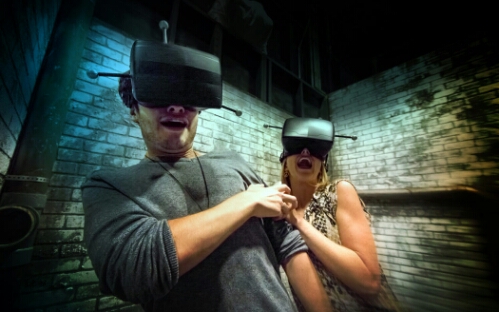 Using VR Technology, The Repository will transport you into the spirit realm where you will work in groups of four, and interact with live characters and sets.
The experience wouldn't be Halloween Horror Nights if there wasn't a good story behind it. A secret organization holds tons of paranormal artifacts in a secret warehouse. They've had these artifacts for hundreds of years, and now the organization has installed new technology that allows you to go into the spectral realm. Crossing from one realm to another is nothing new…we call them hauntingly, and they're done by ghosts. Now for the first time ever you become the ghost as you cross over into the spectral realm. What could possibly go wrong!
The experience sounds similar to whats been done in the past with Legendary Truth. A secret organization that seeks the truth behind hauntings. Now it looks like Universal is taking things to an all new level with The Repository.
The Repository will be available beginning September 29th and will run through October 31st. The cost will be an additional $49.99 and HHN admission is reqiuires6,but not included.
What do you think? Are you going to brave the Repository?
Stay tuned for more from Halloween Horror Nights, and be sure to get social with us on Facebook and follow along with us on Twitter @BehindThrills for the latest updates!
For our latest theme park videos please be sure to subscribe to us on YouTube!
For more information about HHN, including tickets, visit the official website by clicking here!