Didn't you hear? Halloween season is practically here! Knott's has only announced a few small new additions and it's already looking like it's going to be a fantastic Haunt year on the farm. It's likely that most nights will sell out as they usually do so it's best to get your tickets early and now you can! This past week you can now preorder your tickets as well as your Knott's Scary Farm season pass which allows access to Haunt every night through the 6 week run.

Much like most other major haunts, depending on the day your tickets prices are dynamic and do change starting as low as $40!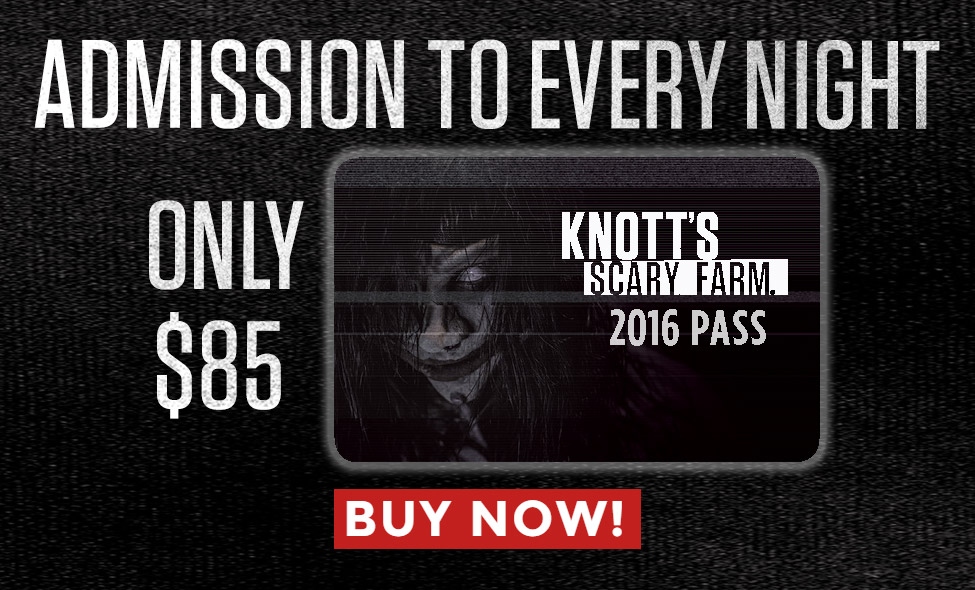 Also available is the highly sought after Knott's Scary Farm season pass which gives you access to all nights for only $85 which is an especially good value for haunt lovers.
As of right now only half of the event has been announced. In 2016 we can expect the return Elvira in an all new show as well as the return of the Trick or Treat, Tooth Fairy, Paranormal Inc, Voodoo and a completely re-imagined Infected called 'BLACK OPS: INFECT' which will take place in a newly constructed faux city deep in the backstage areas of Knotts. There are still 4 unannounced new mazes and shows that will be revealed at the Annual Passholder preview on August 25, 2016.
Also announced is a brand new take on the Skeleton Key rooms. Instead of being additional rooms to existing mazes, these will be stand-alone attractions all by themselves.  These new experiences are called Visions, ZOZO, Slasher and Prey. Like previous years these new Skeleton Key experiences are only available if you upgrade your ticket to include Fright Lane with Skeleton Key witch will run $110. These experiences will not be available to general admission tickets.
The rest of the 2016 line-up will be announced at the Annual Passholder preview of Knott's Scary Farm on August 25.
Stay tuned for more from Knott's Scary Farm, and be sure to get social with us on Facebook and follow along with us on Twitter @BehindThrills for the latest updates!
For our latest theme park videos please be sure to subscribe to us on YouTube!
For more information about Knott's Berry Farm or to purchase tickets, visit the official website by clicking here.