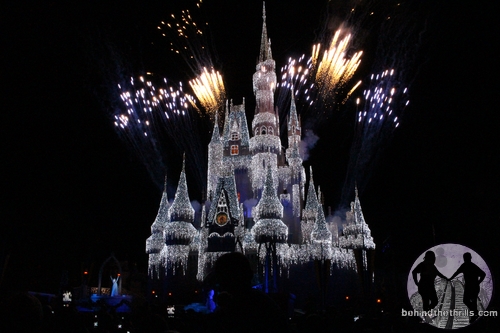 We spent a quiet weekend at Walt Disney World, celebrating birthdays, but it looks WDW is being all but quiet. Rumors are swirling in from all over the place that many huge things are happening at every single park. How much will happen, and how much is crap? We have no clue, but here they are for your enjoyment. Keep in mind these are all just rumors, and until it's officially announced, it's not happening. However, what is being said and what could the number one theme park in the world be looking at changing? It's not just happening at one park, but pretty much resort wide. We'll take a look at exactly what has been happening.
Magic Kingdom
We already know that Magic Kingdom is losing the Main Street Electrical Parade this October. The park will also turn 45 in October, and really there's not much more information than that. Apparently the down turn in tourism, and budget cuts after the huge price tag of Shanghai Disneyland is being felt, and this park will keep a little quiet for the rest of the year.
One big rumor is that Stitch's Great Escape will be completely gutted, and refurbished into a Wreck it Ralph VR simulator. The experience will have guests don VR helmets and sit in Candy Crush vehicles, while pretty much playing a video game. Hopefully that's not all, and there's more to it than just that. With the advent of VR, you have a lot of new attractions and experiences popping up, but they all seem to be taking away from true, experiences. No, Stitch kind of sucks and it wouldn't be missed terribly, but at least it's an experience that physically happens. Maybe I'm alone in that one.
Epcot
Oh boy…We've told you before how it's rumored that Ellen's Universe of Energy Encounter is on the chopping block. Now it appears that it will not be replaced with a Guardians of the Galaxy dark ride, but a coaster. This makes for a huge departure for Epcot, as it will be the first coaster in that park. It also negates the rumor of the Tron coaster taking over the Wonders of Life pavilion. We could see both, but the focus will be getting on Marvel in the Disney parks, but more on that later.
If you're a fan of Journey Into Imagination, hold on to your balls. Inside Out could be taking over the Imagination Pavilion, where Bing Bong will take over the Imagination Institute. No, not Figment…though he might play a small role. Am I alone in saying just bring back Dreamfinder? The new overhaul is expected to take place pretty soon, though we don't know if it will be a complete Inside Out Ride, or it will be a ride about Imagination.
Sum of All Thrills and Stormstruck inside the Innoventions building will close September 14th, according to various sources. In the past few years, Innoventions West has become home to various meet and greets, including Inside Out and Big Hero 6. This falls in line with the massive overhaul of Future World that will include the removal of Ellen and more. Currently Glidden's World of Color will remain, but that will be removed once the contract runs out.
Disney's Hollywood Studios
This one came as a bit of a shock, but with an all new park being crafted, it makes sense. The Great Movie Ride could become a thing of the past, as the ride that celebrates Hollywood's history is on the chopping block. The contract with Turner Classic Movies is slated to expire in 2018, and after that…a final bow will be made for the ride that opened with the park. The new ride will be The Great Mickey Ride, and will feature trackless cars, and will be the first ride in Disney history that will feature the fab four of Mickey, Minnie, Donald, and Goofy. It will take guests on an adventure through Hollywood, and will keep the iconic Chinese Theater facade. We're not looking at that ride closing until 2018, so we won't see a new ride until 2020 at the earliest. If that's the case, that will leave Hollywood Studios with less than a handful of major attractions, until Star Wars Land and Toy Story Land come online…but who knows when that will be.
Alright, hold on for this one. Apparently there are still plans to remove Twilight Zone from the Tower of Terror. It will be replaced with a more elaborate version of the Guardians of the Galaxy attraction. It's not expected to happen for quite a while, but it is slated to happen. Why? Because they want to tie it in with the new Avengers themed coaster, which will take over the Aerosmith layover. Yes, that contract is expected to expire soon, and it looks like Disney is working with Universal on plans to allow them to have Marvel in the parks in Florida. Rumors are still rumors though, and until it's announced…who knows if it will happen. Yes, we are aware of the contract. Yes, we are familiar with every aspect of it. However, that does not mean that contracts can't be changed, especially if it's lucrative for both parties. What could be lucrative? How about Disney letting Universal build more Marvel rides based on characters they don't own film rights to, like X-Men and Fantastic Four? That's the rumor.
If you look at the rumor, it makes the perfect amount of sense, as Disneyland is looking to do the same exact thing at California's Adventure. That park is looking to make not only the Guardians attraction, but also an Avengers Coaster, creating a mini-Marvel land. And why again get rid of the "sacred" Twilight Zone theme? Again it all boils down to licensing, and having to pay to keep said license. Disney owns Marvel, Lucasfilm and Pixar. Why on earth would they pay for a license, when they own all these other properties that they can use without charge? You will see Disney do that with all the new properties moving forward as well. The only exception is next year's Pandora:World of Avatar.
Still, there is a huge mess of construction already happening, I don't see the park changing anything until at least Star Wars Land and Toy Story Land is complete. We are also looking at the possibility of a revamped entrance, new parking and even new name for the park, so let's not get excited about losing more rides just yet.
Additionally, there have been surveys going around asking about services like Lyft and Uber. The idea is that Disney is looking to create their own version of the pick up service, and basically ban the other services from operating on property. The resort already has their own bus lines that go from the resort to the airport and port, but they have nothing to go to other parks, or destinations around Orlando. Face it, people are going off property, whether Disney likes it or not.

Stay tuned for more from Disney, and be sure to get social with us on Facebook and follow along with us on Twitter @BehindThrills for the latest updates!
For our latest theme park videos please be sure to subscribe to us on YouTube!
For more information about Walt Disney World, including tickets, visit the official website by clicking here!