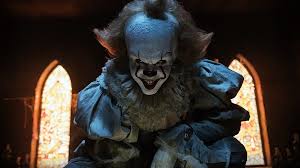 When it comes to Stephen King adaptations, you're either off the mark, or so dead on it's scary. With last year's IT Chapter One, the filmmakers got it so right that it became the highest grossing rated R film of all time. The film pulled in $700 million worldwide, and brought Pennywise to a new generation of horror fans. Pennywise has also painted the filmmakers in a huge corner, with expectations very high on the sequel. A full cast has not been announced yet, but according to several reports, filming on the New Line horror film is expected to begin this summer in Toronto.
Jessica Chastain is expected to sign on a Beverly Marsh, and reports say that James McAvoy (X-Men, Split) will play an older Bill Benbrough, with Bill Hader playing Richie Tozier. The film will catch up with the Losers Club as adults, when Pennywise comes out of hibernation. The book had a distinctive cosmic narrative, with things like Dead Lights, and giant talking turtles. Allegedly, Chapter Two of the movie will feature a lot of those moments, as well as some flashbacks of the kids from the first film.
Naturally, Bill Skarsgard will reprise his role as the menacing Pennywise.
The second part will also be directed by the films first director, Andy Muschetti and is slated for a September 6, 2019. So, we're over a year away from the next film. That's the bad news.
The good news is that you may be able to relive the film in real life. How? Rumors have IT as part of this year's Halloween Horror Nights. It's not been confirmed by Universal,  but there's a very good chance that the break out horror hit of 2017 will be the break out haunted maze of 2018. Why do we think the film will be in the line up? Several huge factors, the biggest being the success of another Stephen King adaptation.
Last year, the demented creative minds at Universal brought Stanley Kubriks horror masterpiece, The Shining to life in glorious, blood drenched splendor. It was a difficult film to adapt from the screen to a maze, but Universal did it very successfully. The Shining was a Warner Brothers film. IT was also distributed by Warner Brothers and produced by New Line, both of whom have a great working relationship with Universal.
On top of all that, Universal has a great history of creepy clowns, with their own Jack the Clown being inspired by Pennywise, among other things. The property is hugely popular, and with the casting and filming of the second sure to be underway, or even wrapped by then, the new maze will help build the excitement for the sequel.
At least that's the hope. As of right now, there have been no official announcements from Universal, so it's not happening until there is. As of now file this as a rumor.
Stay tuned for more from Halloween Horror Nights, and be sure to get social with us on Facebook, Twitter, and Instagram @BehindThrills for the latest updates!
For our latest theme park videos please be sure to subscribe to us on YouTube!
For more information about HHN, including tickets, visit the official website by clicking here!