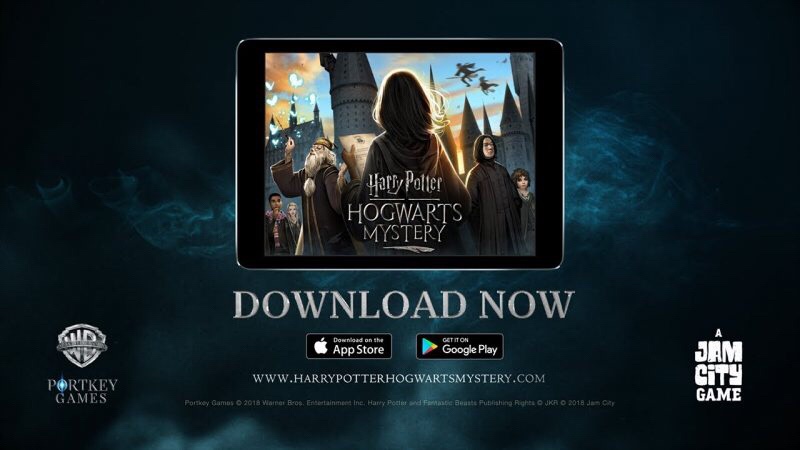 We brought you a brief glimpse in January from A Celebration of Harry Potter at Universal Orlando, but today you officially have gotten your owl from Hogwarts!
https://www.youtube.com/watch?v=ehixbGzOZ_M&feature=youtu.be
Jam City and Warner Brothers Entertainment's Portkey Games celebrates their first mobile game with Hogwarts Mystery. The game takes fans back the 1980's and puts them in the mix with some of the characters from Harry Potter books and movies, when they were students themselves.
"There are so few moments where a mobile entertainment company has the chance to truly bring magic into the world and we've been thrilled by the amazing response our game has already received from Harry Potter fans everywhere," said Chris DeWolfe, co-founder and CEO of Jam City. "We at Jam City have been working hard to ensure that any aspiring witch or wizard can enter Hogwarts through their smartphones and tablets and begin their magical journeys."
The game not only takes in some familiar names and faces, but also some familiar voices, as Professor McGonagal actress Maggie Smith reprises her role for the game.
"Being involved in the making of the Harry Potter: Hogwarts Mystery mobile game will give great pleasure to my grandchildren," said Dame Maggie Smith, voice of Professor McGonagall in the game
The game is free to download on both Google Play and the App Store, but there are a few options that will cost witches and wizards a few Galleons.
The new game is the first of two to be released this year for mobile devices. Pokémon Go creators Niantic will be releasing an augmented reality game, Wizards Unite, that will allow wizards and witches to cast spells and come together in the real world.
The Wizarding World is expanding, from not only new mobile games, but also new movies, with the Fantastic Beasts franchise, and new attractions coming to Universal's Islands of Adventure next year, and rumors of new additions in Hollywood later this year. It's an exciting time to be a Muggle in the Wizarding World!
Stay tuned for more, and be sure to get social with us on Facebook, Twitter, and Instagram @BehindThrills for the latest updates!
For our latest theme park videos please be sure to subscribe to us on YouTube!