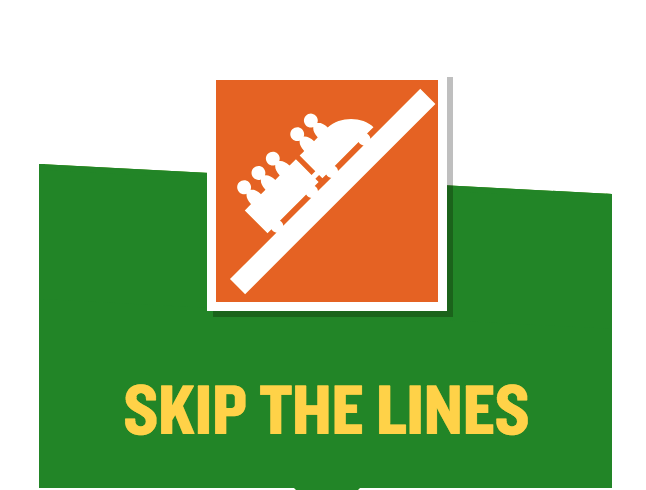 Who doesn't hate waiting in lines? It's a part of the theme park experience, and one that a lot of people would rather do without. For every park with a line, there's a way to skip that line. Disney has Fastpass, which is (mostly) free…but good luck getting a time for the new rides. Universal has Express, which can run as much as the cost of a daily ticket, depending on how busy it is. SeaWorld and Busch Gardens has Quick Queue. Busch Gardens has taken a new approach to their Quick Queue, and now has an option that allows you to skip the line for the entire year.
At Busch Gardens Williamsburg, there's the All Summer Quick Queue. You get unlimited, front of the line access to Alpengeist, Apollo's Chariot, Battle For Eire, Escape from Pompeii, Griffon, InvadR, Le Scoot, Loch Ness Monster, Mäch Tower, Roman Rapids, Tempesto & Verbolten. It is valid until the end of the operating season at Busch Gardens Williamsburg.
At Busch Gardens Tampa, there's the Year-Round Quick Queue. You get unlimited, front of the line access to Falcon's Fury, Cheetah Hunt, SheiKra, Montu, Kumba, Cobra's Curse, Scorpion, Stanley Falls Flume, SandSerpent & Congo River Rapids. It is good for 365 days from the first use.
Each one will run around $300 dollars (less if you have an annual pass), and gives you unlimited access to the rides listed.
Is it a good deal? That depends. Do you go to the park a lot?
It can be argued that the more Front of the Line access availability there is, the longer the waits will be for anyone not using the system. But hey, why wait in line when you can skip it?
Stay tuned for more from Busch Gardens Tampa, and be sure to get social with us on Facebook and follow along with us on Twitter @BehindThrills for the latest updates!
For our latest theme park videos please be sure to subscribe to us on YouTube!
For more information about Busch Gardens Tampa, including tickets, visit the official website by clicking here!