The TEA/Aecom theme park attendance report for 2017 is out, and it's highlighting a year of huge innovations, big attendance, massive growth and minor setbacks. The TEA/Aecom report is the definitive theme park attendance report in the industry, and tracks theme parks, waterparks and museums all over the world. It's a great gauge of theme park trends and where exactly people are visiting.
"The industry resumed its historic pace of growth in 2017," John Robinett, Senior Vice President, Americas, AECOM, said in a press release. "Major theme park operators had an outstanding year with significant overall growth led largely by properties in China."
"The Chinese market has responded enthusiastically to high-quality theme park offerings, as demonstrated by the success of the Chimelong parks and of Shanghai Disneyland in its first full year of operation, with Universal Beijing on the horizon," Chris Yoshii, Vice President, Asia-Pacific, AECOM, said in the statement.
Let's dive into it a little bit and see just how the world's parks performed.
So first up is the top performing parks worldwide. Disney continues to dominate, as Shanghai Disney packed guests in, and Magic Kingdom surpassed 20 million visitors.
Top 20 Worldwide:
Walt Disney World Magic Kingdom
Disneyland
Tokyo Disneyland
Universal Studios Japan
Tokyo DisneySea
Disney's Animal Kingdom
Epcot
Shanghai Disneyland
Disney's Hollywood Studios
Universal Studios Florida
Chimelong Ocean Kingdom
Disneyland Paris
Disney California Adventure
Islands of Adventure
Universal Studios Hollywood
Lotte World
Everland
Hong Kong Disneyland
Nagashima Spa Land
Ocean Park
Here are the numbers from TEA:
Shanghai Disneyland rolls in with an impressive 11 million visitors, an increase of over 94% for the year, which is expected to grow. In fact, Disney dominates the worldwide top ten with only Universal Studios Japan and Universal Studios Florida breaking through. And that's the bottom line for the theme park industry, Disney is seeing amazing growth, especially in Asia. Asia markets are booming with theme parks as the middle class continues to thrive. That growth will only continue as Disney, Universal and several other companies venture into China and other parts of Asia to develop new parks. The next big park on the horizon is Universal Beijing, which will beat the spending of Shanghai Disneyland.
Over in the states, theme parks are also booming as Disney, Universal and even Cedar Fair brings bigger and better attractions to parks, and gives guests more reasons to stick around for days rather than just take day trips. Onsite hotels, expanded nighttime shows, and new lands keep guests longer and keep them coming back.
Top 20 U.S.
Walt Disney World Magic Kingdom
Disneyland
Disney's Animal Kingdom
Epcot
Disney's Hollywood Studios
Universal Studios Florida
Disney California Adventure
Islands of Adventure
Universal Studios Hollywood
Knott's Berry Farm
SeaWorld Orlando
Busch Gardens Tampa
Canada's Wonderland
Cedar Point
Kings Island
Six Flags Magic Mountain
Hersheypark
Six Flags Great Adventure
SeaWorld San Diego
Six Flags Great America
Here's the full list from TEA:
For the first time in a long time, Cedar Fair cracked the top ten with Knott's Berry Farm, as SeaWorld slid to the 11th spot with a huge 10% decrease. SeaWorld has seen increasing issues since 2010 with the death of trainer Dawn Brancheau, which was made worse by the seething documentary Blackfish, and mishandling by CEO Joel Manby. However for the first quarter of 2018, attendance has been up by almost 15%, so hopefully there's still hope. Not surprisingly, Disney's Hollywood Studios saw a dip in attendance, due to huge amounts of construction. That should pick up again as Toy Story Land readies to open, and Star Wars Galaxy's Edge continues construction. The biggest increases come from Disney's Animal Kingdom, and Universal Studios Hollywood with 15% and 12 % increases respectively. Both parks had huge new lands added, with Animal Kingdom adding Pandora:World of Avatar and Universal Hollywood continuing to benefit from the Wizarding World of Harry Potter.
The increases show a continuing shift towards IP based attractions, with big name properties pulling in big crowds. With a seemingly never ending list of properties, it only fees like a matter of time before every park adopts the same strategy that Universal and Disney has.
While theme parks have seen a massive increase, waterparks also saw a small increase.
Here's the full list from TEA:
The big news here is the debut of Volcano Bay at number 6, with 1.5 million visitors. The park broke through with new innovation with Tapu Tapu and immersive storytelling in the park. However, construction delays and the new technology had some guests leaving bad reviews on sites like Yelp and Trip Advisor. With a year under their belt, it's likely that Universal has had time to fix the issues and push the attendance for 2018 even further.
In the states, Volcano Bay takes the number three spot, as vista to waterparks dipped a little.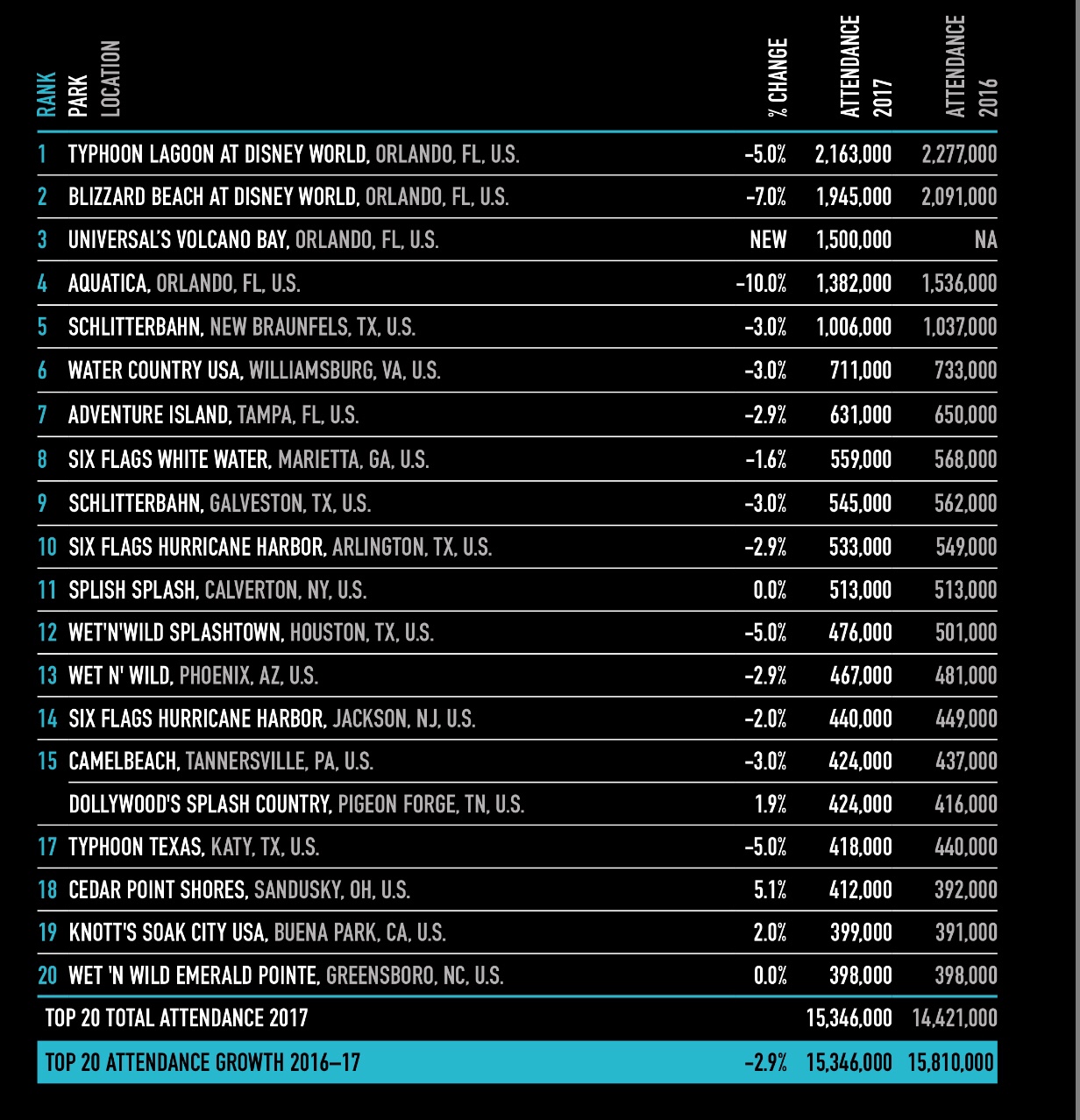 New attractions, innovations and hopefully better weather should make for a better year in 2018.
For the entire TEA/AECOM report, visit the official website by clicking here!
Stay tuned for more, and be sure to get social with us on Facebook and follow along with us on Twitter @BehindThrills for the latest updates!
For our latest theme park videos please be sure to subscribe to us on YouTube!