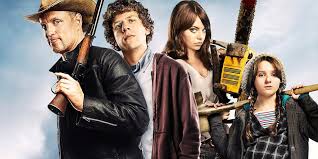 Sometimes you got to stop and enjoy the little things in life. Whether it's taking in a movie, eating a Twinkie or stomping zombie heads, it's very important to enjoy life. Ten years later, the movie that taught us to enjoy the little things is coming back. The news comes today that, as of now, the sequel will reunite the original cast, and original writers.
While on their press tour for Deadpool 2, the writing duo behind the first film and the Deadpool series Rhett Reese and Paul Wernick, confirmed that not only is Zombieland 2 coming, but they also have a release date.
"We're going on the tenth anniversary of Zombieland," Wernick told Vulture. "Zombieland came out October of 2009. We don't know what you get someone for their tenth anniversary, but it may be a Zombieland 2. The hope is that we're shooting that thing early 2019 for an October of '19 release. With the original cast, by the way".
"We are sitting on information that we can't entirely share at this moment," Wernick added, "but we can just say we think fans of Zombieland who have been hoping for a Zombieland 2, that we will grant their wish very, very soon."
Alright, while that sounds great, it's not 100% for sure going to happen. Add in the fact that the film hasn't officially been greenlit yet, and it's not looking like a sure thing. Still, if the writing duo behind the film knocks it out of the park with Deadpool 2 this weekend, it could be more of a sure bet come Monday.
The film was a blast in the zombie genre, and helped to spark a new wave of zombie films and TV shows. It also had a short lived TV series, which pretty much retold the original movie with a different, and not that likeable of a cast.
Let's hope the little things are enough of a good thing to make a good sequel.

Stay tuned for more! Be sure to get social with us on Facebook and follow along with us on Twitter @BehindThrills for the latest updates!
For our latest theme park videos please be sure to subscribe to us on YouTube!