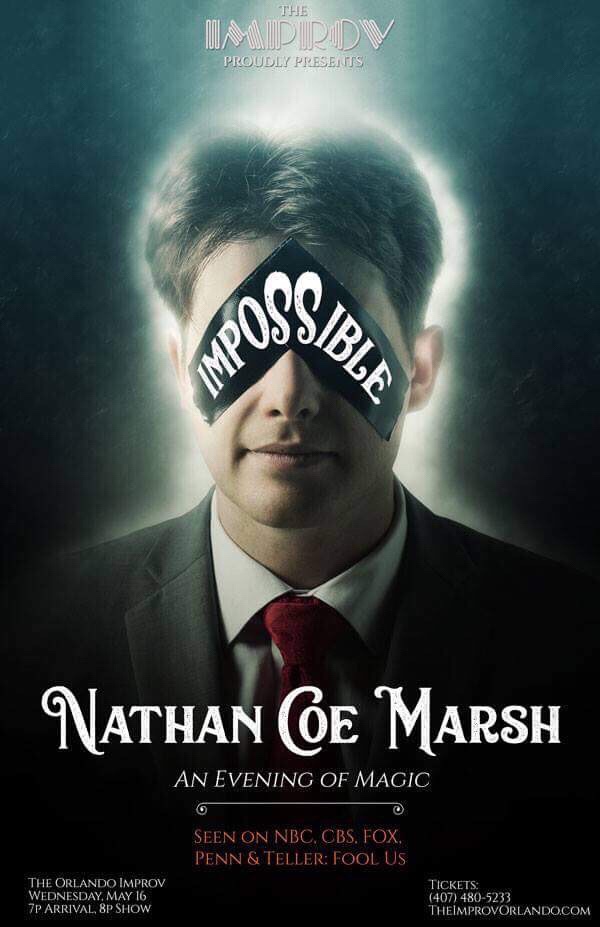 A pint of water floats in mid-air, defying gravity until the second you tell it to fall. A dollar bill appears inside an orange. It's completely unexplainable….it's magic.
Having performed all around the world, entertained American troops overseas, and millions on Penn & Teller: Fool Us, one of Orlando's best magicians Nathan Coe Marsh plans to dazzle audiences this Wednesday during his "Impossible: An Evening of Magic" show at The Orlando Improv."
The child of two artists, Florida native (and Orlando local) Marsh traded in paintbrushes to teach himself to perform impossible stunts with duct-tape, fruit, a high velocity paintball gun, and the human mind.
"This show is about giving audiences an experience that is fragile and rare: a direct encounter with the impossible. We're going to laugh, we're going to have fun, but by the end of the night you will experience things you have never experienced before." says Nathan.
For fans of Halloween Horror Nights…well Nathan really doesn't have much to do with the event, other than being a fan. But he has appeared on the hit Penn & Teller show, "Fool Us".
The Orlando Improv is located at 9101 International Drive Suite 2310, Pointe Orlando, Orlando, FL 32819 and can be reached at (407) 480-5233. For more information visit: