Just in time for the long, hot Florida Summer, Aquatica Orlando has unveiled Ray Rush. The new attraction takes riders down from a height of about 60 feet through different elements that combine to make one thrilling slide.
The new slide from Whitewater West is the first of it's kind and is family friendly, with a height requirement of just 42″ inches, making sure that everyone can have a blast.
Riders are "blasted" by water jets into the first of many enclosed tubes, which journey downward along twists and turns along the way. Then they swirl around the huge sphere, where you can catch your breath…just a little.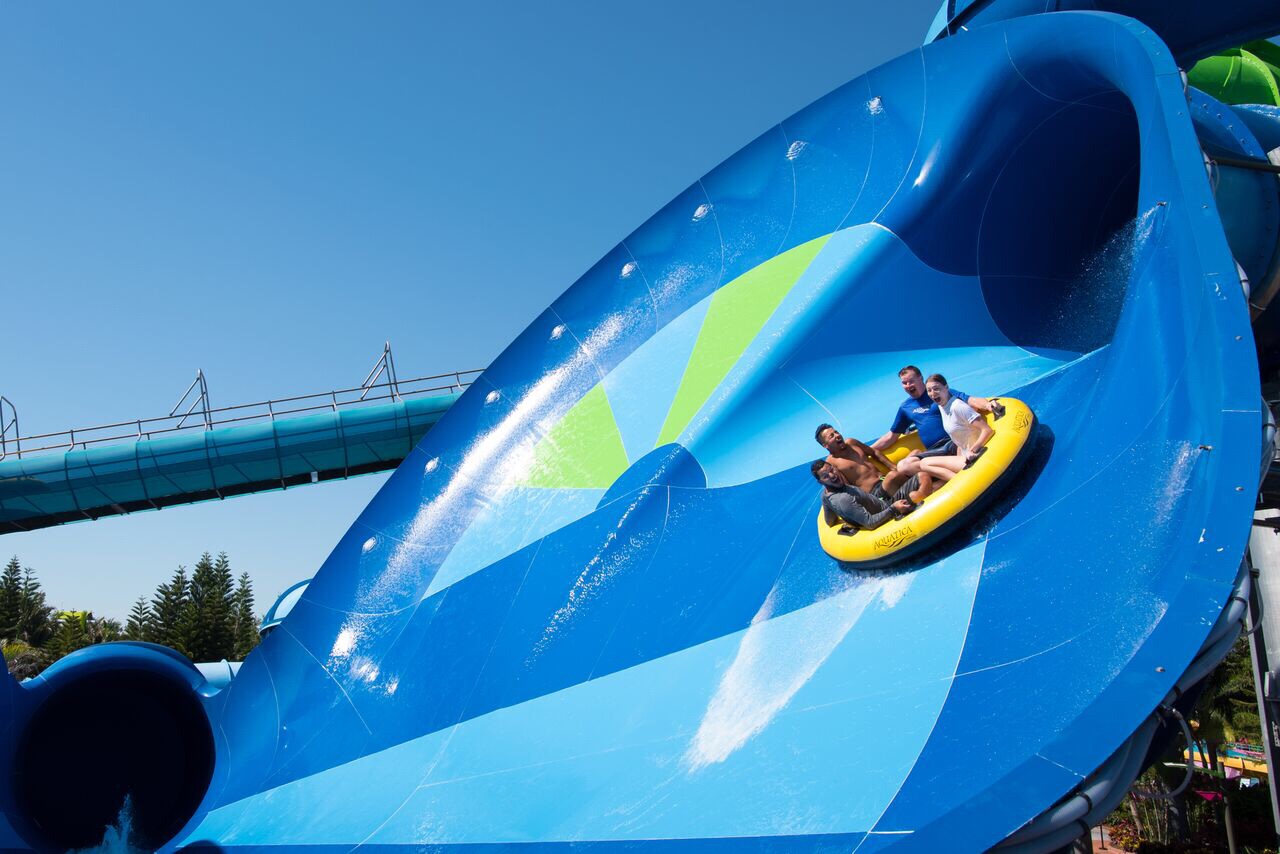 Finally, guests are jetted out of the tube, and up the open air halfpipe, which is resembles a stingray.
"The combination of these three unique slide elements seamlessly blended into one attraction creates a ride experience that is both thrilling and family-friendly, it's the perfect addition to our slide portfolio," said David Heaton, Aquatica Orlando vice president. "The experience on Ray Rush will be unlike anything offered in Florida. Aquatica will be the first waterpark in the state to combine these three unique elements into one attraction."
Are you ready to ride Ray Rush? Take a ride in our POV video below!
How is the ride? It's fun. Plain and simple. The halfpipe adds a great thrill element, without being too much. Usually with halfpipe rides, the speed of getting you to it makes you scale the whole thing, which is usually much larger. Ray Rush aims more at families, and keeps that in mind with the halfpipe. While it does give a great bit of air, it doesn't aim to scare you into not riding. It's a great way to introduce smaller fish to the bigger rides.
Ray Rush is now open at Aquatica Orlando, just in time for summer!
Stay tuned for more from Sea World Orlando, and be sure to get social with us on Facebook and follow along with us on Twitter @BehindThrills for the latest updates!
For our latest theme park videos please be sure to subscribe to us on YouTube!
For more information about SeaWorld Orlando, including tickets, visit the official website by clicking here!