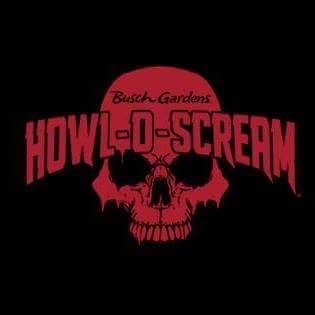 Busch Gardens Tampa seems to be firing on all cylinders this summer, as the park is hitting capacity weekly, there's tons of great fun happening, and construction on what seems to be a new coaster is rolling along. Our friend Justin Holas is back once again with a small construction update, and news on Howl O Scream!
First up, it's Howl O Scream! While HHN has released all of their street line up, and four of the ten houses, as well as the show line up, Howl O Scream is going for the slow burn. They are building the anitci…
…pation, with just a few little teasers. First up is the "Sinister" new logo. It's very similar to the 20 Years of Fear logo that HOS Williamsburg unleashed last month, but it's still a solid fit.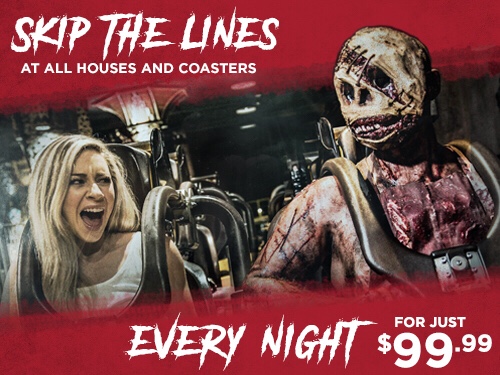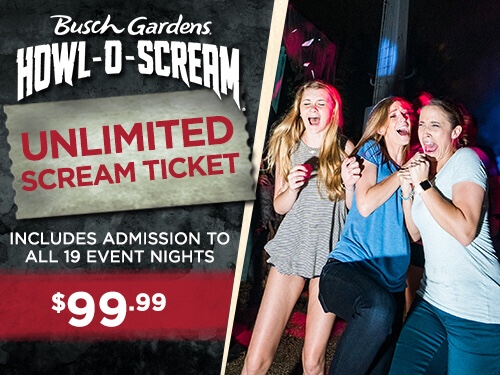 Next up are tickets. The event runs for 19 select nights in September and October. The Unlimited Scream Ticket gives you unlimited admission to every single night of the event for just $99 dollars. In addition, you can add on the Skip The Line ticket for another $99 dollars, which allows you to, you guessed it, Skip the lines of all the haunted houses and coasters every night of the event. That's actually a very good deal, as it's still about half the price of the same type of ticket for Halloween Horror Nights, with all nights and Express.
There's a very…sinister…deal happening right now, with single night admission as low as $24.99.
That's a huge deal, since regular price starts at about $40 bucks or more. If you want to get cheap tickets, you have until July 8th.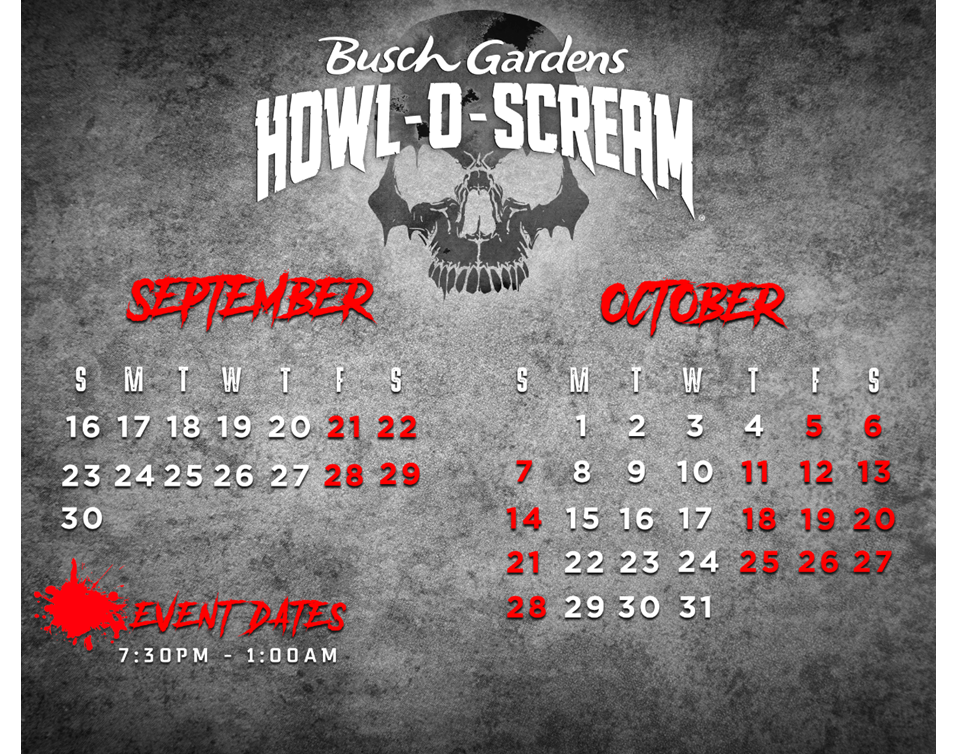 The event calendar has also been revealed, giving all dates of the event, with a 7:30p.m. to 1:00 a.m. start time. The event will run for 19 nights. Take advantage of the Sinister Deal, and the other amazing deals by visiting the official HOS website. 
The big question is what can we expect this year? The answer? We have no idea. Actually, we do, but you have to keep it a secret, okay?
Confirmed:
We know that Zombie Containment Unit is definitely gone. No more shooting zombies, and watching them dance in the disco lights. We don't know what will replace it right now.
Rumors
Here's the fun part.
There will allegedly be two new houses this year. The first will replace Zombie Containment Unit, the other will replace Death Water Bayou, the voodoo based house. No word on themes, but with the level of detail the past two years, there's a good bet you can expect something equally as awesome. Death Water Bayou has been there for a while, but it's definitely one of the better houses, worth revisiting.
Scare Zones will definitely return, with defined scare zones being the norm once again. There will also be roaming characters and hordes in certain areas. The immersive scare zones should also take over a little more, and what we mean by that is that similar to Meat Market last year, you'll have scare zones that are more than just scare zones. Meat Market worked beautifully because it matched the theme of the Reality TV house, and it was an actual market. More of that will happen, though we're not sure about the market part. You'll definitely see more scare zones matching houses.
Finally, it's been rumored for about ten years now, but this year…TIGERS. Tigers will happen at Howl O Scream. Paperwork and legal ramifications be damned, they finally should have clearance to open their newest experience-RUN FOR YOUR LIFE.
BGT staff will douse you in fresh blood and you will have a 90 second headstart to make it out of the park before Tigers are released. If you make the gate, you get a free t-shirt (and your life). If you lose…well, they do make you sign waivers. So, good luck!
This has been a rumor since (I made it up in) 2008, and despite the clamoring and fervor of absolutely no one, the park will finally (not) let it happen. We are 100% (not) confirming this. (Don't) Take our word on this!
Meanwhile, in park, walls have gone up around Stanleyville Falls, the parks flume ride, while demolition continues on the former Tidal Wave.
No clue as to what's happening here, but it could be preparation for "Project Teel", or something else entirely.
Meanwhile, the Tidal Wave is all but a memory, as the majority of the flume is gone, and only the supports are still standing. It's rumored that "Project Teel" will be an all new coaster, much like Electric Eel at SeaWorld San Diego, and Tempesto at Busch Gardens Williamsburg. Both of those are Premiere SkyRocket II coasters, and feature a very small footprint.
The coaster is very small in size, allegedly, which still leads us to believe that the area will be home to yet another coaster in the future. After all, the permits do say that the area will have more use later. What coaster? It could very well be the long rumored Giga Coaster, which was once said to stretch over the parks Serengeti. With survey flags in park, it could very well stretch instead towards the former Gwazi area. Again, just speculation right now.
Meanwhile summer is humming right along. The rides in Jungala have all reopened, including the  bounce tower. Wendy's and Busch Gardens have teamed up to give you a free souvenir cup, and the fast food chain was even seen in park handing out free Frosty's to keep guests cool.
The park has brought back their popular BOGO deal, where you buy a BGT Fun Card, and get a free Fun Card to Adventure Island, Busch Gardens' own waterpark across the street. Visit the official site for more details.
Stay tuned for more from Busch Gardens Tampa, and be sure to get social with us on Facebook and follow along with us on Twitter @BehindThrills for the latest updates!
For our latest theme park videos please be sure to subscribe to us on YouTube!
For more information about Busch Gardens Tampa, including tickets, visit the official website by clicking here!