There are six principle forms of Butterbeer at Universal's Wizarding World of Harry Potter. There's the three drinkable types-regular (the soda), frozen, hot, fudge. And there's also three edible types-fudge, pudding (clotted cream, but it's known as butterbeer pudding), and ice cream.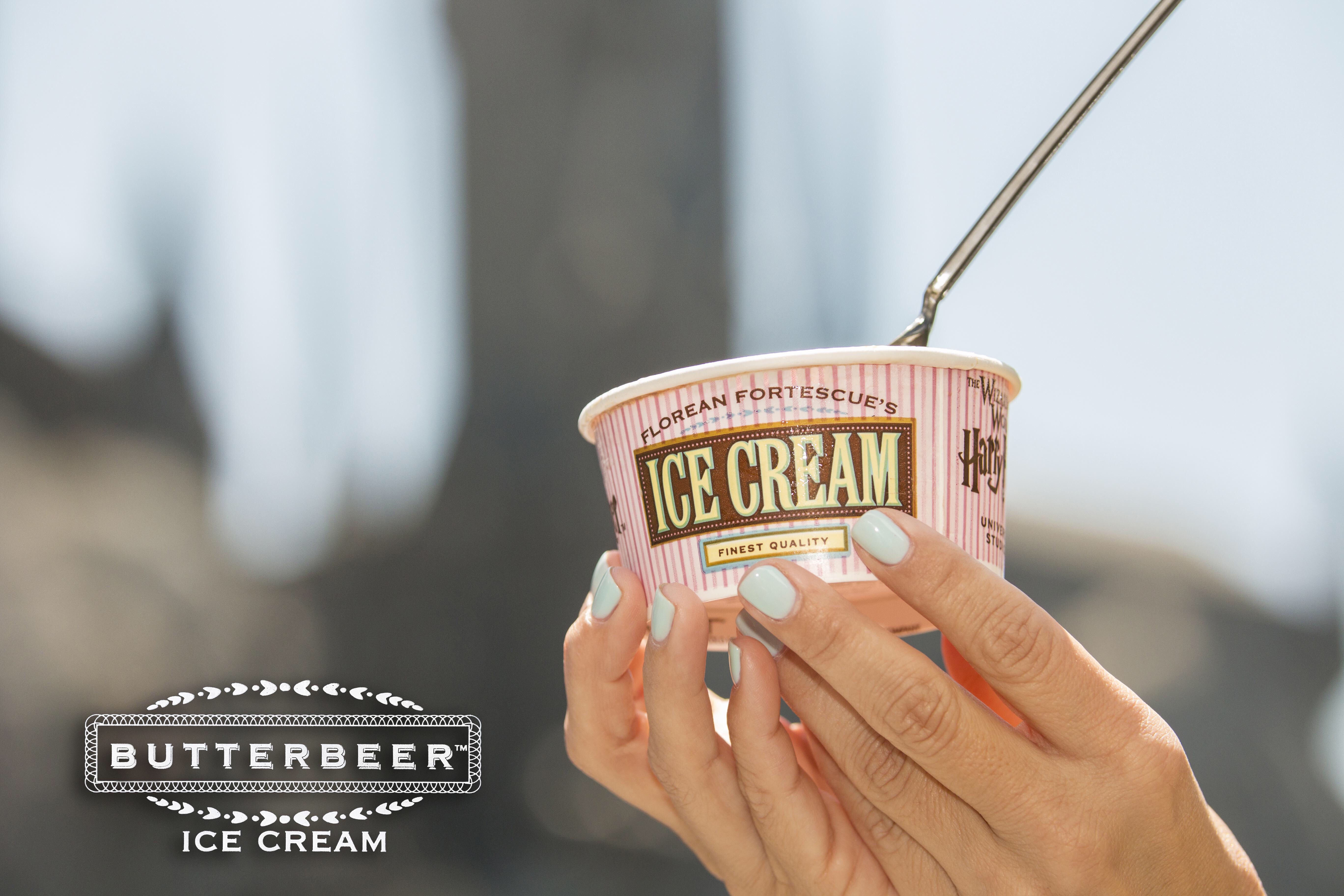 However, not all Wizarding World's are created equal, and not all have everything that the others do. While Universal Studios Hollywood definitely has the drinkable types of Butterbeer available (regular, frozen and hot), they haven't had the ice cream available, until now.  Just outside the Three Broomsticks, on the cart, Butterbeer ice cream is now available. It comes packed in cups, and is the perfect addition to the already stellar Butterbeer and drink line up at Hogsmeade. Reminiscent of butterscotch and shortbread, Butterbeer ice cream is perfectly fine-tuned as a cool Hogsmeade treat and will be served at various carts located within Hogsmeade and at Three Broomsticks™.
Gathering inspiration from historic British taverns, the adjoining Hog's Head pub features original draught beers and spirits created exclusively for the land, including Hog's Head Brew, Dragon's Scale, Wizard's Brew and Fire Whisky.  Also available are Pumpkin Fizz and Gilly Water and the three Butterbeer choices: traditional, frozen and hot.
The new ice cream comes just as summer rolls in and is the perfect treat for a hot summer's day in Hogsmeade. It's not the only new addition coming this year to The Wizarding World of Harry Potter in Hollywood. The castle show, Nighttime Lights at Hogwarts Castle has also returned, and there will be new upgrades to the interactive wand experiences, as well as new apparel and new menu items.
Here's what to expect:
There will now be 15 interactive wand elements, including the Incendio spell which will shoot flames of varying size, based on your degree of expertise and the Alohomora spell. You can cast the spell to unlock three different locks, revealing a fiery breath surprise.
There will also be new menu items at Three Broomsticks:
Ploughman's Lunch, featuring an imported selection of ham, salami, country paté, English cheese, homemade pickles and a warm scotch egg served with bread, cranberry chutney and grain mustard
Cheese Toastie with Chicken, featuring grilled English Cheddar cheese with chicken, crispy bacon, mustard and sliced tomato topped with a sunny side egg served with a fresh salad or potato wedges
Sunday Roast Sandwich served on a freshly baked baguette filled with warm prime rib, caramelized onions, English Cheddar, horseradish sauce and homemade garlic pickles served with fresh salad or potato wedges
There will also be new Wizarding Apparel at Gladrags Wizardwear. Guests can channel their inner wizards at Gladrags Wizardwear with a wide array of apparel inspired by the films. The billowing house robes worn by the students of Hogwarts School of Witchcraft and Wizardry and accompanying house uniforms, including hand-loomed cardigans from Scotland, scarves and ties are available for purchase. New to Gladrags Wizardwear this season is a high-end replica of Professor Severus Snape's robe, as well as a replica of Hermonione's dress worn at the Yule Ball as seen in "Harry Potter and the Goblet of Fire," which is now available in adult and children's sizes. Other wizard attire includes a replica of the cardigan worn by Neville Longbottom in the Battle of Hogwarts scene in the film series finale. Select attire is available in a variety of sizes from toddler to adult.
Also this summer, Madam Malkin's Talking Mirror makes quite a reflective entrance, located in the corridor between Dervish and Banges and Gladrags Wizardwear. Speaking with an English accent, the Talking Mirror will entertain guests with a variety of complimentary remarks.
The new experiences will come to the Wizarding World this summer at Universal Studios Hollywood.
Stay tuned for more on Universal Studios Hollywood and get social with us on Facebook and follow along with us on Twitter @BehindThrills for the latest updates!
For our latest theme park videos please be sure to subscribe to us on YouTube!
For more information about Universal Studios Hollywood, including tickets, visit the official website by clicking here!