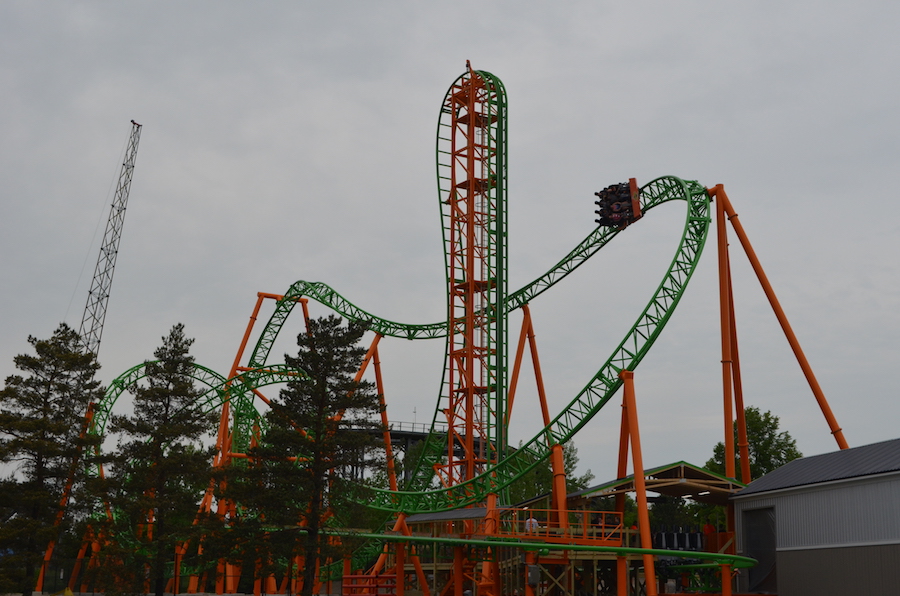 Ride Entertainment and Gerstlauer on a roll, because they left Darien Lake throwing a…Tantrum. Geez that was awful. Darien Lake and Ride Entertainment has brought the all new coaster, Tantrum to life. The Coaster made it's debut over the weekend and has started thrilling guests at the newly appointed Six Flags park.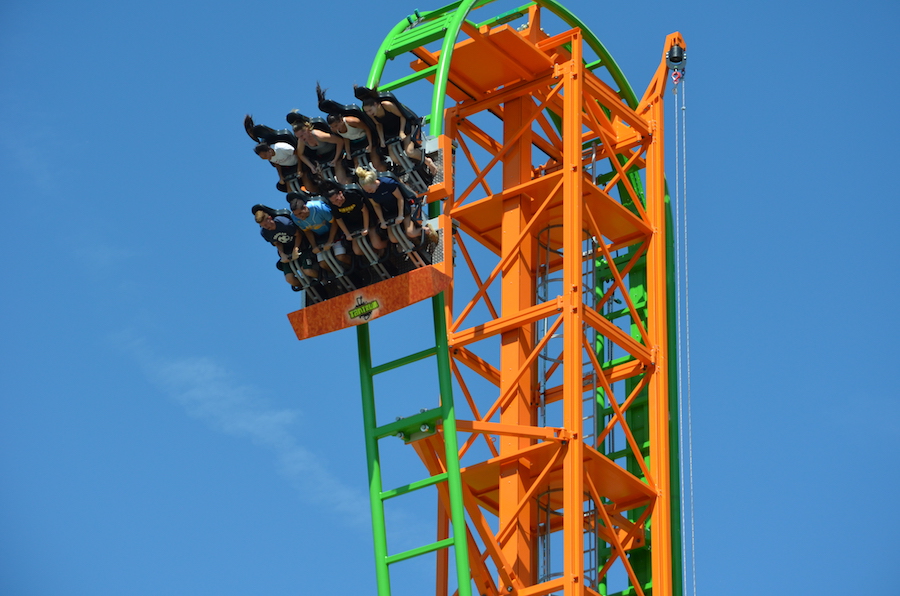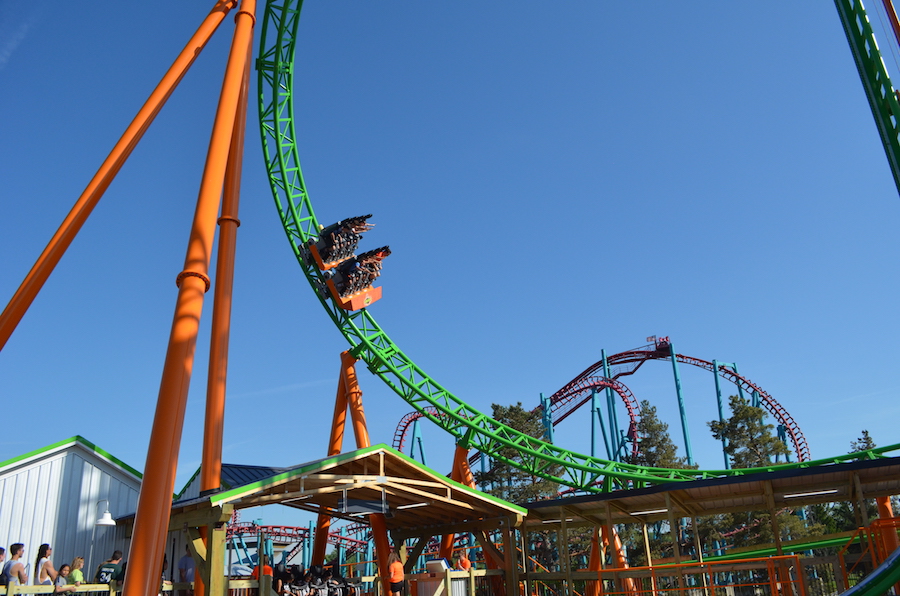 General Manager Chris Thorpe told said the park was, "Very excited to be opening this ride. It's our first ride in ten years that we've put in. What's unique to this attraction is that it's straight up, beyond vertical."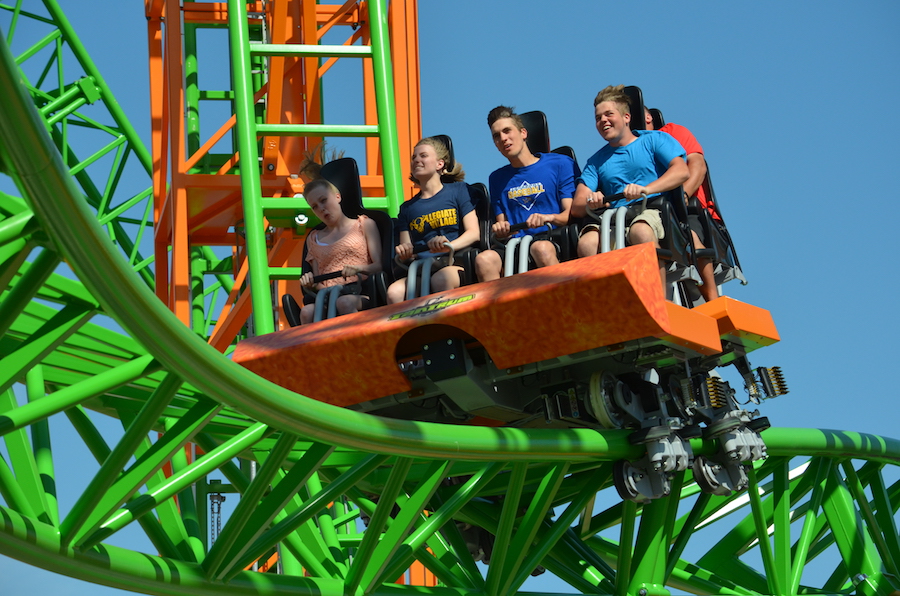 "Tantrum was a great project and really fits the park," said Andreas Simonis, one of the Managing Directors of Gerstlauer Amusement Rides. "The orange and green colors the park chose really pop, it stands out among the park's great coaster collection."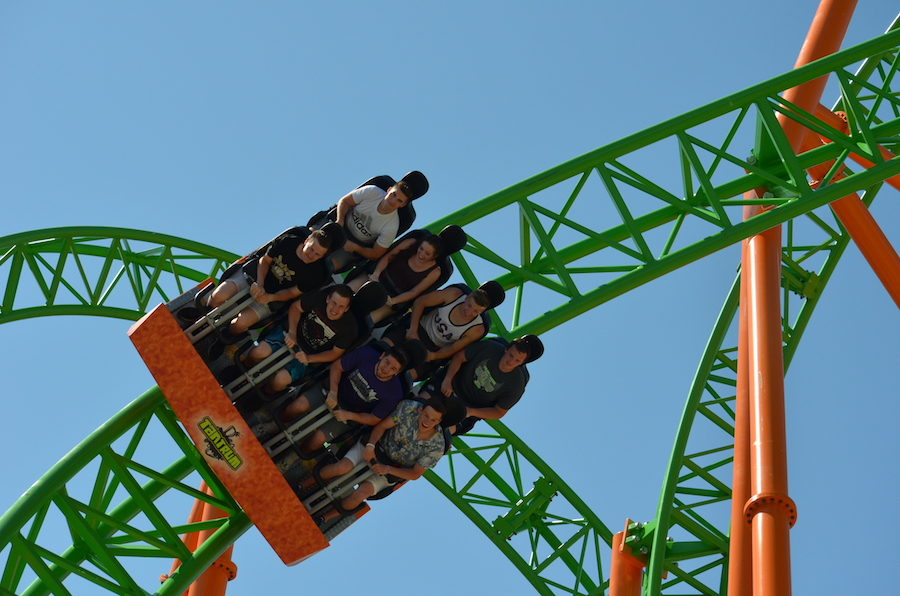 The park celebrated with a great press event and opening day celebrations. They even partnered with Perry's Ice Cream to create Tantrum Twist, a flavor inspired by the coaster. The coaster and the ice cream flavor both proved to be a hit with Guests.
"The ride really is a powerhouse," said Adam Sandy, Chief Business Development Officer for Ride Entertainment. "It takes a lot of people by surprise because of its size. Darien Lake Park has a lot of big coasters, so Tantrum isn't the largest ride there. But, the vertical lift and beyond-vertical drop start the ride off with a scream-worthy rush and after that it is non-stop, back-to-back inversions that make for a fun, intense ride from the time you leave the chain until the magnetic brakes slow you."
The 8-passenger vehicles feature lap bars and are extremely comfortable and offer the park the flexibility of running one, two or three trains each day.
Video-Go for a ride on Tantrum at Darien Lake
So, let's talk stats. Tantrum features a vertical lift, and beyond vertical drop, which takes riders UNDER the lift hill. They get the sensation of almost being upside down as they fall. While it doesn't break records, the Gerstlauer Euro Fighter still packs a punch, with a height of 98 feet and max speed of 51 mph. While it does have just one inversion, and that insane drop, it's still considered a family coaster with a height requirement of just 48 inches. It might be the perfect scream machine for the little coaster junkies to cut their teeth on.
Tantrum is now open daily at Darien Lake.
Stay tuned for more, and be sure to get social with us on Facebook and follow along with us on Twitter @BehindThrills for the latest updates!
For our latest theme park videos please be sure to subscribe to us on YouTube!